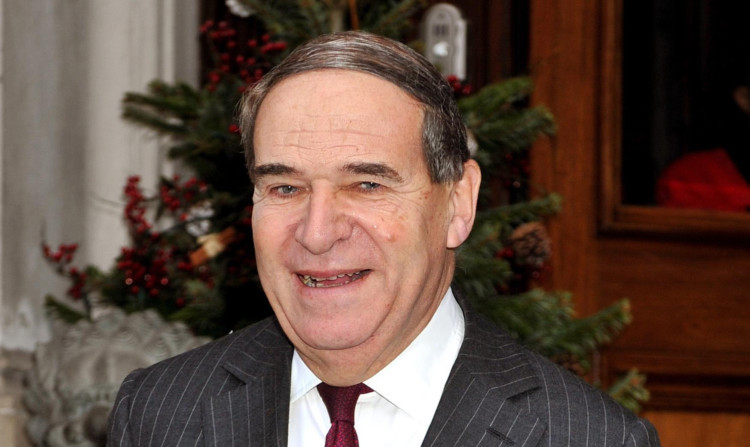 Two campaigners share their thoughts on the unfolding child abuse claims.
Historic sex abuse claims dominated the headlines last week as Rolf Harris was jailed and the Home Office faced calls to explain why a 1980s dossier about alleged paedophiles at Westminster was "destroyed" by officials.
The document was handed to then Home Secretary Leon Brittan by Tory MP Geoffrey Dickens. It is believed Lord Brittan passed concerns in it to the relevant authorities, but the file itself "was not retained".
The revelation sparked fury and prompted David Cameron to order one of his most senior civil servants to "find answers".
Home Secretary Theresa May has announced a wide-ranging Hillsborough-style inquiry into how historical child sexual abuse claims were dealt with by public bodies.
Meanwhile, the Metropolitan Police is continuing to investigate allegations of historic child sexual abuse at a guest house in London where parties involving MPs and other members of the establishment are alleged to have been held.
More than 120 MPs have now signed a letter calling for a national inquiry into what went on at the time, with hearings held in public.
Today, as public anger intensifies over the scale of the scandal, two campaigners share their views on what should happen next.
Ian hits out at schoolmate Clegg for lukewarm interest in public inquiry
Ian McFadyen is privately educated, articulate and a survivor of sexual abuse.
Ian, 48, attended the fee-paying Caldicott Preparatory School at Farnham Royal in Buckinghamshire in the late 1960s. It hit the headlines when former headmaster Peter Wright was found guilty of 12 offences against five boys there, including Ian. In February, Wright was jailed for eight years.
It's the norm for former pupils of Caldicott to move into top jobs in politics and business and have stellar careers. One of those former pupils is Deputy Prime Minister Nick Clegg. And last week, Clegg spoke out on the subject of sexual abuse, rejecting claims for a Hillsborough-style inquiry into historic sexual abuse. That's despite growing concern over the alleged disappearance of a dossier detailing explosive claims of sex abuse within Westminster and demands from MPs for a full public inquiry.
Clegg believes such historic abuse claims should be investigated by the police and says a public inquiry would be "no surrogate" for a full police investigation. When I speak to Ian about Clegg's comments, he's frustrated, maybe even a little hurt that he isn't being as supported as he could be.
"I'm definitely really angry with Nick Clegg. I take what he says as a personal slight. It's all well and good for him to stand up and say this. But he's been a real disappointment. I'm actually ashamed to have gone to school with him," he says.
"Coming out with a statement like he did, I think further traumatises victims. We need some form of inquiry."
Ian is equally bemused at the jail term handed down to Rolf Harris. The disgraced entertainer was sentenced to five years and nine months on Friday for 12 indecent assaults against four girls including one aged just seven or eight.
"Prison sentences of abusers like Harris will never be commensurate with the lifelong damage they have inflicted on their victims," he says. "Parents are usually unaware that there is no law that obliges a teacher who suspects or witnesses sexual abuse to tell the authorities. They can turn a blind eye and continue with their careers."
Ian hit rock-bottom after years of abuse at Caldicott. Despite a privileged background he describes his father as a "big fish in a small pond" who opened the world's first seven-star hotel years of abuse meant adjusting to normal life once he left school was incredibly difficult. He'd tried heroin by the time he was 14, ended up homeless and addicted to alcohol and drugs. That's what years of abuse did to him.The turning point came one Christmas morning, when he woke up on the streets of Edinburgh, in a sleeping bag, and had no idea how he got there. He sought help and managed to turn his life around. It wasn't easy, but with support he found determination.
Ian, of Peebles, has suffered horrifically at the hands of pillars of the community men who were respected, educating privileged boys from wealthy families. The abuse was systematic, with Ian saying he was "timetabled for rape".
I say that managing to turn his life around after suffering so much and then sinking so low says a lot for his character. "I don't want to be defined by my abuse," he says, simply.
Still, there are times those memories can't help but haunt him. "My wife bought new bedding a wee while ago, paisley patterned. I couldn't put my finger on it, but I just couldn't go to bed, I didn't feel comfy about it," he says. "Then it came to me. I remembered I used to have a pair of brushed cotton pyjamas with a paisley design on them. I remember sitting on George Hill's bed, kind of holding on to the top of my pyjama bottoms…"
He trails off. George Hill was the teacher who inflicted the cruellest and most systematic abuse on Ian. Hill took his own life and I ask Ian if he feels cheated Hill never faced justice.
"No. By the time I heard he'd killed himself, I'd been to court three times to see justice and had been in the dock five-and-a-half hours with the defence barrister going through me. One was acquitted. But I'd do exactly the same again," he says defiantly.
"I went to see Peter Wright's sentencing. My wife said on the way that I was really quiet. And really, I nearly had a tear in my eye as I told her it was the first time I'd get to see him in 35 years."
He believes he's come through the worst of it, that with the help of wife Paula and his son, he's got a life worth living. "I've never been able to tell my wife I love her. I just can't use the L word," he says. "The first person I said I loved outwith my family was George Hill."
Ian describes himself as a survivor and not a victim. He was glad to have his day in court. And you can't help but feel glad for him.
"Seeing Peter Wright go to prison didn't give me any joy," he says. "I just wish . . . I wish people had noticed when I was young. I wish I'd never been hurt and other boys had never been hurt."
Ian speaks out to try to prevent others from going through the same thing. He is climbing Scafell Pike to raise money for the Southmead Project. See https://www.justgiving.com/Ian-McFadyen3/2Help the victims, not offenders
Anthony is a campaigner for victims and survivors of child abuse. He cannot be identified for legal reasons.
"I am fighting for justice for survivors of abuse. And for that, I believe, there has to be an over-arching, full Royal Commission into historic abuse cases similar to the Hillsborough Royal Commission or what they're doing in Australia.
"In Australia they are learning lessons from the past sometimes very hard lessons. And they're bringing in full care packages for survivors. We need that. But I'd go further.
"We need a change in society and the way we deal with child abuse, because at the moment society doesn't want to know. There's implicit denial there. Things get hushed up, swept under the carpet. You just have to read some of the details of the Jimmy Savile case. Victims reported abuse but nothing happened.
"People find the details are just too traumatic to deal with. We minimise it. Survivors are told it's in the past, it's history, move on and live your life.
"Well, I have nightmares, flashbacks and there are times it rules my life. How the hell is that historic for me?
"We need a facility like Coalinga State Hospital in California. When paedophiles are coming towards the end of their sentence in California, they are sent to Coalinga for treatment and only released when they have completed it and are deemed to no longer be a danger to society. More than 70% of patients refuse therapy. So they aren't released. We need something similar.
"I'm involved with the Scottish Human Rights Commission Interaction on Historic Child Abuse. I am contributing as a survivor. But I don't have much confidence in it. It's supposed to be about providing a package of care for survivors of abuse. But to me it's about managing them. They've spent years working on it. I could have told them what was needed, in half an hour.
"As a survivor everyone speaks for you. But the only people who understand are those who have been through similar experiences. I hear from victims of abuse, and also from families who have lost loved ones who were victims and they've taken their own lives. It infuriates me when I read about sentences being deferred on offenders while they do psychiatric reports on them. What about psychiatric reports on the victims? All the resources seem to go towards offenders.
"If I was in charge I would make sure victims had medical and financial aid, and access to therapy for the rest of their lives. Victims have to live with the effects every day. It's a form of post traumatic stress disorder. It is like your head is underwater. Being abused is like a homicide. But the person is still alive, and left to cope in adult life.
"I believe that there is much more to come in terms of historic abuse allegations. What we know so far is just the tip of the iceberg. That is why we need a Royal Commission, learning lessons from the past, so we can protect children in the future.
"Standing up and admitting you were the victim of abuse is so hard. When I went public, I became persona non grata. Victims need more help, pure and simple."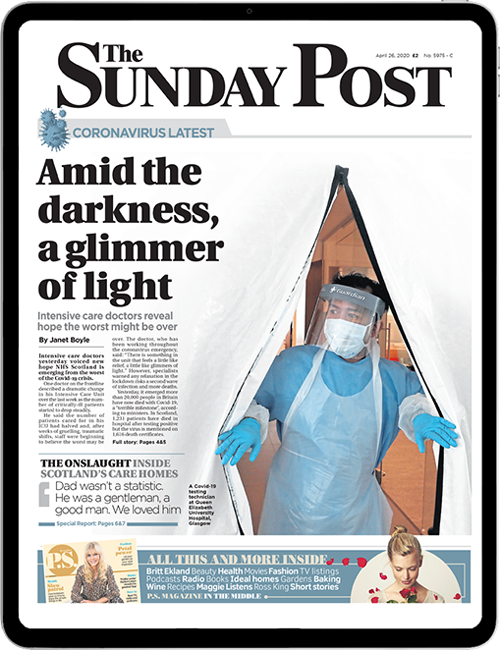 Enjoy the convenience of having The Sunday Post delivered as a digital ePaper straight to your smartphone, tablet or computer.
Subscribe for only £5.49 a month and enjoy all the benefits of the printed paper as a digital replica.
Subscribe