The young airman almost tumbled from his bicycle as he juddered to a halt.
He didn't notice Fred Panton, 14, standing at the farm entrance and nearly hurtled right into him.
Recognising the older youth, Fred smiled. They'd once attended the same school.
But just as he was about to offer a cheery "hello", Fred spotted the buff-coloured card the airman held in a trembling hand.
It was a telegram.
The youngster's blood ran cold. In wartime, a telegram meant only one thing.
Any lingering hope he might be mistaken evaporated when Fred looked at the airman's ashen face.
Not wanting to hear his brother Chris an RAF flight engineer aged just 19 was dead, he ran off, hiding for hours in a barn on the family farm.
Tragically, Chris had been shot down in flames over Germany on what was scheduled to be his 30th and final bombing mission.
"I knew how upset my mother and father would be," says Fred. "I just couldn't face it.
"I think I felt if I didn't hear the news, then it wasn't yet real. I know that sounds daft."
It was April 2, 1944, and although it's almost 70 years ago, the hurt remains raw for Fred, now 82, and younger brother Harold, 79. Events that day shaped the rest of their lives.
Harold says: "Chris's death devastated the family. Mum and Dad never really got over it.
"Dad couldn't even speak about it for years."
The sprightly pensioners have dedicated the last 30 years to creating the most extraordinary tribute to the big brother they hero-worshipped an immaculately restored Avro Lancaster bomber.
And this year, the remarkable brothers reckon the iconic Second World War bomber named "Just Jane" will take to the skies once more.
Amazingly, if their plan is realised, Just Jane will become one of only two airworthy Lancasters on the planet. The other is operated by the RAF.
Fred says: "This is our way of remembering Chris and acknowledging the sacrifice he and tens of thousands like him made.
"The war's not that long ago really, but it can be like ancient history to young people whose parents and even grandparents were born afterwards.
"But they're all stunned when they come and see the Lanc. When those Merlin engines burst into life the war becomes something real.
"It ignites their interest in a way no history lesson ever could."
The brothers bought the plane from a local landowner in 1983, but they had to find somewhere to keep it.
Then land which once housed an RAF airstrip in the Second World War came on to the market.
In a remarkable twist of fate, the former East Kirkby airbase was one which Fred and Harold grew up next to.
Harold says: "Lancs flew from here. There were many airstrips in this area, all just a few miles apart.
"In the evenings we'd gather at the perimeter fence and watch all the bombers take to the skies.
"They'd slowly climb in circles to cruising altitude. There would be hundreds and hundreds of them from all the airfields.
"Then they'd all join up like a massive flock and in minutes would disappear, bound for Germany.
"It was an awesome sight and we knew our big brother was up there among them. He was based a few miles away and flew in a Halifax bomber.
"The planes started returning in the hours, usually before dawn. We'd see them limping back, badly damaged in some cases.
"Quite a few crashed in the fields. We knew those boys had a hellish time on those missions. From this airfield alone, 840 were killed."
After buying the land, chicken farmers Fred and Harold renovated the surviving buildings including the original control tower and rebuilt a hanger for Just Jane.
It was the beginning of what is now the Lincolnshire Aviation Heritage Centre.
Fred says: "We didn't plan on starting a museum. It was our hobby but things just kept growing."
Over the years the brothers with the help of volunteers and skilled engineers got the plane into reasonable shape.
The old engines still had enough oomph to allow the plane to taxi around the airfield but that's not enough for Fred and Harold.
Fred says: "One day we just thought, 'let's get her flying'."
Harold adds: "And once we set our minds to something, there's no stopping us!"
The brothers charge for entry to the museum and for rides in the majestic plane. The money raised supports the site and has also paid for four reconditioned Merlin engines.
Fred says: "The new engines cost a couple of hundred grand each. We're raising the last of the money we need to have them fitted.
"Then we get a certificate of airworthiness and Just Jane will fly. It'll happen this year.
"I want to see that plane take off and do a flypast for us. Then I'll say it's mission accomplished."
Just Jane dominates the huge hanger that houses her.
With a wingspan of 102ft and at 70ft long, she could carry 22,000lbs of bombs.
Enormous as she appears from outside, inside she's very different there's barely enough room to stand and both sides can be touched without even fully extending your arms.
It must have been claustrophobic for the seven crew.
The narrow tube of fuselage is blocked by hydraulic gear and navigation equipment. All around are sharp edges, metal struts and bars. Even on the ground it feels like a death trap.
Fred says: "There are three escape hatches but they're tiny. You'd struggle to squeeze through even without a parachute on.
"The tail gunner's turret was so small he couldn't even wear a parachute. It hung on a peg behind him.
"It's a struggle moving around the inside of the plane imagine what it'd be like if it was on fire. You'd have no chance.
"They designed a bomb bay and built a plane around it. Health and safety didn't come into it. "Most of the aircrew were boys, really. Looking back, it's remarkable what they did."
After the war, Fred and Harold wanted to travel to Germany to learn more about their brother's death but their dad wouldn't allow it.
Harold says: "It was just too painful for him. He wouldn't hear talk of it."
But in 1972, the elderly man, who was gravely ill, summoned his sons.
Harold says: "He ordered us to go to Germany. We were stunned.
"He wanted us to find Chris's grave and bring him a photograph. He wanted to hear about the crash site, too.
"We didn't know where to start and we knew it was a race against time. Father didn't have long."
With the help of researchers, Fred and Harold found their brother's last resting place. His grave lies alongside the four other crewmembers of his Halifax who were killed.
The brothers also found the impact site near Nuremburg. Amazingly, wreckage of the plane was still scattered around.
Harold says: "You could just scuff the ground with your feet and uncover pieces of our brother's plane.
"We gathered some and brought it home."
Two remarkable brothers have spent a lifetime
and a fortune restoring a Second World War Lancaster bomber. Fred and Harold Panton aim to
get the majestic plane flying this year. Their story
is one of dedication and heartache.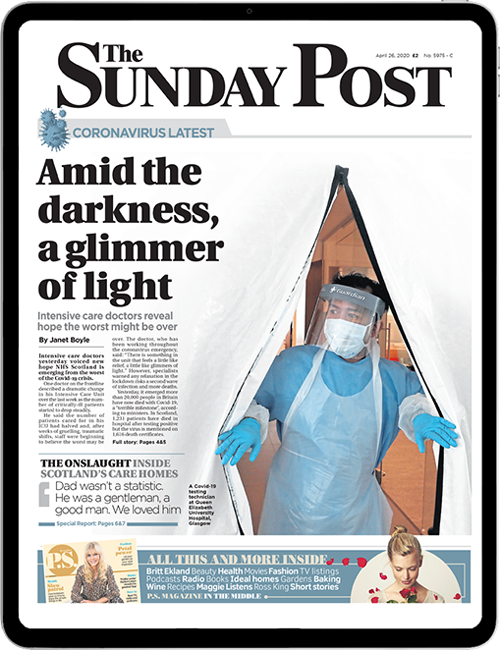 Enjoy the convenience of having The Sunday Post delivered as a digital ePaper straight to your smartphone, tablet or computer.
Subscribe for only £5.49 a month and enjoy all the benefits of the printed paper as a digital replica.
Subscribe