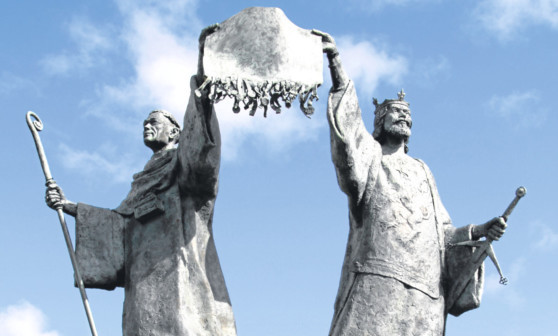 Today is the anniversary of the day in 1320 when 51 Scottish nobles and magnates sealed the Declaration Of Arbroath
We Scots are well known for loving a party and having a wee celebratory drink or 10.
Almost any occasion or excuse will do. Burns Night sorry month Hogmanay, Christmas, Hallowe'en, Birthdays, Weddings, even funerals can see us having a wee swallie then a stumble onto the dance floor for an impromptu sing-song.
We would celebrate Easter if we could work out when it was, but no matter Good Friday is every Friday for many of us.
From the opening of a packet of crisps to International Talk Like a Pirate Day Oooarrr! we know how to let our hair down.
Except, it seems, on days of national significance, such as St Andrew's Day or Tartan Day which is today.
For some reason we suddenly become reserved, reticent and even a bit snooty. Qualities that certainly don't become or define us.
We are happy to have a craic and get blootered with our Celtic cousins on St Patrick's Day. We might even fill the billabong with song on Australia Day or raise a Bud when America becomes all doe-eyed on July 4.
But, when November 30 comes round, St Andrew's Day our official national holiday we seem to dote around wondering who St Andrew was and if a ceilidh is a saucy offer in a men's mag.
Admittedly, St Andrew now gets the prominence and attention a national saint should be afforded and for that we have to thank Mr Salmond and the Scottish Government, but we still have a bit to go before the leprechaun top hats are swapped for See You Jimmy wigs.
I'm sure though, that day is not far away.
Sadly, the same can't be said for Tartan Day.
We view it as an embarrassing irrelevance, while across the pond in Canada and the US it's a huge celebration, particularly for the millions who claim Scots heritage and are proud of their ancestors.
The main reason we in Scotland should celebrate Tartan Day and why it has been given a US Presidential seal of approval is that today is the anniversary of the day in 1320 when 51 Scottish nobles and magnates sealed the Declaration Of Arbroath.
It was a statement of intent sent to Pope John XXII confirming Scotland as a sovereign state.
It demanded we be regarded as an independent nation, not a feudal territory of England, and that the excommunication of King of Scots, Robert The Bruce, be lifted and he be recognised by the Church and in the eyes of God as Scotland's rightful leader.
Now for staunch home-grown nationalists that ancient, defiant proclamation is good enough reason for the Saltires to fly and the whisky guzzled, especially when there is a once-in-a-lifetime nation-shaping referendum around the corner.
But all Scots, Nat or not, should be proud of this manuscript and its eloquent pleas for the liberty of man.
It's our Magna Carta and was the inspiration for The 1776 US Declaration Of Independence.
Hence Senate Resolution 155 and the Presidential Proclamation that decreed April 6 National Tartan Day. A proclamation that refers to the predominance of Scots among their founding fathers and which recognises the huge contribution they made to the building of their nation.
So today America celebrates all things Scottish with marches, Saltires, food fairs, gigs, fashion shows, tattoos, bagpipes, drums, dancing, speeches and parties even miniature Falkirk Kelpies will be unveiled.
Yet we give it the rubber ear.
Maybe we're waiting on the outcome of what another day brings before we decide to let our hair down on April 6. That day, of course, is September 18.
And, given the unprecedented level of interest with more than 4.1 million of the electorate signed up to vote, that will be a day never to be forgotten but forever enshrined in history and the start of one massive party.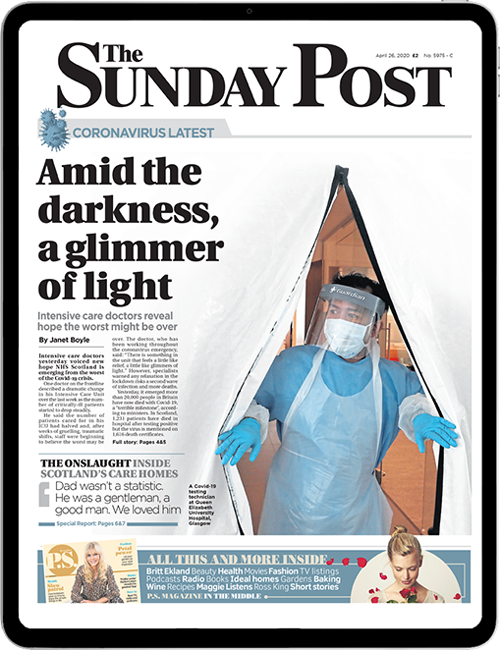 Enjoy the convenience of having The Sunday Post delivered as a digital ePaper straight to your smartphone, tablet or computer.
Subscribe for only £5.49 a month and enjoy all the benefits of the printed paper as a digital replica.
Subscribe