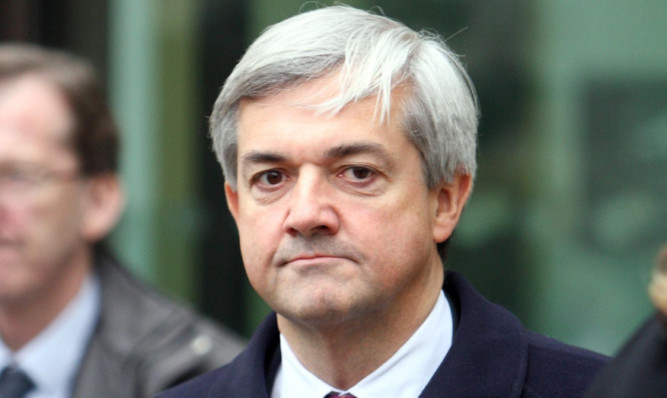 Chris Huhne's dramatic exit from politics should have been an embarrassment for the Liberal Democrats.
Instead, it has presented an opportunity.
Just before his trial for not taking speeding points that would have earned him a driving ban, the former Energy Secretary suddenly changed his plea to guilty. Facing jail, he followed that by resigning his seat triggering yet another by-election.
This parliament is remarkable for the number of by-elections it has seen already, and it's only halfway through the term. A handful of MPs have died but the turnover has been increased by those resigning to fight mayoral elections or Police and Crime Commissioner contests, plus a significant number who have been caught up in crime. Immediately, political pundits dubbed this particular contest in Huhne's Eastleigh seat "interesting" or "important". That means they don't know what's going to happen.
Labour are nowhere in Eastleigh and won't waste much effort on their campaign.
Ukip were being talked up to provide a shock result but it didn't take long for high-profile leader Nigel Farage to rule himself out. If there was a sniff of Ukip taking the seat, Farage would be on the ballot papers before they were even printed.
Some said it was embarrassing for Ukip that Farage won't stand, failing to recognise that the concept of embarrassment is entirely alien to Ukip. Farage took to the skies on polling day 2010 only to fly his plane into a field. They stood a man who was fond of golliwogs to be Police and Crime Commissioner in one of the most ethnically diverse parts of the country. Episodes that would leave any other party red-faced.
A strong Ukip showing may undermine Tory chances of winning the seat, but the Conservatives seem quite capable of sabotaging themselves.
That was evident again last week when the Commons voted on gay marriage.
Whatever the merits or otherwise of the case for allowing same-sex marriage, it was bad politics by David Cameron to force it on to the agenda, winding up scores of his own backbenchers who are and the clue is in the name of the party here conservative, especially when it comes to marriage.
The PM chose not to speak in the debate. Instead he was presumably in Number 10 tearing up his plans to modernise the party as a succession of speakers made speeches that were at best outdated and at worst unpleasant. That's certainly not to say opponents of the change were wrong, there were intelligent points made on all sides.
Sir Roger Gale a man so keen on marriage he's had three of them made a contribution that was not intelligent. The former pirate radio DJ broadcast his distaste for the move loud and clear but, for some reason, saw fit to make a leap of logic from same-sex marriage to allowing incest. When Labour's Chris Bryant, a man far too self-satisfied for someone whose main claim to fame is being pictured in his pants on the internet, pointed out Sir Roger's words may be offensive the Tory bizarrely said they were in fact the views of an eminent lawyer.
As long as the Tories are fighting each other it could leave the way clear for the Lib Dems to win Eastleigh.
Such a result would undermine the conventional wisdom that they are set to be wiped out in 2015 and instead lend weight to the theory espoused by Nick Clegg but often derided as no better than wishful thinking that, where they are incumbent, Lib Dems will be fine. There is already evidence to back this up at by-elections across the country the Lib Dems have racked up victory after victory defending council seats.
Huhne's disgrace could hand Clegg and the Lib Dems a giant fillip and alter all sides' electoral arithmetic.