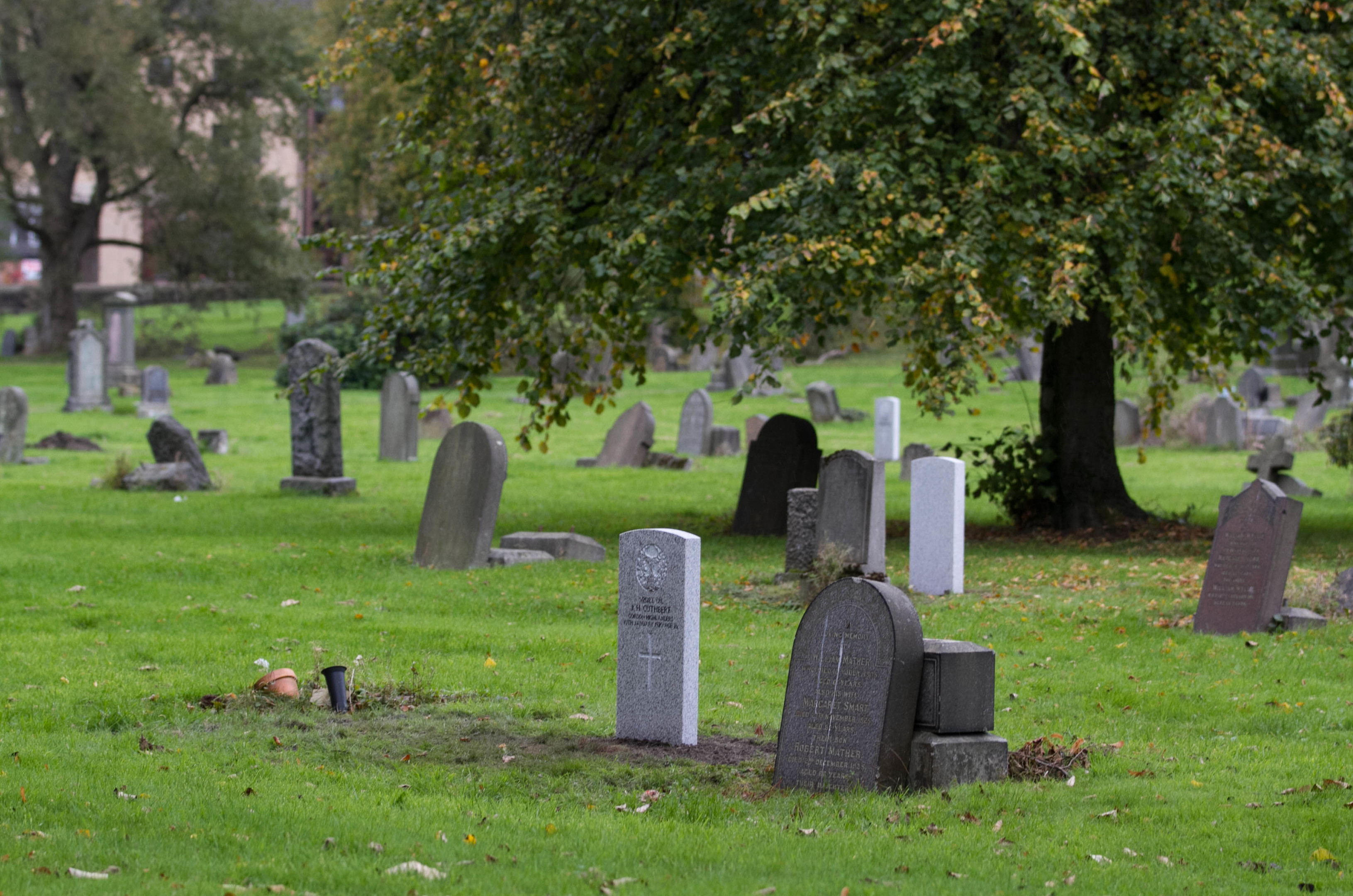 THE gravestones of 85 war heroes are being restored to their former glory – in time for Remembrance Sunday.
For more than 60 years, the graves of the fallen military personnel lay unmarked in Sighthill Cemetery, Glasgow.
The original headstones were removed in the 1950s after the graveyard fell into disrepair.
Over the years, grass grew over the foundations of many of the tombstones, hiding any indication of where the brave men lay.
Memorials commemorating their deaths were instead grouped in a small garden of remembrance at Eastwood Cemetery in Glasgow – almost 10 miles away.
However, now, after decades, their final resting place will again be clear for all to see – a result of the dedicated project to see the tombstones returned to their rightful place.
In total, 85 headstones are being reinstated at Sighthill Cemetery by the Commonwealth War Graves Commission.
Iain Anderson, the commission's regional supervisor for Scotland, spent five years working with Glasgow City Council to painstakingly locate each of the graves.
He said: "We are always very pleased to be able to give our men and women who fought during both world wars the commemoration and recognition they deserve.
"Even though our boys were commemorated at another cemetery for the last 60 years when the original headstones were removed, it's very special to be able to re-install the headstones where they lay, so everyone can remember them."
More than one million British military personnel died during the First and Second World Wars.
The First World War alone accounted for 886,000 of those fatalities.
Mr Anderson, who had worked with the CWGC for more than 30 years, said the commission has helped install headstones for heroes buried all over the UK, the Faroe Islands and even Iceland. And he hopes the new headstones will encourage people to pay their respects to Britain's fallen heroes.
He said: "The main thing is to emphasise to people that there are war graves on their doorstep."
The service forms part of a rolling programme of commemoration events across Glasgow to mark the Great War, and comes as the nation prepares to honour its war dead.
Kevin Gray, the chief executive officer of Legion Scotland, is extremely pleased with the poignant project.
He said: "Everyone will have a connection to the armed forces, be it through great-grandparents, grand-parents, parents, brothers and sisters or friends.
"That connection also stretches into every community in the country from our largest cities to our smallest villages and the most remote areas of the country.
"Therefore, Remembrance is a poignant time of the year and having a visual reminder of the sacrifice people made, whether it be local war memorials or graves, is important. We have been a big supporter of the Commonwealth War Graves Commission for some time and the work they do."
The removal of the tombstones from Sighthill Cemetery happened after the then privately-owned graveyard fell into disrepair in the 1950s.
But the removal passed with little comment at the time.
One of the only mentions was carried in a Glasgow-based newspaper in May 1953 in an article covering the memorial at Eastwood Cemetery.
The new headstones – which will be officially unveiled on Tuesday – were made in Aberdeen from granite and inscribed at a specialist CWGC facility in France before being shipped back to Scotland.
Glasgow's Lord Provost Sadie Docherty, said: "It's wonderful news that our war heroes can finally be laid to rest with the dignity they deserve. I'm sure the soldiers' families will be delighted with the work that has been done."
'Everyone deserves somewhere people can go to pay respects'
FIONA Barrett is preparing to make her first visit to the cemetery to honour a member of her family.
She will make the 400-mile journey from her home in Maidenhead, Berkshire, to see the new headstone erected above the grave of Andrew Brownlie.
Aircraft fitter Andrew died on March 16, 1942, when he, along with 15 other young Allied airmen, was killed in a tragic plane crash.  He was just 29 at the time.
Their Liberator bomber smashed into a mountain close to Jenkinstown, Ireland.
The aircraft is thought to have been returning to Britain from Egypt where it had been part of a squadron involved in bombing missions in North Africa.
Fiona, 48, discovered Andrew's death while researching her family tree.
He would have been her step-uncle as his father Thomas married Fiona's paternal grandmother Josephine Gourlay when Andrew was a young boy.
Fiona said she wanted to attend the event in Sighthill Cemetery in person to see Andrew's new headstone.
"I thought it was important someone was there," she said. "Andrew never had a chance to get married or have children.
"It's important he gets the acknowledgement, respect and dignity he deserves. And if there are more relatives then it gives them somewhere to go to pay their respects."
The ill-fated Liberator bomber left Egypt bound for Britain with 19 airmen on board, which included Britons, Americans, Canadians, Australians and New Zealanders.
Just three people are thought to have survived.
The cause of the crash was never established although it was suspected that poor visibility was the reason.
The accident was the second of three fatal wartime crashes in the area.
A British Hudson bomber crashed with three fatalities in 1941 and a P-51 Mustang fighter of the US Army Air Forces crashed in September 1944 killing its pilot.
Andrew had two sisters –  Agnes, who was born in 1909, and Mary, who was born in 1911. Fiona said the family was from Bo'ness
and that Agnes moved to Australia as an adult.
Fiona, who works as a nurse, said another relative of Andrew's – a great-nephew Graeme Hedger who lives in Australia – was also aware of the story and even supplied photos of the fallen hero.
They show Andrew pictured in shorts and a short-sleeved shirt, standing in front of a building with palm trees in the background.
Another photo shows him in uniform, smiling as he poses with three comrades.
And there will be more than one family member at the service at Sighthill as Fiona plans to attend the event with her daughter Abigail, 22, and son Leo, 13.
As Fiona prepared to make her emotional journey to Scotland she spoke of the importance that Andrew's and the other young heroes' sacrifice meant to her.
"Lots of those young men went off to war and never came home again. Andrew died in a horrible war at a young age. I feel proud of him," she added.
"That's why it's important to have his death recognised. Everyone deserves somewhere people can go to pay their respects."
---
READ MORE
Ledger reveals extent of damage to Kirk buildings during Second World War