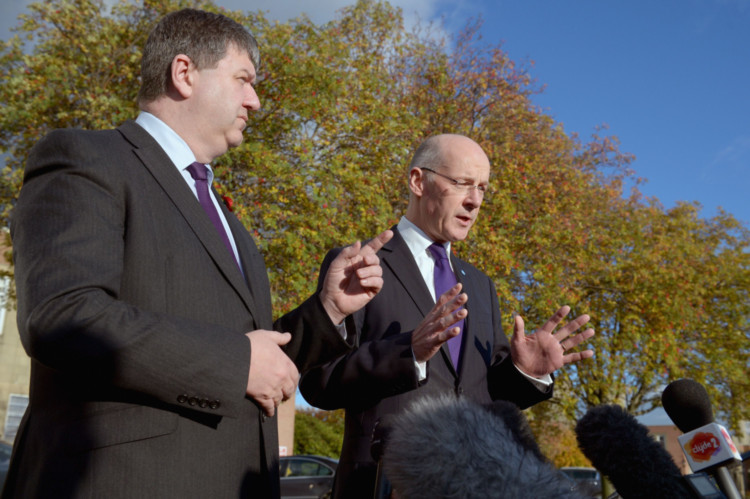 The First Minister and Secretary of State work together to salvage Grangemouth jobs.
One of Alex Salmond's political heroes is Harold Wilson, the former Labour Prime Minister.
Wilson famously observed: "A week is a long time in politics", an aphorism that must have flashed across the First Minister's mind over the past seven days.
Last weekend, Mr Salmond was basking in the warm glow of almost unanimous praise for his keynote address to the SNP conference. This, as I noted last week, said little new, but its delivery and a couple of lyrical passages made an impression.
He addressed delegates against the backdrop of the escalating dispute at the Grangemouth oil refinery. He vowed to do all he could to find a way through the impasse, and he proved true to his word.
The First Minister thrives in situations like this. A born fixer, someone who relishes trying to solve apparently insoluble problems, Grangemouth would have got all his political and tactical juices flowing. Of course that wasn't his only motivation, there were jobs at stake.
Some critics accused Mr Salmond of being in denial after Ineos announced its intention to close the plant. The First Minister emerged from a Scottish Cabinet meeting saying he and his colleagues were "not accepting" that Grangemouth was going to close.
If that was so, then being "in denial"was a good place to be, and indeed he jostled for space with the fledgling Alistair Carmichael, dealing with his first crisis as Secretary of State for Scotland. Gratifyingly in this cynical age, both men realised that it was not the time to score petty points.
As the Prime Minister tweeted: "Good to see competing politicians work together", and although developments augur well for the plant and (most of) its workers, Grangemouth also illustrated the impotence of the governing classes when it comes to crucial aspects of the Scottish economy.
Messrs Salmond and Carmichael were reduced to cajoling trade unionists and wealthy men on Swiss yachts into reaching a deal, and while it eventually paid off, it wasn't exactly a compromise. Unite, despite its name, capitulated a humiliating climb down no matter how it's spun.
It's a far cry from the early 1980s when, ironically, the SNP leader spent most of his time attacking Conservative and Labour politicians for failing to prevent industrial closures not far from Grangemouth. Perhaps now he realises what a difficult situation they were often in.
Inevitably, various scribblers have attempted to draw lessons for the independence debate. In truth, neither side emerges smelling of referendum roses. As a proponent of the Union, Mr Carmichael found himself just as powerless. The powers behind Ineos opted out of the UK long ago big money isn't interested in constitutional spats. Tellingly, there were no cries of "This wouldn't happen if Scotland was independent" from the Nats, for not only did they realise it wasn't true (although that isn't always a barrier) but that there's a time and place for such statements and this wasn't it.
Which brings me to the Dunfermline by-election, the other fixture of the Scottish Government's long week. As with Grangemouth, there has been a fruitless tendency to view such micro-elections through the referendum prism.
In fact a Labour win tells us little about the likely outcome next September, just as the SNP's victory in Aberdeen Donside a few months ago cast little light on voting intentions. Scottish politics operates on two levels who voters want to run a devolved Scottish Parliament, and where they stand on the constitutional question.
For the SNP, the result was disappointing, but not a hammer blow. It robbed them of pre-referendum momentum, but Labour didn't exactly romp to victory.
Politics is a fickle business and recent events will quickly be forgotten as the Scottish Government gears up to publish its much-hyped White Paper on independence. Scheduled for November 26, I imagine the SNP is hoping to get at least a week of positive headlines as a result.
It might work, but then again it could equally get buried beneath opposition quibbles over inflated statistics and unrealistic promises.
Still, those will largely be forgotten by next September. If a week is a long time in politics, then eleven months is a lifetime.