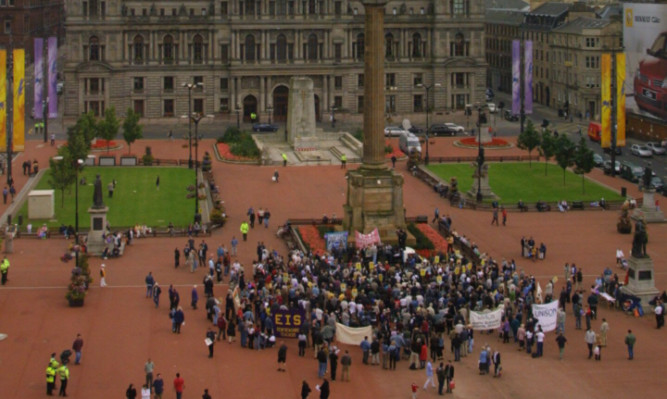 When the last "improvement" to George Square was unveiled in 1998, there were gasps of horror.
Here at the heart of Glasgow, the resurgent, outgoing, outspoken city selected to be UK City of Architecture 1999, was a civic square more featureless than a primary school playground. Perhaps the material chosen was a tribute to John McAdam, Ayrshire born inventor of tarmac. Perhaps the tomato sauce colour was to complement the Ayers Rock red of the City Chambers? Trees were chopped down and flowerbeds in-filled to make space for tented exhibitions, occasional stands and cheap-looking Christmas lights. Glaswegians shrugged their shoulders and bemoaned the philistines in City Hall but Glasgow's City Fathers learned nothing from the debacle.
Fifteen years later they've done it again.
Council leader Gordon Matheson suggested the £15 million George Square redevelopment to coincide with the 2014 Commonwealth Games. City rival Edinburgh was reeling from the trams debacle, Aberdeen was struggling to agree on Union Terrace Gardens, Perth was swithering over its City Hall only Dundee was forging ahead with Waterfront plans.
Suddenly there was an ideal opportunity for the Dear Green Place to demonstrate better taste, more civic pride and greater organisational ability than almost all its Scottish city rivals. So the Council launched an international design competition in 2012, leaving a jury of the great and good to whittle 35 entries down to a shortlist of six whose designs were displayed for a few weeks at the Lighthouse design centre. Now, the Lighthouse is a lovely building tucked away in a lane off Buchanan Street not as easy to find as the City Chambers on George Square. Which makes you wonder if "public feedback" was really wanted.
In any case, the jury already had a winner Design Two by John McAslan (an option keeping the existing grass and statues). But this wasn't Gordon Matheson's favoured design.
So, according to a report last weekend, which the council has not contradicted, the council boss scrapped the whole project. Instead there will be a low-cost, "substantial facelift" to reinstate grass and get rid of the cursed red tarmac.
I suppose 15 years and £100,000 to reach the same conclusion as the Glasgow public did in 1998 is pretty good going for the council. On the other hand, architects spent months working on plans, citizens responded and investors renovated properties around George Square. Was all this effort swept aside simply because a miffed council leader didn't get his way?
Most of the austerity-hit public probably wanted no more than the modest facelift now happening, but the plan for a £15 million redesign was Mr Matheson's idea he decided a winner should be picked before consulting the public. It was he who ignored public opposition to the £15 million price tag and then used it when things weren't going his way.
Surely Council Tax payers and angry architects have a right to know why £100,000 was wasted and civic pride badly dented? Only Gordon Matheson knows and he has "no comment".
Audit Scotland is considering a request to investigate Glasgow City Council's spending in relation to the George Square redesign. Opposition councillors are waiting to quiz Mr Matheson at a public meeting on Thursday at 10 am.
It might be no bad thing if aggrieved members of the public also appeared. More probably, the high-handed disregard for their views will turn Glaswegians off the "democratic process" for another 15 years.
Well done, Gordon.