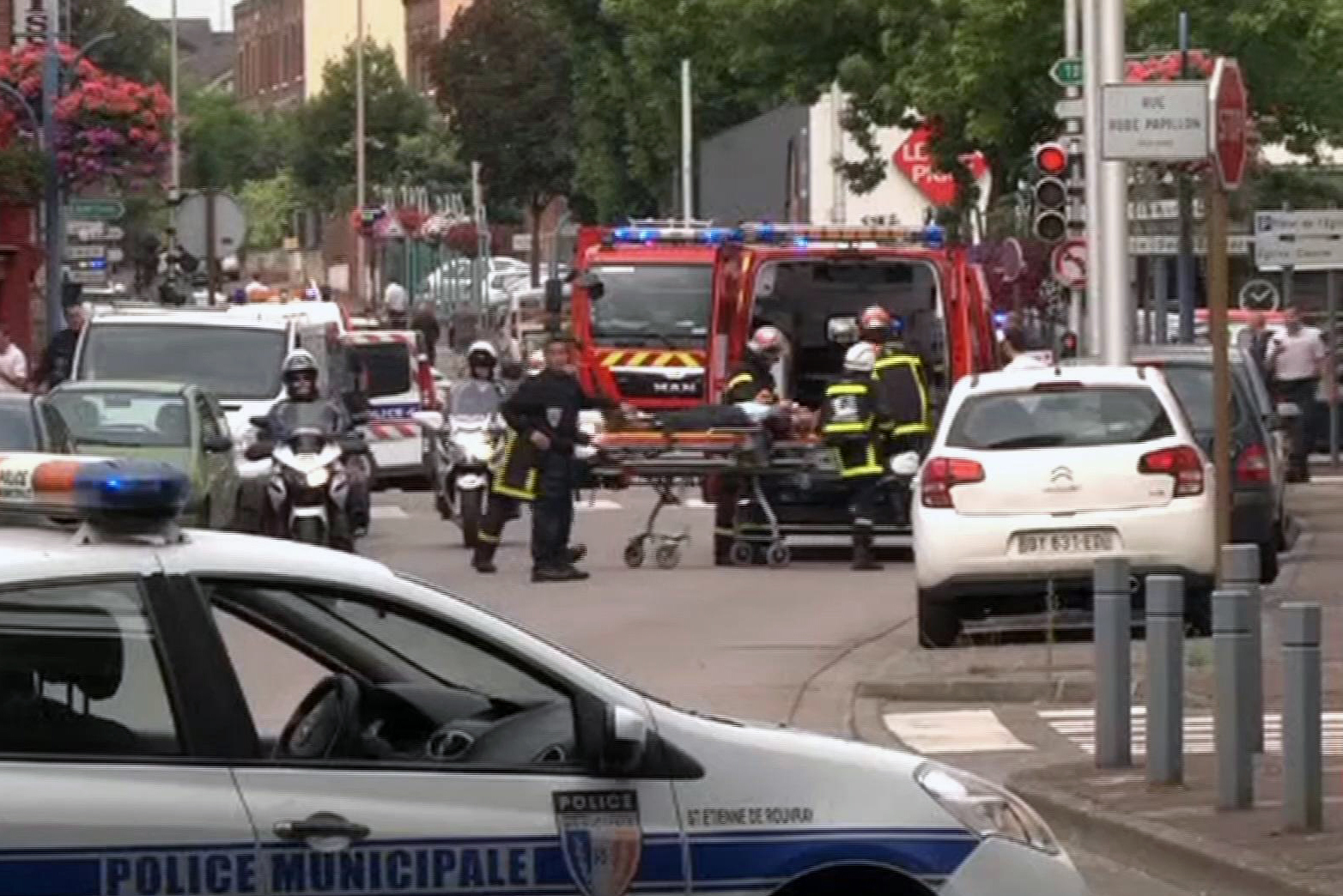 French president Francois Hollande has pledged to fight the Islamic State terror group "using all means possible" after an attack on a church in Normandy which resulted in the murder of an 84-year-old priest.
Father Jacques Hamel was reported to have had his throat slashed during an hour-long hostage-taking incident which began as two knifemen burst into the parish church by a back door during morning mass.
The church, in Saint-Etienne-du-Rouvray, near Rouen, was swiftly surrounded by anti-terror police and the hostage-takers were shot dead as they emerged into the courtyard outside.
Local media reported witnesses said the men shouted "Allahu Akbar" as they came out of the building. One was described as bearded and wearing a Muslim skullcap.
As bomb squad officers searched the church for possible booby-traps, one member of the congregation of four – who included two nuns – was rushed to hospital "between life and death" suffering from serious injuries. Another worshipper was said to have been less severely hurt.
The attack sent shock waves through a nation already reeling from the murder of 84 people in Nice on July 14, when a Tunisian national drove a lorry into crowds enjoying Bastille Day fireworks, as well as earlier atrocities directed at rock fans and sports crowds and the Charlie Hebdo magazine in Paris.
At a press conference in Downing Street, Prime Minister Theresa May offered "my condolences to the French people following the sickening attack in Northern France this morning", adding: "Our thoughts and prayers are with all those affected."
Speaking after meeting emergency workers and the town mayor in Saint-Etienne-du-Rouvray, Mr Hollande named Islamic State – also known as Daesh – as the source of the threat to French people.
"We are facing yet another trial, because this threat is extremely high and still remains very high after all we've lived through over the past few days and the past two years," he said.
"We are faced with a group, Daesh, that has actually declared war, and we have to fight this war using all means possible. Of course we have to respect the rule of law, because we are a democracy."
Mr Hollande called for unity between French Catholics and members of other communities, and announced he will meet leaders of a range of faiths on Wednesday.
"What these terrorists want to do is to divide us, and today after the death of this priest I am thinking of all the Catholics of France and expressing my support," he said.
"It's not only Catholics who are involved, all the French people are involved, and that's why we must ensure cohesion. Nobody should be able to break it."
Mr Hollande warned: "Today we must be aware that the terrorists will not give up as long as we don't stop them. That's our will and that's what we are doing tirelessly.
"The French people must realise that they are threatened. They are not the only country – Germany is also threatened – but their strength really is in cohesion."
Religious leaders issued messages of sympathy and solidarity in the wake of the killing.
In a statement, the Vatican said Pope Francis shares the "sorrow and horror" felt over the incident, adding: "We are particularly struck because this horrible violence has occurred in a church – a sacred place where we pronounce God's love – with the barbaric murder of a priest and worshippers affected."
The Archbishop of Canterbury Justin Welby said: "Evil attacks the weakest, denies truth and love, is defeated through Jesus Christ. Pray for France, for victims, for their communities."
The Archbishop of Rouen Dominique Lebrun, who cut short a visit to Poland to return to his diocese and was due to meet Mr Hollande on Tuesday evening, said: "I cry to God with all men of good will. The only arms which the Catholic Church can take up are prayer and brotherhood between men."
French interior minister Bernard Cazeneuve, who visited the scene with the president, said he felt "horror at this barbarity, great solidarity with all the Catholics in France in this moment of trial".
Mr Hollande said he had come to express "the solidarity of the whole nation" with the community affected by the "cowardly assassination" of Father Hamel.
He said he had spoken with the priest's family, as well as with some of the hostages, who expressed "pain and sadness and also their will to understand why this should happen".
The president paid tribute to the emergency and security services, who he said had intervened "extremely quickly" to avert further bloodshed and to assist the people who had been taken hostage.
Mr Cazeneuve's spokesman Pierre-Henry Brandet told reporters: "With regard to what happened this morning, two individuals went into the church and took five people they found there hostage.
"The alarm was raised immediately and the police service was mobilised and the BRI (Search and Intervention Brigade) squad from Rouen was rapidly sent to the scene. They encircled the church, establishing a perimeter cordon.
"Two hostage-takers were taken out under conditions that will now be investigated by the French anti-terrorism prosecutor. The two hostage-takers exited the church and were shot down by the police officers.
"Investigations are now under way to discover the circumstances surrounding the death of one man and another person who was seriously injured and is now in a critical condition. He was treated immediately by paramedics from the fire service and emergency healthcare professionals.
"The bomb disposal team are currently ensuring that the church is not booby-trapped either inside or around the church. Psychologists will look after the witnesses and those hostages who were taken out alive.
"It's been a very dramatic event for the Catholic Christian community here."
He added: "As for the profile of the assailants, that information is being examined by the counter-terrorism prosecutor who will now act in association with the anti-terrorism unit of the police and the French internal security service."
The hostage-takers entered the church armed with knives shortly before 10am local time (9am UK time), said French media sources.
As the situation developed, officers from the elite anti-terrorist Raid squad were called in to assist local police.
A number of shots were heard over a period of around 15 seconds as the incident came to an end around 40 minutes later.
Born in the Rouen area, Father Hamel was ordained in 1958 and was assistant priest in the parish of St Etienne.
Eulalie Garcia, who works in a beauty parlour on the same road as the church, told reporters that he had taught her the catechism as a young girl.
"My family has lived here for 35 years and we have always known him," she said. "He was someone who was treasured by the community. He was very discreet and didn't like to draw attention to himself."
French newspaper Le Figaro reported the church was suspected to have been on a list of Catholic places of worship in the area around Paris drawn up as possible targets by Sid Ahmed Ghlam, an
Algerian student arrested last year on suspicion of murdering a mother-of-one during a botched attempt to attack a church in Villejuif.
---
READ MORE
'At least one hostage killed' and knifemen 'shot dead' in siege at French church
Nice attack: IS claim terror driver was a 'soldier' as sobbing holidaymakers return home after massacre