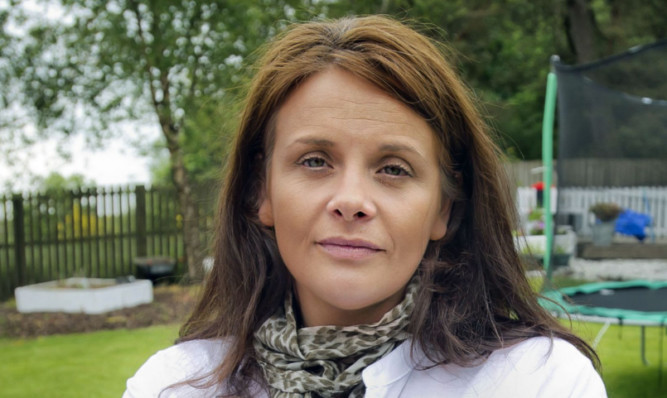 JAILED Apprentice star Sharon McAllister has revealed she has "no regrets" over the nightmare tug-of-love court wrangle that landed her behind bars.
The mum of two fired by Lord Sugar when she appeared on the show was sent to jail after a sheriff decided she had deliberately prevented her son from spending time with his father.
She spent her 40th birthday behind bars while the child at the centre of the case was teased by bullies who said his mum was never coming home.
Yet, despite being lambasted by a furious sheriff who gave her a three-month sentence, the reality star insisted she'd done "nothing wrong".
"It's not fair that I've been painted as a malicious mother and law-breaker," she said.
"All I've ever done is to look after the best interests of my son."
Now back home after being released on appeal, the Apprentice candidate fired in the 2006 series for being "too nice" said the ordeal had taken a terrible toll.
"People see pictures of me in handcuffs and think I'm a criminal," she told The Sunday Post. "But I'm not… my character has been assassinated."
The tearful mother-of-two was led from Perth Sheriff Court in handcuffs last month after being held in contempt of court for failing to send her six-year-old son on visits with his father.
She was also criticised after court hearings were deferred and for racking up legal aid bills the case has been heard more than 30 times over a four-year period. Her jail sentence for contempt of court was hailed by fathers' rights campaigners who said it finally showed courts were toughening up on mothers who flouted court order agreements.
But Sharon, who used to earn £50,000 a year, claims there are two sides to every story. She believes she has been unfairly branded a "troublemaker", let down at every turn and was even spied upon by private detectives at one point.
Her legal team are now challenging the legality of the decision to jail her.
She also fears her appearance on The Apprentice has turned her into a high-profile "example" for fathers' groups campaigning for improved access rights to their children.
"I went on The Apprentice when it was just a BBC2 business programme, not knowing it would be the phenomenon it became," she said. "I didn't think people would still be reading about me years later."
She was jailed after Sheriff Fiona Tait told her she had repeatedly sabotaged periods of contact between her son and his father, college lecturer Craig Middleton, of Alva, Clackmannanshire. She said the breaches were "flagrant contempts of court".
At one stage she was branded "a drain on public funds" and told to pay back £20,000 in legal aid.
However, Ms McAllister today alleged her side of the story hadn't been properly heard including claims her son was too ill to attend two of the visits.
She also argues other missed meetings were down to a mix-up caused by court papers and because there were people present at a drop-off point who should not have been there.
"I just did what any mother would do when they have a sick child," she added.
"My son had slapped cheek syndrome and another time he was sick after eating sausages.
"Surely a mother trying to look after her sick son shouldn't be done for some kind of offence?"
She added: "I stand by my son being ill, which is why he didn't go to the contact with his father it's not that I couldn't be bothered.
"I've no regrets because I did the right thing."
Ms McAllister was handcuffed after the hearing and taken to Cornton Vale. "I was a civil prisoner did I need to be put in handcuffs?"
She says the dehumanising experience has not only affected her, but her children's lives "forever".
"My eldest son came to see me in jail and I saw hurt and anger in his eyes," she said.
"He said he was proud of me how do you deal with that?"
Such a bruising, emotional encounter has clearly left her angry.
"This has left my reputation in tatters," she adds.
"My children have been hurt beyond belief and so has my family. My chances of getting a job have been destroyed, my character has been assassinated and I've been branded a troublemaker."
The one thing she clearly fears the most is having to go back to Cornton Vale. So how did she survive a fortnight locked up with shoplifters and thieves?
"My thoughts were with my mum and the children how were they going to deal with this? What was going to happen to the boys, how were they feeling? I wanted to be there to explain it to them and reassure them and cuddle them.
"For a family that doesn't have a strong foundation, something like this could destroy them."
Speaking from the five-bedroom detached home near Dollar, Clackmannanshire, she shares with her parents, the boy at the centre of the case and her 15-year-old son from another relationship, Ms McAllister added: "We shouldn't be punishing a child by taking away a parent.
"Now I want to influence policy so no child, mother or father finds themselves in this situation.
"I need to show my children you can turn the worst experience ever into something positive.
"If I don't do that, I'll feel like a failure as a mother."
Ex-partner, Craig Middleton, said, "No comment," when asked if he would like to comment.