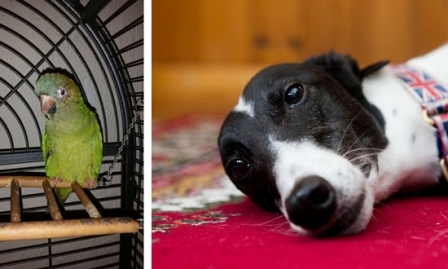 WE'VE all heard the phrase "sick as a parrot" but for one put-upon pooch it was definitely more a case of "sick OF a parrot".
Easy-going rescue greyhound Freddie has been forced to go back to the pound because he was being driven barking mad by a loud-mouthed bird called Basil.
Freddie had been looking forward to a well-earned retirement, snoozing in front of the fire, after he finished racing aged five.
The hound thought he had landed on his paws when 67-year-old Christine Carter agreed to adopt him so her other greyhound Jack had some company.
But Freddie hadn't banked on a feathered fiend Christine's parrot Basil.
It turned out that the 21-year-old sharp-tailed, and sharp-tongued, bird had rather too much to say for himself.
The parrot, renowned as a "little villain", would squawk and laugh incessantly, which drove peace-loving Freddie to distraction.
Freddie the greyhound is now back at the Retired Greyhound Trust, looking to be rehomed again (Andrew Cawley / DC Thomson)
He got so upset by the constant din, Christine was eventually forced to return him to the shelter.
"It's an awful noise," admitted Christine, of Rochdale, Greater Manchester.
"When you are not giving him attention or you're on the phone, he's just making a racket, he's an absolute little villain.
"He laughs as well."
When Freddie was first assessed by the Retired Greyhound Trust, he was found to have such a good temperament, he would even be suitable to live with a cat.
But after spending less than three weeks with bonkers Basil last month, he had become a nervous wreck, was shedding his coat and frequently messing in the house.
Christine, whose other greyhound doesn't seem to let Basil get to him, reached the end of her tether and reluctantly returned Freddie to the RGT branch in Witherslack, Cumbria.
At first Jenny Stott, who runs the centre with husband Stuart, was baffled by Freddie's out-of-character behaviour.
But when the couple took him to their local pub, and a baby cried at a similar pitch to Basil, it all clicked into place.
Jenny said: "It was a high pitch like Basil and Freddie's ears went straight up and he started shaking.
"We realised straight away it was the parrot that was causing the problem.
"He must have thought the parrot was there in the pub.
"I have re-homed 350 greyhounds and not one of them has been scared of a parrot."
Back at the shelter among the other rescue greyhounds, relieved Freddie is back to his old self and on the look-out for a nice, relaxed home . . . without a gobby bird.
Jenny added: "When you are re-homing a dog there are all sorts of things that can affect the animal.
"Everything can seem normal, but that normality may not suit the dog and if it doesn't, its character completely changes."
If you are interested in adopting Freddie or any of the other greyhounds at the shelter, log on toourgreyhounds.co.uk or call 015395 52394.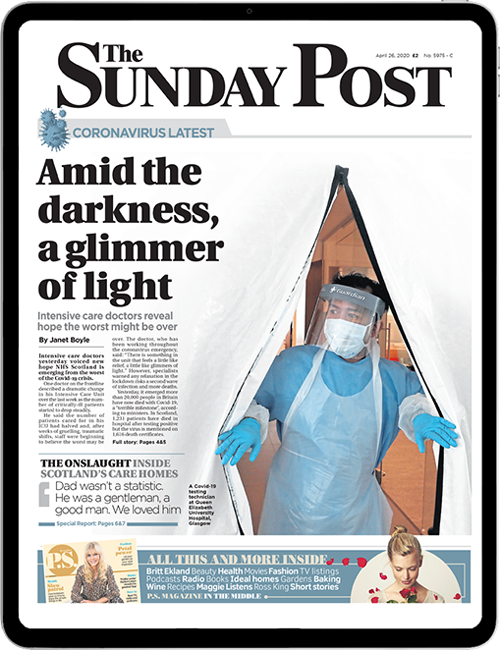 Enjoy the convenience of having The Sunday Post delivered as a digital ePaper straight to your smartphone, tablet or computer.
Subscribe for only £5.49 a month and enjoy all the benefits of the printed paper as a digital replica.
Subscribe