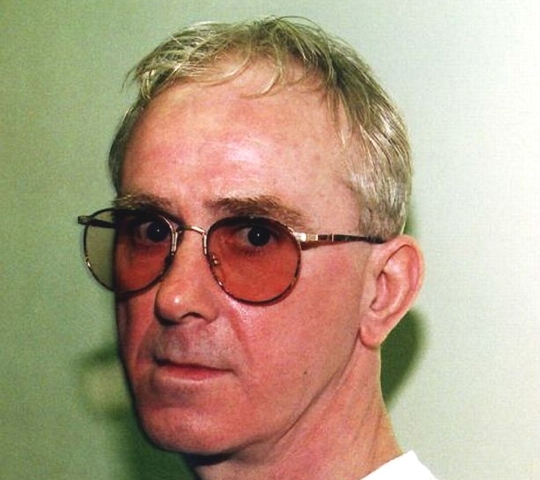 KILLER Robert Mone has spoken for the first time about the horrifying Carstairs breakout that saw three people slaughtered.
Along with fellow patient Thomas McCulloch, Mone escaped from the State Hospital in a murderous rampage which left nurse Neil McLellan, 46, patient Iain Simpson, 40, and policeman George Taylor, 27, dead.
Since then Mone, now 67, has become Scotland's longest serving prisoner.
In nearly 40 years he's never spoken about the night of mindless violence that shocked the whole of Britain until now.
In a series of letters to be published in a new book, Carstairs: Hospital Of Horrors, remorseless Mone relives the "terrifying night" of November 30, 1976, describing it as a "nightmare of shattered dreams and grotesque, maniacal butchery".
He and McCulloch spent six months amassing a deadly array of weapons, using the cover of building "props" for a Christmas drama production, to make good their escape.
Nazi-obsessed McCulloch made a rope ladder from stolen material and hid it in a loudspeaker.
He also amassed garottes made from violin strings, fake wooden pistols, an axe and three knives which he decorated with SS symbols.
Mone, meanwhile, used his job on the hospital's in-house magazine to manufacture fake identity cards.
He also plundered the drama department for disguises including false moustaches and nurse outfits.
"All of the equipment was made or stolen under the very noses of the staff who were supposed to be ultra vigilant," says Mone.
A Tuesday night was picked because it was the busiest for road traffic outside Carstairs, heightening their chances of hijacking a passing car.
Nurse Neil McLellan was escorting the pair to work within the confines of the secure hospital when they put their plan into action.
Also present was fellow patient, Iain Simpson, who would also die that night.
Mone whose own dad Sonny murdered three women in a jealous rage over his son's infamy in 1979 recounted: "Neil collected me close to seven o'clock in the evening.
"He was already accompanied by Iain Simpson and we collected McCulloch."
McCulloch was carrying a box containing the rope ladder and weapons which everyone assumed contained props for their production of John Steinbeck's Of Mice And Men. "Anyone carrying out the most cursory search would have uncovered everything," Mone adds.
Mone who had a troubled upbringing including being the victim of sexual abuse records a chilling, matter-of-fact account of the blood-letting that ensued.
Arsenal of weapons that killers Robert Mone and Thomas McCulloch made in Carstairs
He first sprayed paint thinner in the unsuspecting nurse's face to disable him.
"From the carrying box, McCulloch lifted two Army-style belts, each fitted with two sheaths and two daggers, the buckles of the belts emblazoned with a "Gott Mit Uns" (God With Us) insignia. McCulloch was obsessed with German militaria.
"I'm convinced that if he had access to them, McCulloch would've decked us both out in Waffen SS uniforms.
"I entered the office and immediately took out the disabling spray and squirted it in Neil's face.
"He leapt to his feet and, as I grappled with him, we both stumbled into the corner, where I tried to pin him.
"My most vivid memory, as we struggled, was looking into his face and not understanding why he wasn't looking at me."
He claims, Neil was "transfixed" his eyes "bulging in terror" at the terrifying spectacle of McCulloch repeatedly hitting Simpson with an axe behind them.
During the episode Mone found himself in a fierce struggle with Simpson who, despite the ferocious attack, was clinging to life.
Simpson lashed "out with a knife" he'd picked up in the melee, injuring Mone, who added: "Reaching blindly behind me, I grabbed a garden fork and twice struck him."
McCulloch, "hatchet still dangling in his hand" then "finished both men off".
The pair used the rope ladder to scale the perimeter fence and, making for the road, Mone lay on it pretending to be a victim of an accident to stop a passing car.
It just so happened a police car on a routine patrol also ground to a halt.
"As one officer approached me, I saw McCulloch suddenly attack the second officer with a dagger or a truncheon," says Mone, who brandished an axe at PC Taylor, a father-of-six, as a "warning".
"PC Taylor did not hesitate and ignored the warning, immediately launching himself at me.
"With his superior size and strength, he literally swung me about like a rag doll," Mone recalled.
PC John Gillies "raced down the road", seriously injured, and managed to escape. PC Taylor would die from stab wounds.
Chilling Carstairs aftermath with two police hats and a prison officers hat (Daily Record) Mone and McCulloch stole the police car and raced away, with Mone making false radio reports to throw other officers off their scent.
McCulloch who was released amidst utter outrage in 2013 lost control on the icy roads, crashing into a ditch.
Covered in blood and soaking wet, the terrifying pair then stopped a van carrying workmen Jack McAlroy and William Lennon.
Deranged Mone stabbed William Lennon in a fit of anger, one of the few events the snivelling con claims he now regrets.
"To my continuing regret and shame, he suffered incredibly severe chest injuries, which would have proved fatal but for his stamina and the skill of the surgeons who treated him," writes Mone.
"I have only fragments of memory of the confrontation but recollect screaming at him to 'stay down' as he tried to rise."
As the pair sped away in the stolen van, Mone says he collapsed and violently vomited after the "enormity of that awful night" and the "insane violence welled up inside" him.
The deranged pair got just a few miles in the second hijacked vehicle before abandoning it, fearing a police roadblock ahead.
They took off on foot, wading through the River Clyde.
As Mone stumbled trying to get out of the water, he screamed for help, but McCulloch appeared to be toying with the con, who is now held in HMP Glenochil.
"He just stood there, not moving, casually assessing whether or not to rescue me," says Mone.
Eventually he held out his axe and helped Mone out of the ditch before the pair went on to target a "random" remote farmhouse, where they terrorised a young family.
"A collection of children were gathered fearfully around their mother," Mone recalls. "The television was blaring St Andrew's Day Scottish music, a peaceful evening's television rudely disturbed."
Fearing police were hot on their heels, the psychopaths left the family unhurt, only taking their car.
They were on their way to England.
"As the car sped down the motorway I glanced nervously at McCulloch several times," Mone says.
"His features were absolutely rigid, deathly white and set in stone."
Mone claimed as they sped south, he contemplated "opening the car" and throwing himself out, fearing McCulloch could turn on him.
Thomas McCulloch after breaking out of Carstairs in 1976
After crashing into a roundabout on the outskirts of Carlisle, they abandoned their getaway vehicle before attempting to hijack a fourth car.
However they were thwarted after the driver took the keys with him.
"Almost with a sense of relief I felt hands (of the chasing police officers) grasp my arm and I was pulled from the front passenger seat."
The pair's escape bid was over.
But two years ago, Mone says he was told McCulloch, now 67, had planned one final murder that night.
"Someone in a position of authority confided to me that McCulloch planned one further murder.
"This individual told me, 'You were next'. It was chilling."
Throughout the account, Mone, who's desperate to be freed, denies blame for the breakout, claiming McCulloch was responsible.
Eminent psychologist Sir Cary Cooper said: "It's normal for guilty criminals to convince themselves over time they are in fact innocent." Carstairs: Hospital for Horrors by David Leslie, copyright David Leslie. Published by Black & White Publishing on Monday 5th October at £9.99 (pbk)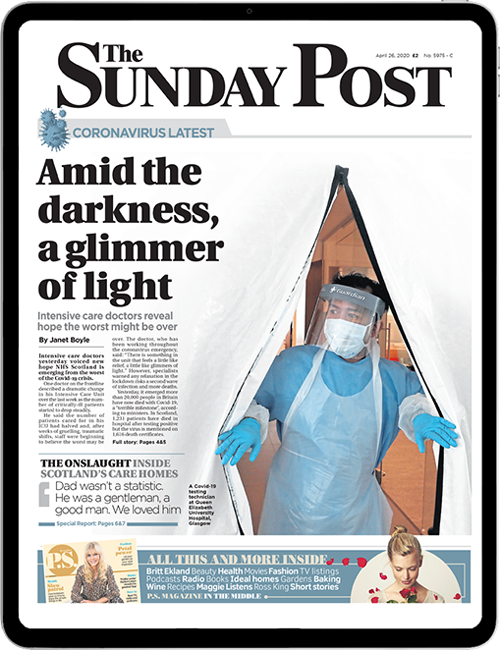 Enjoy the convenience of having The Sunday Post delivered as a digital ePaper straight to your smartphone, tablet or computer.
Subscribe for only £5.49 a month and enjoy all the benefits of the printed paper as a digital replica.
Subscribe