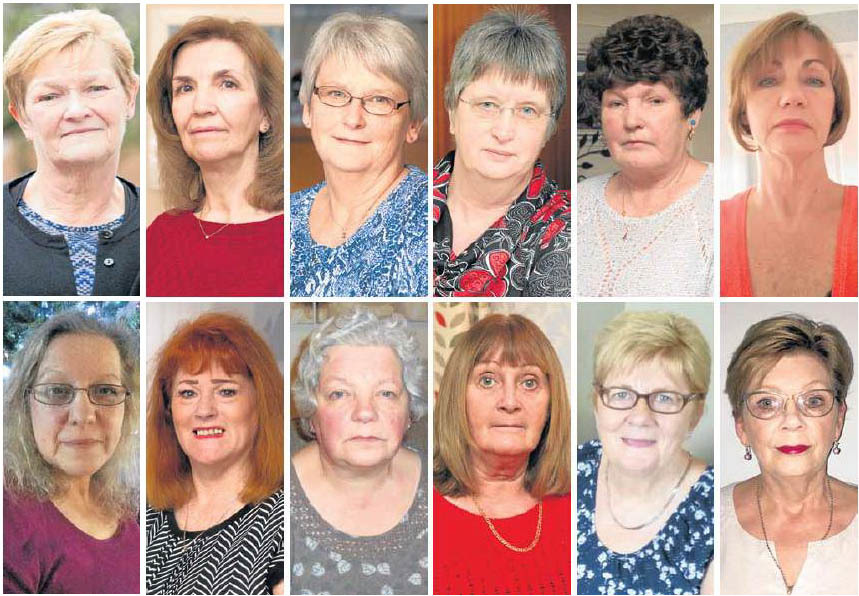 Just days before MPs meet to debate the powder-keg topic, The Sunday Post has spoken to women hit hard by changes, forcing some to work on or wait six years longer than expected for their state pension.
The step has condemned thousands of hardworking women born in the 1950s to an uncertain future.
Many have contacted us to tell how they are facing repossession or are struggling to make ends meet.
In some cases, women have been left feeling suicidal by the desperate situation they find themselves in.
Many, unlucky enough to find themselves out of work, have been forced to prove they are looking for a job.
However, with a younger workforce vying for scarce jobs, many women in their 50s and 60s have found themselves applying for hundreds of jobs with no luck.
Many feel "utterly betrayed".
Pat Alexander is just one of those affected by the pension changes.
The Fife-based 62-year-old spent most of her career working with people with special needs.
Her job was physically demanding and had already become a struggle to cope with when she retired.
She continues to work part-time and said politicians don't understand the demands on people in many jobs.
She said: "If you work in an office then maybe you could work on but what about women who are carers and have physically demanding jobs?"
Another woman who contacted The Sunday Post said she has been left feeling suicidal as she struggles to get benefits and faces the prospect of losing her home.
The woman from Glasgow, who wished to remain anonymous, said: "I was born in 1954 and assumed I would collect my state pension at 60.
"However, I am now unable to find a job at almost 62 after working for more than 40 years full-time.
"It's virtually impossible to get a job. I have applied for more than 300. I am suicidal as I am struggling to get any benefits."
Sadly, her situation is not unique.
The Women Against State Pension Inequality (WASPI) campaign group, which is calling for a rethink on pension changes, said it has been contacted by several women left suicidal by the situation.
WASPI co-founder Linda Phillips said: "Some are facing the prospect of six years without an income.
"We have women saying they feel suicidal. They are living on the edge. They are scared of losing their homes."
The group wants compensation for those hardest hit.
Its petition calling for a rethink has attracted nearly 100,000 signatures.
SNP MP Mhairi Black is to lead the debate on the issue in the Commons on Thursday.
However Tom McPhail, head of pensions research at investment company Hargreaves Lansdown, said the Government would be "extremely reluctant" to change. He added: "The central argument for campaigners is that the Department for Work and Pensions didn't let people know soon enough and that its literature was not clear."
Last month a Dutch court ordered its government to pay a widow her pension at 65, even though the retirement age had been raised to 67.
It was ruled that deferring it would break the woman's human rights.
Campaigners hope the Dutch case could pave the way for a UK challenge.
However, Mr McPhail said the UK Government was showing "no inclination to bow to pressure".
The 1995 Pensions Act equalised the retirement age for men and women to 65.
Any woman born before 1950 still retires at 60 with those born afterwards seeing their retirement age gradually increase.
In 2011 the Chancellor increased the retirement age to 66 and accelerated the process of equalisation. But the Government only wrote to people affected in 2012 and 2013.
A spokesman for the Department for Work and Pensions said the different State Pension ages for women and men represented a "long-standing inequality" and the "abolition of this discriminatory situation is long overdue".
Are you affected by the changes? If so we want to hear from you. Call our Glasgow office on 0141 567 2722 or email jbreslin@sundaypost.com
---
READ MORE:
Thousands of women facing pensions plight as many find out they'll have to wait longer to retire
Millions are still ignoring warnings over pensions
---
ANN Clements, 62, from Edinburgh, worked as a nurse for several years before becoming a housing officer.
She had been expecting her pension at 60 but was told she'd have to wait till she turned 63.
As a result, the former nurse, who has never claimed benefits, has continued working in her current role as a housing officer for longer.
However, she worries about her health as time goes on as she has Type 1 diabetes.
"I feel my human rights have been breached without any consultation."
JOYCE Wallace, 58, from Glenrothes, took early retirement three years ago in the belief that she could start collecting her state pension when she turned 60. However, the former secretary later discovered she would, in fact, have to wait till she was 66.
Joyce feels angry given she'd worked from the age of 16 and only ever took time off to have a family.
She said: "I believe it's the case that women who haven't worked all their lives will receive the same benefits as myself. Where's the justice in that?"
JOYCE Murphy, 60, from Dalkeith, had to give up her job as a bookkeeper in 2012 in order to become an unpaid carer for her mother-in-law.
When the Government changes first came in she was told she would have to wait till she was almost 65 to receive her state pension.
However, Joyce, who worked as a dental nurse before becoming a bookkeeper, has now been told she won't get it till she is 66.
She said: "At one point we had to work for 40 years to get the full pension, now it's 30, so again those of us who have worked 40 years are not going to get anything more."
SHEILA Young, 61, from Langholm, worked in the textile industry for 43 years until she was made redundant in 2013.
She said she received a letter from the DWP stating that her pension age was being extended by a few months.
"Suddenly, and with no further notification, I saw an announcement in the press and TV that the pension age was now raised to 64 years.
"Then again with no consultation a letter arrived to say that the pension age had been extended again and would be paid in September 2020 when I reach the age of 66 years.
"I found the pension information given to me totally heart-breaking."
MARJORY Jack, 64, from Alloa, believes she has lost around £6,000 as a result of the pension changes.
Marjory, who worked from the age of 16 as a factory worker and then a cleaner, was made redundant at 59.
However, she didn't get her pension till she was almost 62 due to the Government changes.
The payments she'd expected to receive from the age of 60 would have totalled almost £6,000 by the time she eventually did qualify.
She said: "I had to sign on. I was only getting £15 a week and I had to prove I was job searching.
"I phoned the DWP and they said you needed 30 contributions. I had made 40 so I thought 'what happened to the other 10?'It's unfair."
LORNA Whyte, 62, from Westhill, Aberdeenshire, took a redundancy package from her council job seven years ago in the belief she would receive her pension when she turned 60.
She later received a letter saying she would not receive her pension till she was almost 63. However, following this she received a second letter saying she'd now have to wait till she turned almost 65.
As a result, Lorna has had to keep working part-time as a waitress.
She said: "If I'd got it when I turned 60 I would have got about £20,000 by now.
"I would have been better just claiming benefits."
ELIZABETH Last, 57, from Cheshire, had her pension age delayed by six years in total. She took voluntary redundancy from her previous job as a ceramic technician as she suffers from fibromyalgia and was finding the job, which she'd done for 24 years, too difficult to manage.
She said: "The most upsetting part for me is that my husband who is 12 years older than me has already been retired for four years.
"Now I have to work an extra nine years before I can retire instead of three years which I was prepared for.
"Both my parents died in their 50s. My brother had a massive stroke 10 days after he retired and is now chair-bound and unable to speak. So not everyone is living longer and healthier lives as the Government tell us we are."
GRACE Stevenson, 59, from Uddingston, saw her retirement age rise to 66.
She has worked since she was 14 and has not had more than three months out of work during that time, despite being made redundant twice.
She said: "The safety net should be there if you need it. What happens if you don't live to 65 or 66? You get nothing."
MARGARET Purves, 61, from Lochgelly, was told four years ago she would have to work till she was 64.
At the time the post office worker was just three years away from turning 60 – when she'd expected to retire.
Then, to add insult to injury, she was later told that the retirement age was being increased to 66 and that it once again applied to her.
She wrote to then minister for pensions Steve Webb to complain.
She said the Government had ignored the recommendations of the Turner Report, which recommended that pension age changes should be carried out over a 15-year period.
She also stated a legal challenge may be possible.
Speaking ahead of this week's debate, she said: "It is encouraging to know that groups such as WASPI are still fighting the injustice."
LEAH Cocozza, 59, from Glasgow, received a letter in 2014 from the DWP saying she would have to work until she was 66.
She said: "I have worked since I was 15 with only a couple of years being unemployed.
"I have over 40 years in national insurance contributions.
"I am very perplexed that I am being asked to work even longer."
BARBARA Mitchell, 61, from Londonderry, has seen her retirement age pushed back twice by Government plans and will now have to work till she's almost 66.
She said: "I am tired and weary but can't afford to leave work until I get my state pension.
"If I had been born just one year earlier I would have been able to receive my pension on 6th July 2017, a difference of two years and 10 months."
AILEEN Thomson, 62, from Dundee, was looking forward to retiring at 60 but was told she'd have to work till she was almost 63.
She is now 10 months away from retiring but is angry as she said she did not receive proper notification about the changes in time.
A stock controller most of her career, she now works for a supermarket call centre.
She said: "The argument is we weren't given enough warning about the change.
"It's a shame for people with a hard job who have to keep going and going.
"I was coming home from work aching. Not every job is easy. I feel betrayed."
For more information about the Women Against State Pension Inequality group and to sign the petition, click here to visit their Facebook page.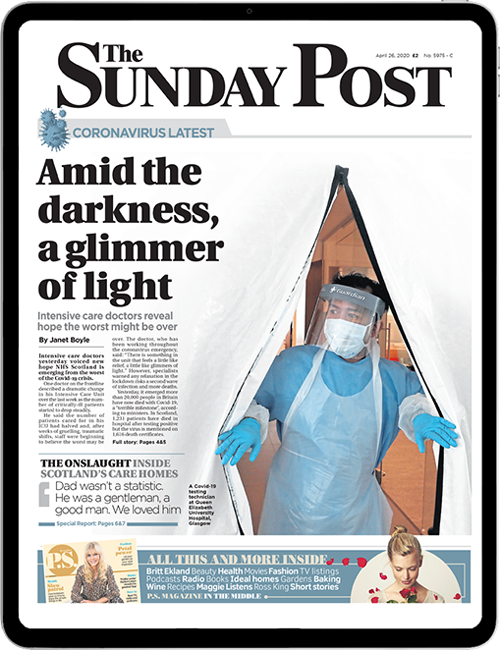 Enjoy the convenience of having The Sunday Post delivered as a digital ePaper straight to your smartphone, tablet or computer.
Subscribe for only £5.49 a month and enjoy all the benefits of the printed paper as a digital replica.
Subscribe