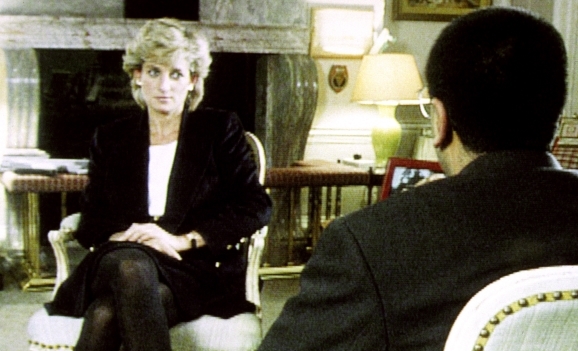 FRIDAY marks 20 years since Princess Diana's explosive interview on Panorama.
Twenty million viewers saw Martin Bashir question Di on her relationship with Prince Charles, depression and her fight with bulimia.
The interview caused shockwaves as Diana said "there were three of us in the marriage, so it was a bit crowded".
The couple divorced the following year.
We take a look back at other shocking interviews from over the years when interviewer and star have gone head-to-head. "You dirty sod. You dirty old man."
Who: The Sex Pistols interviewed by Bill Grundy.
When: 1976
What: The punk band were booked as late replacements for Queen on the Today programme, an early evening broadcast that went out live. The band had been offered drinks on air and host Grundy goaded them into swearing, which guitarist Steve Jones was happy to do, spewing out a series of F-words.
Next: There was mass outrage, including a now infamous front page headline proclaiming: "The filth and the fury" which gave the band a boost and signalled the arrival or punk rock. Grundy was suspended and his career never recovered.
Shock rating: * * * "What's wrong with sharing a love?"
Who: Michael Jackson interviewed by Martin Bashir.
When: 2003
What: Bashir was granted full access to Jackson over a period of eight months, during which he questioned him about abuse from his father, his career, his plastic surgery and the allegations of child sexual abuse. Jackson said sleeping in a bedroom with children that weren't related to him was a "beautiful thing" and "very loving".
Next: Bashir testified in the 2005 court case against Jackson, where he was accused of sexual abuse. Bashir landed a job on American TV and Jackson died suddenly in June, 2009.
Shock rating: * * * * "When the president does it, that means it is not illegal."
Who: Richard Nixon interviewed by David Frost.
When: 1977
What: It's believed Frost was chosen for the interviews with the former American president as he wasn't seen as a hard-line, serious interviewer. Nixon's team got that spectacularly wrong as he was grilled for nearly 30 hours about all aspects of his presidency, most famously Watergate, where his admissions made the public believe he had obstructed justice.
Next: Frost launched TV-am, while Nixon wrote books and made a series of speaking engagements. Their meetings were later adapted for a play and a film.
Shock rating: * * * * "One big lie I repeated a lot of times."
Who: Lance Armstrong interviewed by Oprah Winfrey.
When: 2013
What: Seven-time Tour de France winner Lance Armstrong finally admits to doping to win his titles. He told Oprah he used performance-enhancing drugs, was a bully, and hadn't previously viewed himself as a cheat. His admission came after years of whispers and months after he had been stripped of his titles.
Next: An ongoing $100 million civil fraud lawsuit against Armstrong by the US Government on behalf of the US Postal Service, which paid more than $30 million to sponsor Armstrong's team. A biopic was also released, called The Program.
Shock rating: * * *