The perfect place for scenery, beer, and James Bond.
Until this little holiday, my knowledge of Yorkshire had come solely from TV shows such as Last of the Summer Wine and Emmerdale.
However, it's impossible to fully appreciate the beauty of the rolling hillsides, cascading streams and quaint villages of this region until you go there yourself.
We decided to base ourselves at The Wensleydale Heifer in the village of West Witton in North Yorkshire.
Slap-bang in the middle of the Yorkshire Dales National Park, this boutique hotel was a joy from start to finish. A family business, it's owned by top chef David Moss and his father Lewis.
During his career, David has worked at some of the country's best restaurants, including Longueville Manor which, at the time, was the Channel Islands' only Michelin-starred restaurant.
This experience is evident in the amazing food on offer at his hotel.
You wouldn't expect great seafood when staying in a landlocked village like West Witton, but David's stunning dishes achieve just that.
On our first night, my wife Katy and I enjoyed the Heifer's famous fish soup which has a slightly spicy kick.
Katy loved it so much she couldn't wait to have it on our second night there. I also enjoyed a main course of half Whitby lobster and king scallop thermidor with a Swiss cheese and mustard glaze.
Cooked to perfection and served with a small portion of thin-cut chips, it was utterly delicious.
Bizarrely, it was so good that I'll probably think of Yorkshire every time I have lobster now.
The Heifer is also well-known for its fish and shellfish pie. Packed with Scottish salmon, smoked haddock, king prawns, scallop, fennel, spinach and capers, it is topped with a delicious crust that hides the tasty morsels beneath.
Another seafood delight I enjoyed was a starter of cured fish, including gravalax, whisky smoked salmon, sweet onion pickled herrings, smoked trout and whisky pate, and marinated anchovies.
It was my first time with pickled herring and I wasn't disappointed as the tangy, sweet taste of the onions accompanied the herrings perfectly.
Not one to rest on his laurels, David has also expanded the restaurant's fare by introducing a new grill menu, offering sumptuous dishes using the best cuts of locally-sourced meat.
The bedrooms at the hotel are another example of David and dad Lewis's exciting approach to hospitality. Each of the 13 rooms has a theme, but done in a tasteful and enjoyable way.
Examples include the Chocolate Heaven room, A Night at the Movies room, taking its style from Hollywood glamour, and the Champagne Room where guests can enjoy a selection of chilled bottles of fizz.
The hotel has won an array of awards, the plaques of which adorn its walls. Staff were extremely pleasant and efficient throughout our stay.
For our trip we stayed in the hotel's newest and bravest room the James Bond.
Like all of the rooms, it is fitted with top-of-the-range fixtures and fittings, including a sumptuous, deep porcelain bath and walk-in shower.
The round bed looks like something out of an Austin Powers movie while a hanging globular, Perspex seat wouldn't look out of place in a Bond villain's lair.
The lamp-stands are golden guns while the walls are decked in Bond memorabilia. It's mad but in a fun way.
The room also has a huge LED Blu-ray TV and every Bond movie ever made on DVD as well as a selection of other classic films.
After the excesses of dinner we enjoyed relaxing on the pillow-strewn disc that was our bed and watching some of our favourite films. Bliss.
The Bond room is by far the craziest on offer, but there are plenty more sedate rooms to choose from, each just as luxuriant. During our stay we took in a tour of the Black Sheep Brewery in nearby Masham.
Paul Theakston opened the brewery in 1992 by converting an old maltings building in the village that was once part of Lightfoot's Brewery.
He sourced rare traditional equipment from old breweries that were closing down across Britain so he could brew in the time-honoured fashion.
More than 20 years on the Black Sheep Brewery and its beers are known worldwide and can be found on supermarket shelves and in pubs across the country.
The heady smell from the fermenting vessels whetted my appetite which was soon satiated by a delicious lunch in the brewery's bar and bistro.
All washed down, I might add, with a pint of Golden Sheep a beautifully balanced, light cask ale.
The brewery is well worth a visit, as is the Wensleydale Creamery in Hawes where you can taste a range of cheeses including the factory's namesake, made famous by cartoon characters Wallace and Gromit.
The sun was shining on the second day of our two-night stay so we went on a walk out to Aysgarth Falls an impressive stretch of the River Ure in mid Wensleydale.
There is a nice viewing platform where you can see the powerful river up close.
Afterwards we continued our walk out across rolling hills and fields to a viewpoint across to Castle Bolton. You can't help but relax as the sounds of nature accompany your stroll.
Yorkshire is an extremely peaceful and beautiful part of the country. But don't take my word for it. Or Compo's! Go see it for yourself.
The James Bond room costs £180 per night (B&B) Sunday-Thursday and £230 per night (B&B) Friday and Saturday. A double room costs £120 (B&B) per night Sunday-Thursday and £140 per night (B&B) Friday and Saturday.
For more information: wensleydaleheifer.co.uk or call 01969 622322. Adult tickets for the Black Sheep Brewery tour cost £6.95 (£5.95) each, children (under-17s) £4.95 while kids under five go free.
To book a table at the bistro and bar tel: 01765 680101. For tours, group bookings and events call 01765 680100.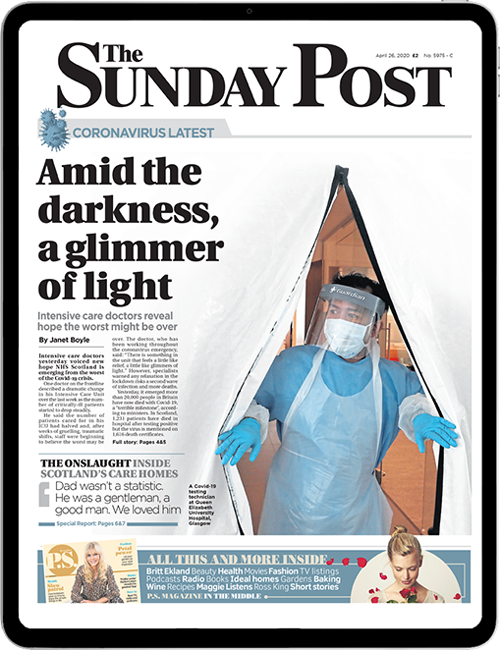 Enjoy the convenience of having The Sunday Post delivered as a digital ePaper straight to your smartphone, tablet or computer.
Subscribe for only £5.49 a month and enjoy all the benefits of the printed paper as a digital replica.
Subscribe