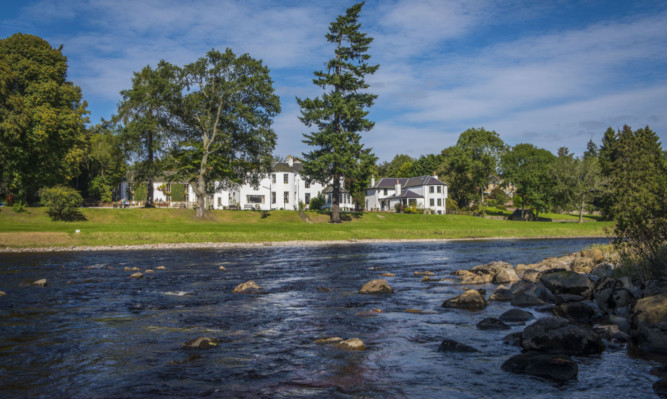 Royal welcome awaits at northern 'paradise'.
Every year my heart becomes more fixed on this dear paradise.
Those were the words of Queen Victoria after her umpteenth holiday in what's now known as Royal Deeside. She liked the area so much, of course, she bought huge swathes of it and built her own castle.
At its heart is the picturesque town of Banchory. Arriving from the south on the B974 from Fettercairn, as the crow flies, the first place visitors happen upon is Banchory Lodge.
Set back from the main road on the banks of the Dee, it's a former stately home that was transformed into a hotel in the 1930s.
While popular with celebrities such as Billy Connolly, Magnus Magnusson and Rikki Fulton, it had a reputation for being, let's say, a little bit hoity-toity.
But, as we found on a three-night stay at the turn of the year, that's now far from the case.
Two years ago Banchory Lodge was taken over by a private consortium and a major refurbishment of the public rooms was embarked upon.
The result is a family-friendly 28-room hotel that's cool and quirky (check out the paintings of dogs dressed as landed gentry) but still retains its historical charm.
After driving up from Edinburgh we checked into our room a grand affair with a king-size bed and three bay windows overlooking the river. It looked so good it made me yearn for my bed.
Food and drink first, though, and as we couldn't face getting back into the car after the two-hour journey north, we nipped downstairs to see what gastronomic delights the hotel had to offer. It turned out to be a wise decision.
Within an hour the various dining rooms that make up the restaurant area were jam-packed with families and it didn't take long to work out why.
The food (I had fish curry, the wife plumped for chicken and Harrison Jnr had macaroni cheese) was out of this world.
It clearly wasn't a fluke either. The next morning the smoked haddock and poached eggs we had for breakfast were equally as good.
Over the three days we were there we were so impressed I took the very rare step (for me, anyway) of passing my compliments to the chef.
Take a tip and book into the restaurant ahead of your stay because if those standards are maintained there will be long waiting lists to get a table.
Especially as it won Best Restaurant Experience at the Aberdeen City and Shire Tourism Awards last month.
And so, to the main purpose of our break to see what Royal Deeside had to offer families.
Each morning, after stuffing ourselves at breakfast, we set off for one of the many tourist attractions along the Victorian Heritage Trail.
It was established two years ago and pinpoints many of the places Queen Victoria and Prince Albert enjoyed on their way to their beloved Balmoral.
The closest sight to us was Milton of Crathes, which is home to an art gallery, restaurant, craft shops, a play park and the Royal Deeside railway.
The line, opened in 1853, was used by several generations of the Royal Family to get from Aberdeen to Ballater, the nearest town to Balmoral.
It was ripped up a century later following the infamous Beeching Report but a small section has since been resurrected and diesel and steam trains now run along the route.
These days it's open every weekend between April and October and at selected times throughout the rest of the year, including during the festive season. Our son Ewan absolutely loved it.
Along the road from the railway station is Crathes Castle, with its renowned walled gardens.
The grounds are also home to a Go Ape treetop adventure course where holidaymakers can find their inner Tarzan on swings, rope bridges and zip wires.
A word of warning though kids have to be at least 10-years-old or 4ft 7inches to have a go.
On the second day we made the short hop across the Dee for morning coffee at the excellent Falls of Feugh restaurant, before driving west on the south side of the river towards Ballater and then, finally, Balmoral.
If it's picture postcard scenery you're after, then this is the route to take.
There are lochs, pine forests, moors and rolling hills along the way all of which look different depending on the light.
Sadly, Balmoral, the jewel in the crown of Royal Deeside, was closed as Her Maj was up for a holiday.
Our final day trip was to Drum Castle in Drumoak, which was granted to William de Irwyn by Robert the Bruce in 1323.
Impressive as it was, by this stage our three-year-old had grown bored of tales of Royal derring-do and wanted to do something a bit more active and exciting.
So, in the afternoon, we took him to Wynford Farm, a humongous soft play centre 10 miles west of Aberdeen. Ok, so it didn't quite tick the "cultural" box of the previous few days but he loved every minute of it.
Our only regret from our time on Royal Deeside was not being able to cram in more. Banchory lies within a two-hour drive of three of Scotland's five ski centres and also boasts an 18-hole golf course.
Not only that but there are fabulous beaches 30 minutes away and some of the best fishing in the world right on its doorstep. It's little wonder Queen Victoria spent so much of her 63-year reign here.
Rooms at Banchory Lodge cost from £85. For more information, visit banchorylodge.com or call 01330 822625. For details of the Victorian Heritage Trail go to visitscotland.com.