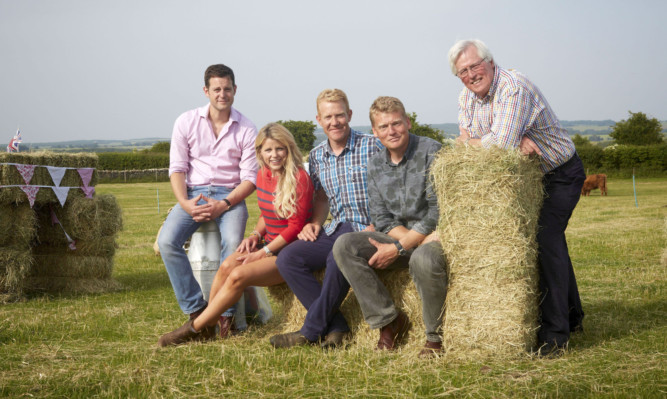 As the programme comes to Scotland for Burns Night, we track the TV ratings hit.
Eastenders landlord Danny Dyer and cult American rocker Iggy Pop are unlikely-sounding bedfellows. Throw in Katie Price and it's an even unlikelier trio. What makes it all the more bizarre is their connection. They're keen fans of Countryfile.
Yes, the BBC's comforting Sunday night favourite. You know, the one that destroys whatever ITV puts in its path.
Current Celebrity Big Brother housemate Price is so keen on the show, she fancies making an appearance although the Beeb show's boss diplomatically says she can't see that happening anytime soon.
Last Sunday, seven million viewers decided Countryfile was the perfect way to help round off their weekend. That's just a couple of million less than ITV managed to pull in for last month's X Factor final despite pouring the budget of your average small country into their biggest show.
That had Simon Cowell, Cheryl and every big name guest pop act they could attract. Countryfile has sneering non-fans might say some people standing around in a field.
But it's a ratings-busting TV smash. And, following in the footsteps of the bard, we've been behind the scenes to see just what makes it such a broadcasting phenomenon.
For a start it seems, for a programme that runs every week of the year in a prime time slot, a surprisingly small-time affair.
"We're teeny, tiny. Honestly, the budget is ridiculous for what we do," insists producer Joanna Brame. "I think we make the programme for less than a penny a viewer. When we're away filming we've got the presenter, a director, cameraman and sound recordist. That's it."
They are backed up by a tight-knit team who research the items, book the travel and the like. But while it's a shoestring operation, it does boast some of TV's favourite faces, none more so than John Craven.
After more than 40 years on screen 25-plus on Countryfile he's the broadcasting equivalent of comfy slippers or a warm jumper.
Over the quarter of a century he's shed light on rural matters from every corner of the nation. A bit of light during the Scots filming would have been nice.
"I went to bed up at Loch Ness on the Thursday night only to be woken by a huge storm rattling the windows," says John, 74. "I switched on the light and nothing happened so I had to try and dress in the dark using the torch on my phone.
"I wasn't supposed to be there at all. I had been filming an item about the Battle of Killiecrankie and was due to head home when I got a call saying Matt Baker couldn't make it up on the overnight sleeper because of the weather."
Having to reschedule at the last minute wouldn't register a blip on the veteran's unflappability scale. After all, this is the man who faced death during his Newsround days.
He chuckles as he recalls a deadly snake dropping into his canoe in the flooded Panamanian jungle.
"I leapt out into the water and when the snake had got back into the water, jumped in again before it got me. There were quite a few adventures I'm not sure we'd be allowed to do with today's health and safety."
Perhaps unsurprisingly, animals feature prominently among the Countryfile adventures that come to mind as he thinks back over the years. One involves being dragged round a field by farmer/presenter Adam Henson's ox.
"That was quite an experience. With several tons of ox meat hauling you, there's not much you can do. Luckily Adam came to my rescue.
"And I got tossed by a Highland bull. It got its horn under my jumper and threw me in the air."
Worrying about a film crew stuck at the top of the Cairngorms in a broken-down helicopter is just another hairy moment over the decades. But while last-minute panics and rescheduling is commonplace, you get the feeling it's a pretty well-oiled machine.
"It's normally the weather that's against us," confides super-efficient Joanna. "We're on 52 weeks a year, so there's no slack. Whatever the weather, we carry on.
"I've had directors say it's hammering down with rain. I just say, 'You've got an anorak'."
Thursday and Friday are the main filming days, with location shooting done then, before a couple of weeks of editing and preparation to get it all ready for the screen.
The series started as a half-hour rural affairs programme on a Sunday morning, pulling in an unprecedented three million viewers. Joanna admits that would have been a "disaster" in the prime time slot it moved to in 2009, but seven or eight million more is what actually happened .
Trying to nail down the secret of the show's success is something even those at the heart of it find tricky.
"It was a risk moving it to prime time," admits John. "For years I was hoping it'd get a move, but maybe something like 8pm on a Friday on BBC2, not BBC1 on a Sunday night. I couldn't believe it but it worked and was a brave and brilliant move.
"The audience gets bigger and bigger during the programme. I think it just shows how much the British people love and respect the countryside. We might not live in it and most of us don't own it but we want to protect and cherish it."
Some traditional viewers have lamented the show's broader approach "it used to be a much more serious but we're more of a lifestyle programme now." admits John and it faced an ageism row after former presenter Miriam O'Reilly was dropped.
But with ratings to die for, the programme continues to weather all storms, Scots or otherwise, and it's a series John is in no rush to walk away from.
"Some of my directors are younger than my children and they're very protective," he adds. "They say, 'Do you think you can climb that hill?' and I tell them of course I can climb that hill!'
"Some people are famous for programmes they'd prefer to forget. But with Newsround and Countryfile I feel really honoured to have been involved in programmes I'm proud of.
"They are two groundbreaking shows that have a lot of affection and respect among the audience.
"Families can watch Countryfile in safety. There will be no swearing and no sex unless it involves animals at a distance!"
Countryfile BBC1 6.30pm.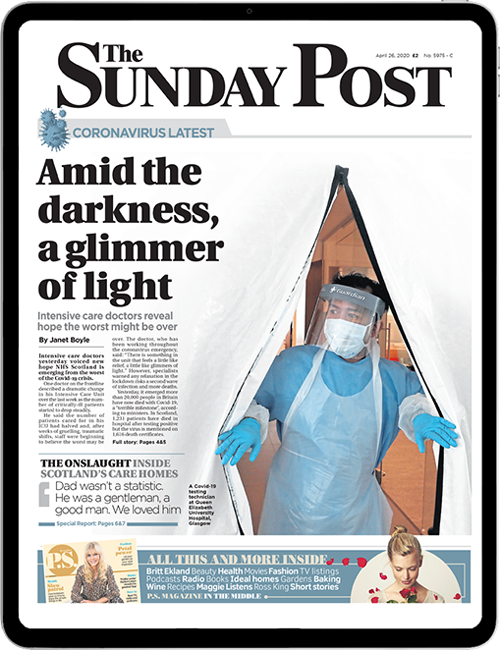 Enjoy the convenience of having The Sunday Post delivered as a digital ePaper straight to your smartphone, tablet or computer.
Subscribe for only £5.49 a month and enjoy all the benefits of the printed paper as a digital replica.
Subscribe