Having the legendary Beatle as a fan and performing for President Obama is fun but Jedward hope to still be making music for their grandkids when they're 70!
As the madcap Irish twins admit, a lot of people don't take them too seriously, but they're actually good musicians and care about their song-writing.
So, while many X Factor stars come and go, John and Edward hope to be around a lot longer, keeping the kids and grandkids of today's legends entertained!
"Sir Paul McCartney, Lady Gaga and Brian May of Queen, have all said nice things about us, and that's really cool," says John.
https://youtube.com/watch?v=RmhQqbt4gyU%3Frel%3D0
"We first met Paul McCartney when we'd bought some records, saw him and asked him to sign them.
"Since then, he's had us on the phone to his grandkids, so he's a fan!
"It feels brilliant when people you admire and look up to mention you, especially now we're playing guitar and piano, writing our own songs.
"We're taking our career up a step, because when we did X Factor, that was really the beginning, we'd never done anything before.
"Now, we're being much more creative. We learned to read music at school, so now we're writing, and we've even started doing our own drawings, too.
"That's why we're so excited about our latest tours, in the UK and then Australia, where our fans will be able to hear the new music we've been writing."
The boys are very keen to showcase their real musical talent, but admit they can be as serious or crazy as people want, depending on the occasion.
"People in the UK never really got to see this side of us," says John, "because on The X Factor, we didn't showcase our singing ability or play instruments.
"We can bring a lot more to the table than people think.
"When it comes to writing good songs, using big words and sticking them together, we can be good at that!"
Edward adds: "You know, we don't intend to act crazy all the time. If we go on a BBC show, we're one way, and when we go on the kids' shows, we want to just have fun.
"We try to have fun with the whole thing, the interviews and everything. But, when we're 40 or 50, we'll still be in the entertainment world.
"Maybe we can make movies! Other people set limitations, but we never stop. When the two of us want to do something, we see it through.
"We're 21 now, but still as fresh as when we started. The first time we officially performed for people was in a school talent show when we were 15.
"So we did songs by people like Justin Timberlake and Backstreet Boys, and it was fun. But before that, we were choirboys, doing songs like Oliver!.
"Then our voices broke, and everything went crazy for a while before it all came back together.
"After that, we took violin lessons, and we're enjoying getting to play instruments now."
If it was all about gimmicks, Jedward might have disappeared by now, but they reckon a lack of big heads has kept their followers with them.
"I think people care about us because they know we're normal, we haven't lost ourselves with fame," Edward goes on.
"When someone says: 'Oh, my God, we don't like Jedward!' other people seem to be rooting for us.
"Our mam doesn't really need to keep our feet on the ground, because we do that ourselves. We've been in a lot of crazy situations, but we still don't drink alcohol or smoke.
"We just live our lives like we did before. If we'd been in a boy band, or if we weren't twins but total strangers, it would have been different. But it's good to have each other and keep things level."
That sensible message will be music to the ears of politicians although, as the lads explain, it can be a bit crazy around politicians, too!
"Playing before Barack Obama spoke in Dublin was mad, with a line of snipers on the roof!" Edward laughs. "He's ready to come out, and there's Jedward, singing and jumping around!
"But the snipers made it feel really serious. We did another in Germany, where everyone had to wear white, and there were 70,000 fans all in white.
"But John had got hurt and was on crutches, so I had to rock the whole place by myself.
"Those are amazing things to remember. We'd done a thing on Ant & Dec, as lifesize pinballs, and he broke his ankle, but we still had to fly to Germany that day!"
It should come as no surprise that the lively duo have had their share of injuries, the way these hyperactive young men leap around the stage.
But Jedward were rather good sportsmen in their younger days, and still keep extremely fit, which may explain why they seem to recover so quickly.
Members of two Irish athletics clubs, they also got to run with the Olympic Torch last summer.
"We've done a lot of running, 50 miles a week, cross-country, mountain running, and we did the Los Angeles Marathon last year," John says proudly.
Hard to miss in their Stars 'n' Stripes running gear, they drew a lot of attention as usual! They hope to continue doing that for many years.
"It's kind of crazy, the way we're replicated," says Edward. "I saw a movie with two twins with spiked hair, but it's all good! We embrace being twins.
"A lot of twins used to try not to look like each other, but I think me and John made that cool again.
"But we're competitive, and if he's doing something really well, I work harder to be as good.
"We want to be legends, like The Rolling Stones! Still doing this, when we're 70, rocking out on stage, TV, everything."
You can see them on their latest shows, the Jedward Young Love Tour.
Jedward's live shows are September 24 Marina Theatre, Lowestoft, 25 De Montfort Hall, Leicester, 27 Central Theatre, Chatham, 28 Embassy Ballroom, Selsey, 29 Ferneham Hall, Fareham, 30 St David's Hall, Cardiff.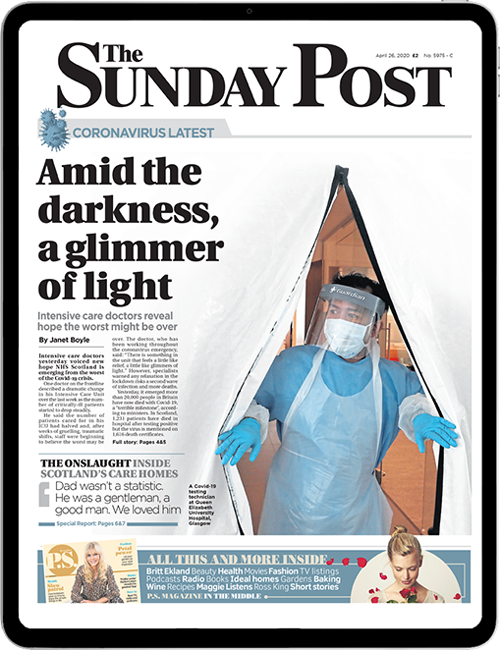 Enjoy the convenience of having The Sunday Post delivered as a digital ePaper straight to your smartphone, tablet or computer.
Subscribe for only £5.49 a month and enjoy all the benefits of the printed paper as a digital replica.
Subscribe