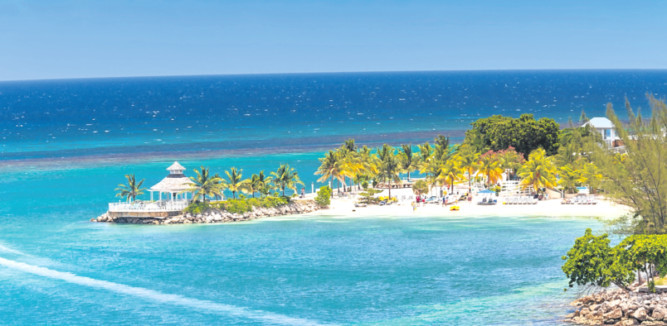 "I don't like Jamaica I love it!"
Shobna Gulati is best known for her role as Sunita Alahan in Coronation Street. She had two stints in the soap, from 2001 to 2006 and 2009 to 2013.
The 47yearold, who was born in Oldham, is also known for playing Anita in Victoria Wood's Dinnerladies and has appeared as a panellist on Loose Women.
She's taking to the stage opposite The Upper Hand's Joe McGann in John Godber's romantic comedy, April in Paris, in a UK tour. It comes to the Theatre Royal, Glasgow, from August 26 to 30.
"My son, Akshay, and I went to Jamaica a couple of years ago. He was 17 at the time. We stayed just outside of Kingston in a little resort.
It was tornado season so we got it cheap! There were lots of sunny days but also really heavy rain.
I'm really fond of reggae music and my son wanted to learn to scuba dive, so Jamaica seemed like the perfect place to go. It was a spurofthemoment thing.
I know it can be dangerous in Kingston. We'd heard all sorts of stories about being mugged, but we walked around and it was fine.
The way we both look, we could be Jamaican. I seem to be able to fit into most cultures when I travel when I'm in Italy people think I'm Sicilian and they think I'm Spanish when I'm in Spain.
It can be tough having family holidays when you're a single parent, especially when teenagers are involved. It can be complicated.
When we went it was the time of year of their reggae festival, and my son loves the music, too. Akshay has more world experience than I had at his age, he's been away a lot more than me. I sometimes worked on cruise ships and he would come with me he would have a great time.
It was different from my younger days. My dad was a keen driver and we would go on cross country trips as a family. We would go to Cornwall the most.
It seems so expensive to holiday in England now and it always seemed to be sunny when I was younger! I used to travel to the football with my dad. I'm a big Manchester United fan and we would go to Wembley for games such as the Charity Shield when I was little.
I often go away on my own for football matches now, but I'd never gone on holiday alone before. That changed when I went to Barcelona by myself recently. My boyfriend dropped out and I ended up staying at a couple's retreat with a broken heart.
But it was good and I felt independent.
Akshay is 20 now, so he doesn't want to come on holidays with his mum these days. The experience in Barcelona made me think it's something I would want to do again."