Production of the striking Nissan GT-R50 by Italdesign has been confirmed, with just 50 units being made.
The limited-run sports car celebrates five decades of both the GT-R nameplate and design house Italdesign and will be 'virtually unchanged' in road-going form from the prototype revealed at the Goodwood Festival of Speed in July.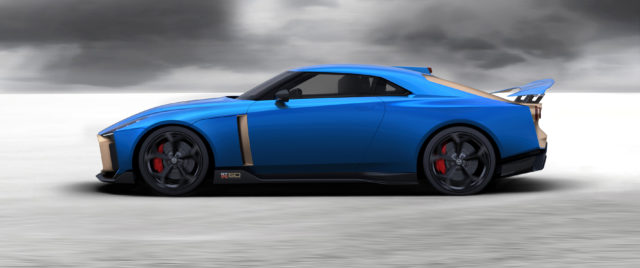 Based on the Nissan GT-R, its 3.8-litre V6 engine has been fettled by the Japanese manufacturer's performance arm Nismo to produce 710bhp – 209bhp more than its own special variant of the regular car – while Italdesign drew up the new body and is responsible for its production.
The prototype featured a grey and gold paint finish, although customers will be able to choose their own combination for the exterior and interior, with Nissan now showing it off in Bayside Blue, as made iconic by the Skyline R34 GT-R.
Interested? You'll need deep pockets, with prices starting at 990,000 euros (circa £882,300) – 10 times the price of the regular GT-R. Italdesign is taking orders for the GT-R50 now, with deliveries set to begin in 2019.
The first Nissan GT-R model arrived in 1969 as a performance version of the otherwise ordinary Skyline. It became an icon of Japanese motoring, with R32, R33 and R34 models from the '90s taking its popularity to a global level.
In 2007, Nissan launched the standalone GT-R, turning it from a performance variant to a full-blown sports car. It has remained in production in a near-identical form, albeit with some revisions, since then.
Italdesign – founded in 1968 and now owned by Lamborghini – has been responsible for famous creations such as the Maserati MC12, Lancia Delta and DeLorean DMC-12.