What is it?
Ferrari introduced its California model more than 10 years ago and its reception was mixed, to say the least. People said it was a little too 'soft' to qualify as a true Ferrari, and although sales were strong, it (and the California T that updated the range) never really got into its stride.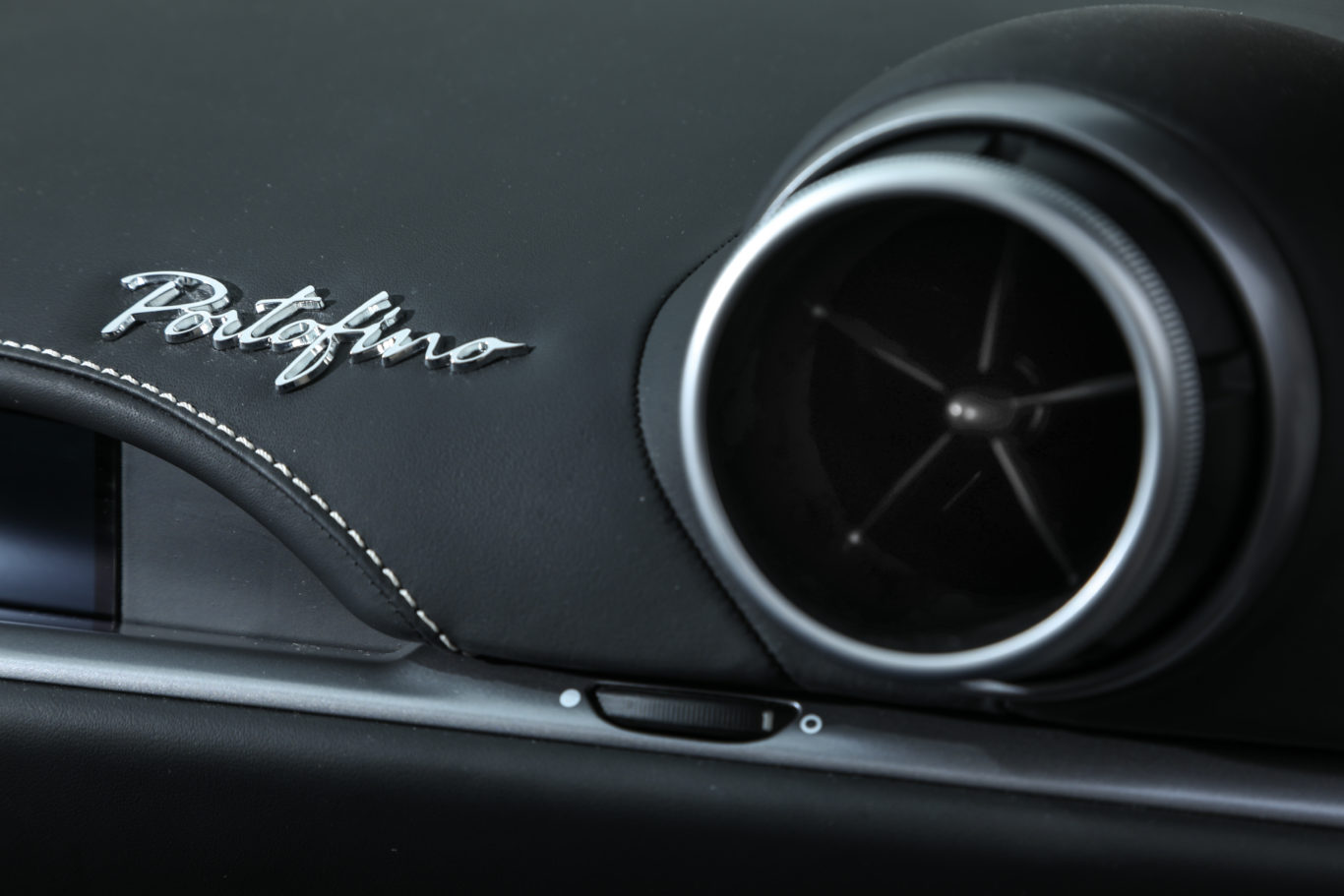 This – the Portofino – is the California's direct replacement, and although it still retains a four-seat configuration and folding hard-top roof, it's been designed to offer a more involving driving experience than the car from which it takes over, while still being easy to drive on a daily basis. We've tested it in the UK to see what it's like.
What's new?
Although the Portofino may feature a similar layout to the California, it is in fact an all-new car. The styling, which is sharp and angular, bears more of a resemblance to the tip-top 812 Superfast, while the chassis has been tweaked and sharpened in an effort to make it dynamically superior to the car it replaces. The engine – the same 3.9-litre V8 found in the California T – has been tweaked too, although we'll look at this in more depth shortly.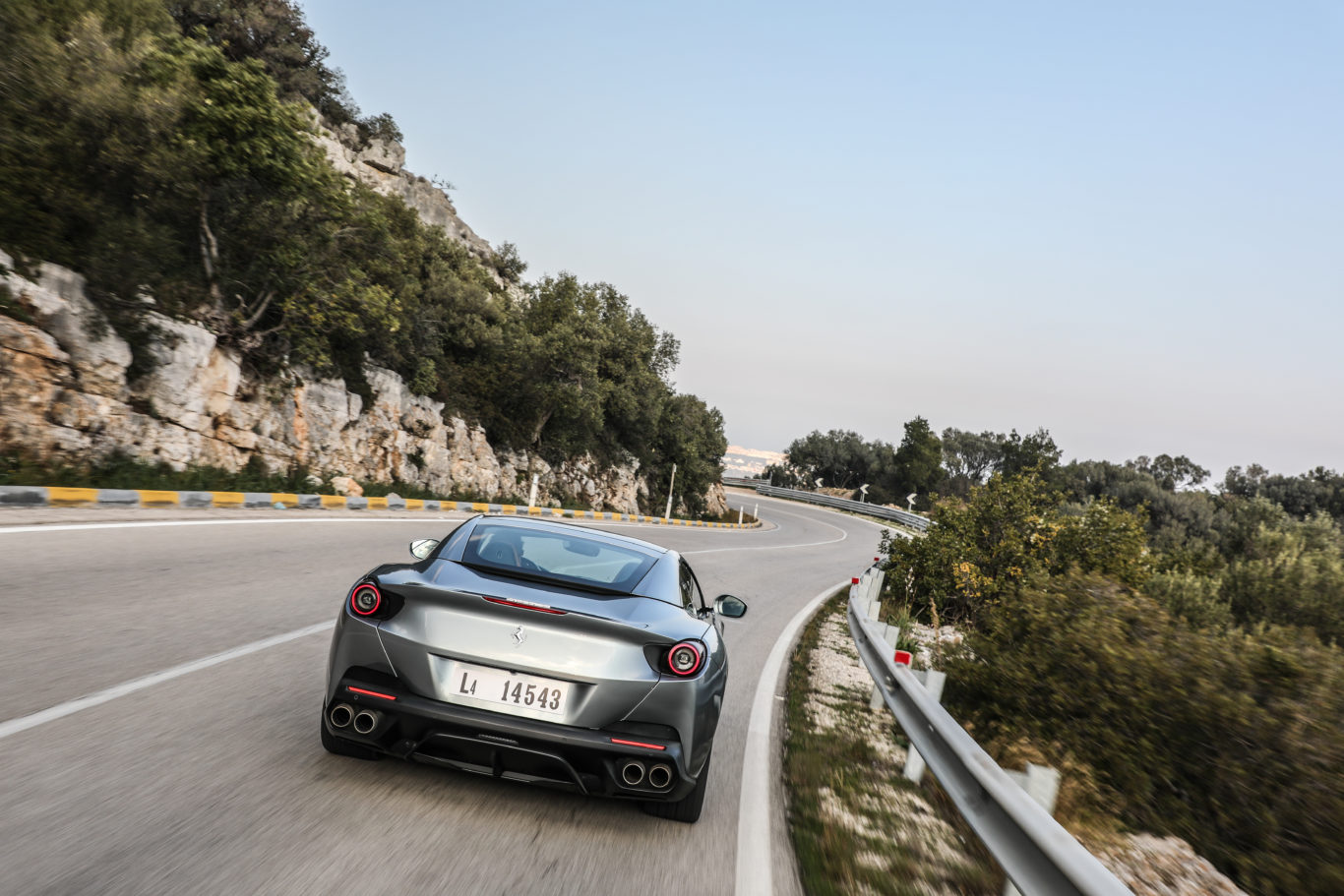 The Portofino also gets Ferrari's latest infotainment system plus a series of other gadgets and gizmos.
What's under the bonnet?
As we said earlier, the Portofino uses the same 3.9-litre twin-turbocharged V8 found in the earlier California T, but it's been revised and fettled to produce an additional 39bhp – meaning a maximum output of 591bhp. There's 760Nm of torque too, and it's sent to the rear wheels through a seven-speed dual-clutch automatic gearbox.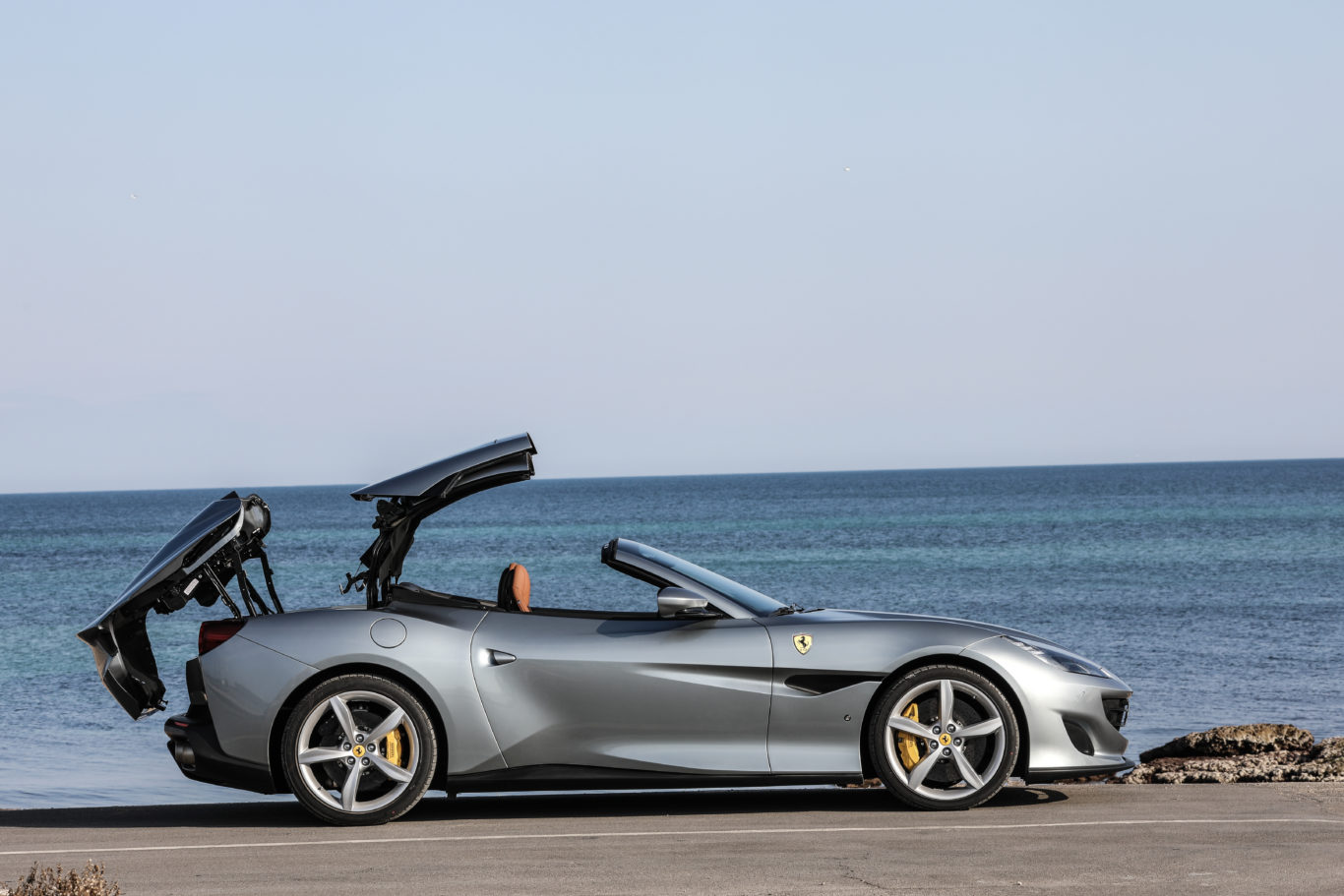 It's fast, make no mistake about that. Ferrari claims a 0-60mph time of just 3.3 seconds, and flat out you'll be one mile an hour short of the 200mph mark.
Because it's pitched more towards the grand tourer end of the supercar spectrum, the Portofino has been designed to achieve a claimed 25mpg. Combine that with an 80-litre fuel tank and you have a car that won't have to spend much time at the fuel station – compared with a usual supercar, that is.
What's it like to drive?
The Portofino is pitched as a Ferrari you could use every day, and because of that it's been designed to deliver a far less razor-edged drive than the one you'd find in, say, the 488 GTB. But don't let that fool you into thinking this is some blunted, lardy soft-top – the Portofino is still effortlessly, brutally fast. The immediate throttle response leads you to question if it really is turbocharged, but the wealth of torque available confirms that this is indeed a blown V8 engine.
The steering is lacking somewhat – not because it isn't accurate, but because it feels just a touch too light for the car. You get used to it, but we'd rather a little more weight was added to it. The paddle-shifted gearbox is swift and efficient in manual mode, but it can be a little dim-witted when left to its own devices in full automatic, hanging on to gears longer than you'd like.
There's front-end grip in spades however, and the accuracy with which you can place the car in a bend is impressive.
How does it look?
Whereas the California was relatively smoothed out in its design, the Portofino is all angles, cuts and, well, presence. It's a good-looking car in the metal, and although the matt-grey paint of our test car did give it a slightly more subdued appearance, it's still a car that will turn heads here, there and everywhere.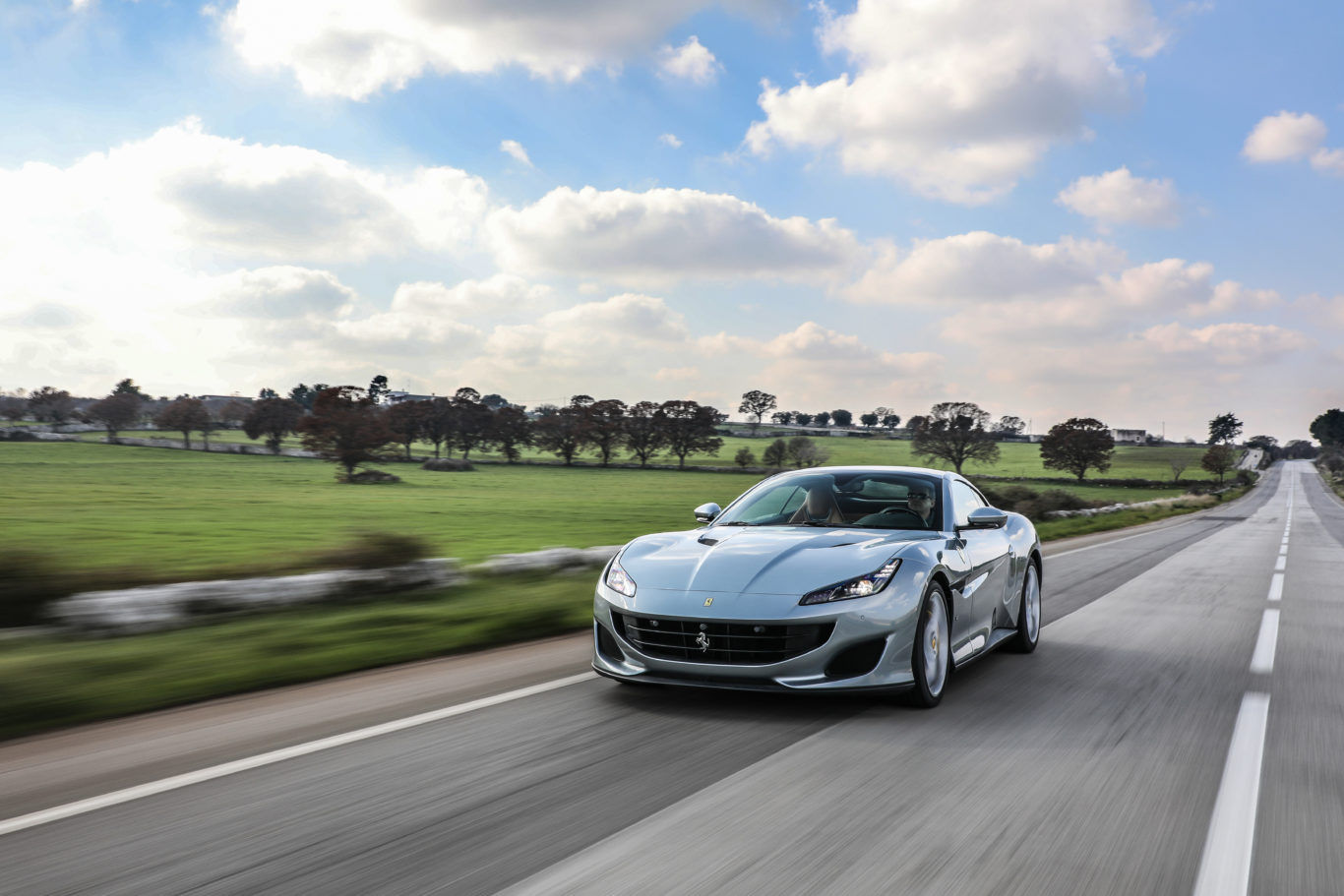 It's also a car that looks good with either the roof up or down. Some designs are a little clumsy in their incorporation of a folding hard-top, but that's not the case with the Portofino. With the roof in place, you'd be hard-pressed to know that it was a convertible full stop, in fact.
What's it like inside?
You'd expect the interior of a car that starts at £166,551 to be pretty good and, for the most part, this is the case with the Portofino. There's a large central touchscreen that dominates the cabin, but underneath are several buttons for the heating and ventilation that feel a touch low-rent.
In front of the driver is the traditional large rev counter, framed by two screens displaying information such as speed and driving mode. They're relatively easy to read, but can be difficult to see when direct sunlight is shining on them – a serious issue for a convertible.
What's the spec like?
That large infotainment system is a fundamental offering in the list of standard equipment included on the Portofino. It's clear and easy to use, and the satellite navigation can be programmed with little trouble. You also get full electric seats as standard and they're comfortable – ideal for long stretches behind the wheel.
But one of the most impressive things about 'our' Portofino was the list of optional extras fitted to it – bumping the car's price up to an incredible £245,167. Features such as front and rear parking sensors (£3,456) and 20-inch diamond-forged alloy wheels (£9,997) help to lift its price by a hefty amount, and although many of those looking to buy a new Ferrari will accept that higher prices are part and parcel of buying a premium Italian supercar, we imagine they'd still gawp at having to pay £2,400 for Apple CarPlay – something that costs a few hundred pounds on 'regular' cars.
Verdict
The new Portofino feels far more part of the Ferrari family than the old California ever did, both in terms of the way it looks and the way it drives. Its performance befits a car with a Prancing Horse badge, and more than anything it just feels special – which is just what you want from an Italian drop-top supercar.
Go easy on the options and the Portofino appears a relatively good-value purchase; tick a lot of the boxes and this Ferrari's high price makes it harder to look past some of the little foibles that you would otherwise be happy to put up with.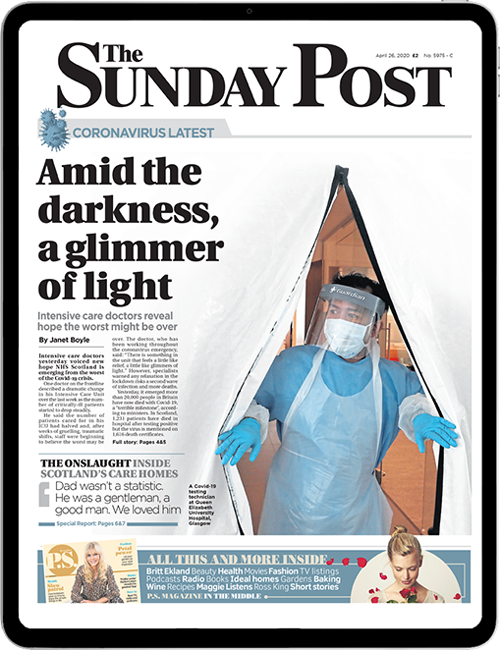 Enjoy the convenience of having The Sunday Post delivered as a digital ePaper straight to your smartphone, tablet or computer.
Subscribe for only £5.49 a month and enjoy all the benefits of the printed paper as a digital replica.
Subscribe