Two men have been jailed after putting a taxi driver's life in danger by setting fire to his cab at a petrol station.
Warren Hearne, of Dymchurch Road, Hythe, Kent, and Danny Frost, of Hever Gardens, Ashford, were picked up by the cabbie on December 15, 2017 in Romney Marsh after a night out.
Prosecutor Miles Trigg told Canterbury Crown Court that the two men had been thrown out of the Neptune pub in Dymchurch and headed to New Beach Holiday Camp to call a taxi. Hearne opened a rear door during the journey and when the driver, Abdulawar Malikzadev, stopped he was berated by Frost. The cabbie was also threatened with an iron bar.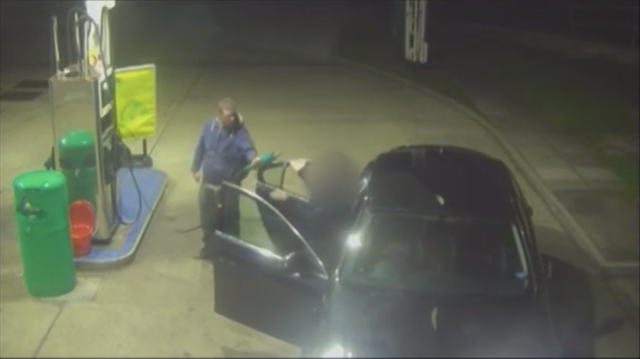 The pair then asked the driver to stop at a petrol station so they could buy drinks.
But when Malikzadev pulled into a BP garage in Seabrook Road, Hythe, neither passenger went to buy anything. Instead Hearne, 37, was seen to be 'acting suspiciously' on CCTV after getting out.
Footage released by Kent Police shows Hearne taking a pump nozzle and pointing it into the back of the car. He then puts some fuel on the back seat, before threatening Malikzadev with the nozzle.
Moments later, the seat is set alight and Hearne and Frost, 28, run away. As the car becomes engulfed in flames, the driver can be seen grabbing belongings before fleeing to safety. They were identified from the footage.
Firefighters managed to get to the scene in 10 minutes and stopped the blaze from spreading through the garage and to flats nearby.
Hearne and Frost were sentenced on Friday after pleading guilty to reckless arson. They were each jailed for five years and seven months, with Hearne receiving an additional nine months for breaching a suspended sentence and drink-driving, taking his prison term up to six years and four months.
In mitigation for Hearne, barrister Ben Walker-Nolan called the incident "an act of pure stupidity", but Judge James O'Mahony said: "I have seen the footage and to me it was evil and malicious."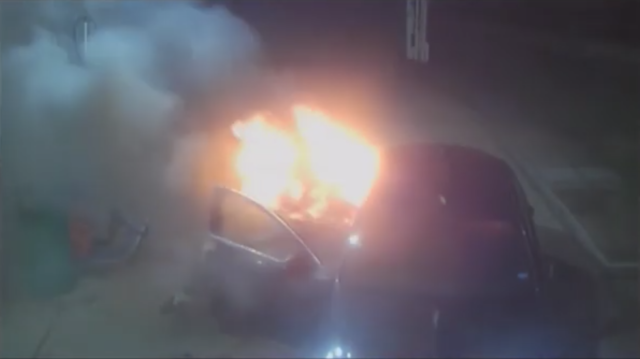 Speaking on behalf of Frost, Phil Rowley said Frost's partner was expecting their first child next year and could not say why he carried the attack out.
The judge said Hearne showed malice towards a man who had done nothing against him. Judge O'Mahony also commended the firefighters for a prompt response that averted "an utter disaster".