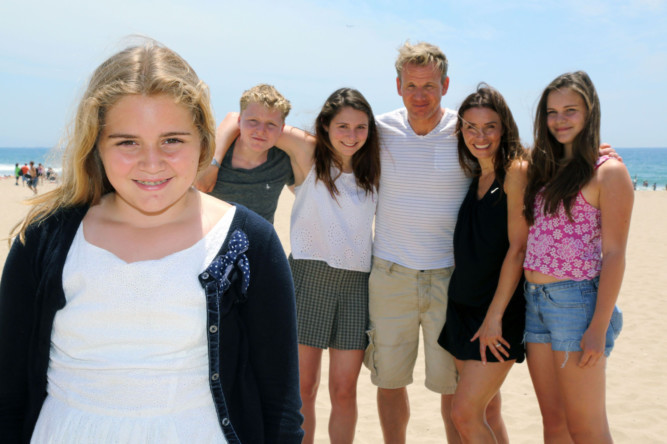 The young chef could be an inspiration to young people to cook healthy food.
Matilda Ramsay is TV's newest and youngest celebrity chef. The 13-year-old has clearly inherited her dad Gordon's talent for cooking.
On her first programme for the children's channel CBBC, Matilda cooked up her secret recipe for "big and bold burgers" with her old man. The hope is the programme will inspire youngsters into the kitchen to cook fresh, healthy and delicious food. I think it also highlights the special relationship that exists between fathers and daughters.
Young girls see dad as their first hero. He's the guy who plays with them, explains the world to them and is the provider of good times. He's the source of cash when they need it and advice when their heart is broken by the boyfriend who ended the relationship they hoped would last.
So what makes a good dad? What turns a young man into the dad a daughter needs in her life?
It starts, of course, with love. He holds his tiny, fragile little baby in his arms and wonders how on earth he can protect and provide for her and be all she needs him to be?
I've watched two of my sons who were guys whose priorities were their careers, social life, good times with their mates, and holidays, change into men besotted with the little girls who changed their life for ever.
In the past, fathers were often a bit detached from their children. They worked long hours and weren't expected to be quite so involved in the daily routine of raising a child. Thankfully, that has changed. Dads now are hands-on right from the start and that's a good thing for everyone in the family.
One of my colleagues who writes children's books is a loving, caring, sharing dad to his teenage daughter. She was the first reader of his stories. He is proud of her, worries about her if a friend is mean to her, tries out his jokes on her, and they have a relationship which will change, grow and develop over the years. But one thing will never change their rock-solid friendship.
And it's clear Gordon Ramsay feels the same about Matilda. This feisty little girl has her dad wrapped around her little finger. He appreciates her passion for cooking and is there to encourage every effort she makes.
He knows and understands. She may at times infuriate him/argue with him/insist on doing things her way but, always and for ever, he will be there for her.
What's the betting if Matilda ever marries, her partner will know without doubt that he'd better be a good husband or Gordon will be on his case.