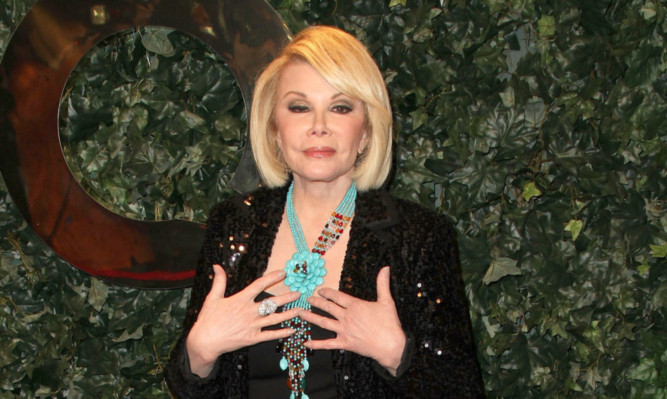 Joan Rivers – The fun never stops!
During the past few days, a 79-year-old pensioner has been all over the papers for her caustic views.
It can only mean one thing. My friend Joan Rivers is back in town. Honestly, I absolutely love and adore Joan. And you would too if you met her.
She's cheeky, bitchy and can be cruel about people. I love it! She's just so likeable. The woman is a force of nature. She's so full of life, and has bags of vitality.
Some people are easier than others to interview. She's top of the list.
She gets it. She's no stranger to tragedy her husband Edward Rosenberg took his own life in 1987 and it devastated her. In typical Joan fashion, though, she dealt with it in her own unique way and made a TV programme about it, detailing the tragedy and her therapy with daughter Melissa after it.
She copes by performing. It's just the way she is. Call it the tears of a clown. I've had dinner with Joan and I always come out having had a great time but feeling a wee bit exhausted too. Surprisingly, perhaps, she told me some celebs love being "mauled" by her. Cher was raging when Joan dropped her from her act and the legendary Elizabeth Taylor loved Joan having a go at her. If you saw me on Daybreak on Friday, you'll remember I was sporting my tartan tie, jacket and kilt in honour of Burns' night. I joked that I was wearing ITV tartan it had small checks.
See what I did there?
I have to confess I've rolled that joke out more than once at least every Burns' night and used it when I was talking to Joan once. Afterwards, she asked if she could use it.
Mind? I was over the moon. My oldest joke, passed down to me by my dear old dad, who probably got it from his dad, being used by Joanie.
I missed a trick, though. I should have been on commission.
Comedians come in and out of fashion. But Joan has defied her critics by presenting Fashion Police with Kelly Osbourne on E! channel. And young people out here absolutely love her acerbic wit. It's refreshing.
If you're a fan and even if you're not try to see Joan's documentary, A Piece Of Work. There's a supportive fan in it who's now suing her for being misrepresented!
So why has Joan been in the news this week? Oh, she had a go at Michelle Obama's new fringe, told Lady Gaga to lighten up and poked fun at girl of the moment Anne Hathaway by sporting a huge pair of rubber lips.
That's why I love her. In a world where stars are told what to say and barely put a foot wrong, she just lets it all out.
She'll probably outlive us all. And I hope she does.