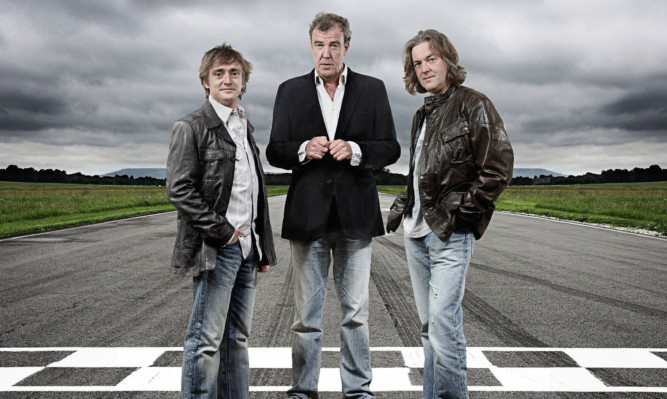 Jeremy Clarkson could still face being sent to prison in Argentina over a controversial number plate prank.
The former Top Gear star, and his co-presenters James May and Richard Hammond, had to flee the country last year after locals became infuriated by their car's Falklands-referenced registration.
The BBC insisted it had not realised the meaning behind the H982 FKL plates and that the lettering was just an "unfortunate coincidence".
But the local police did not see it that way and a judge was asked to open a criminal probe into whether the Top Gear team had falsified number plates.
It emerged last night that she has now ruled on the case.
Maria Cristina Barrionuevo poured scorn on the "coincidence" claims and dubbed the motoring show's crew as "arrogant and disrespectful".
She also concluded the plate had been illegally changed after the vehicle entered Argentina's southern-most tip of Patagonia but rejected calls for an official probe.
The offence can lead to a conviction for falsification and carry a prison sentence of up to three years.
Local prosecutors are now set to appeal against the decision meaning the threat of a jail sentence still hangs over Clarkson and his co-stars.
The offending Porsche is thought to be in storage in the city of Rio Grande.
Judges there are now expected to be asked to order Clarkson and his pals to be called in for a court grilling by overturning Mrs Barrionuevo's decision.
Shows chiefs have always insisted it is "completely untrue" the car had been chosen for its number plate or that an alternative plate was substituted for the original one.
The Christmas Top Gear special Clarkson and his co-stars were making had to be halted after furious locals smashed up their vehicles and threatened to attack them.
They fled Argentina with a police escort after being told to leave the country as angry Falklands War veterans threatened to kill Clarkson.
This left 29 cameramen, sound recordists, fixers and producers to escape to Chile overland.
The furore sparked a diplomatic incident with Argentina's ambassador Alicia Castro calling the H982 plate a "malicious mockery" of Falklands veterans.
Since then an Argentinian councillor has provoked more fury by claiming the digits 269 on the number plate of the Ford Mustang Richard Hammond drove during the filming of the programme were close to the 255 Britons killed during the war.
Similarly, he said the numbers 646 on James May's Lotus could be taken as a reference to the 649 Argentinian casualties.
Many in the country celebrated Clarkson's sacking by the BBC last month following allegations he had assaulted a producer.
One described him as "a disrespectful pig" and recommended he be sent to North Korea.
The court ruling revelations came on the same day it emerged Top Gear's executive producer Andy Wilman had quit.
His decision followed James May's announcement he would not return as a host without Clarkson.
Richard Hammond has also since stated he would not return to the show without Clarkson and May.