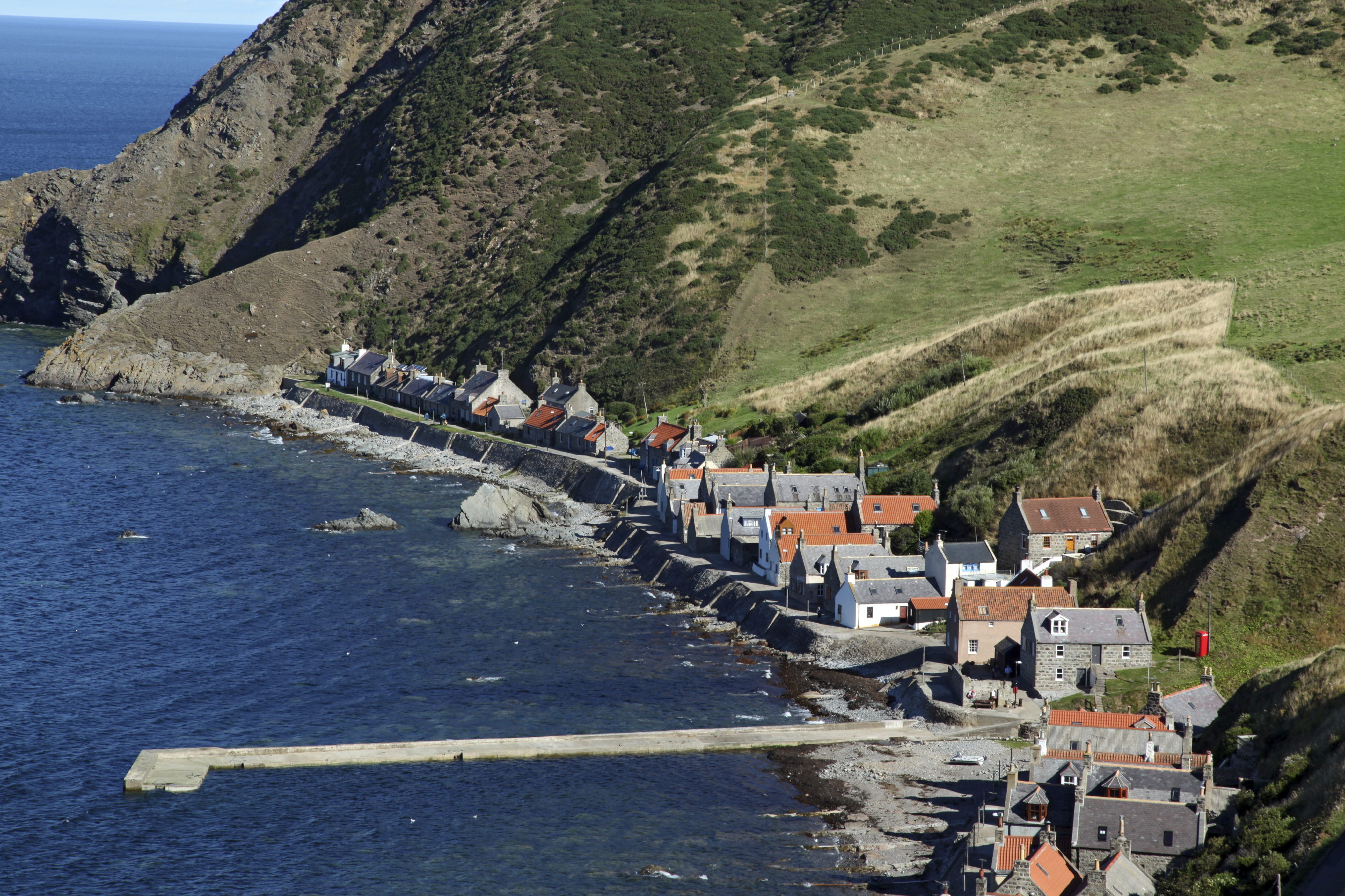 Barely anything can be heard above its roar, save the whine of the wind and the occasional shriek of gulls overhead.
Just six paces from where I stand is the tiny red pan tile-topped fisherman's cottage that is my Hogmanay holiday home. Through its windows, once famed for their collection of miniature puffins,
I see a log fire glowing in the hearth and our West Highland terrier, Thistle, curled-up beside it. I can just make out the muted laughter of family and friends and know that this is my personal Heaven.
Crovie – pronounced Crivie – is made up of little more than 60 dwellings which cling to a ledge between cliffs and the wild North Sea. This conservation community on Aberdeenshire's Dolphin Coast lays claim to being one of the best preserved fishing villages in Europe.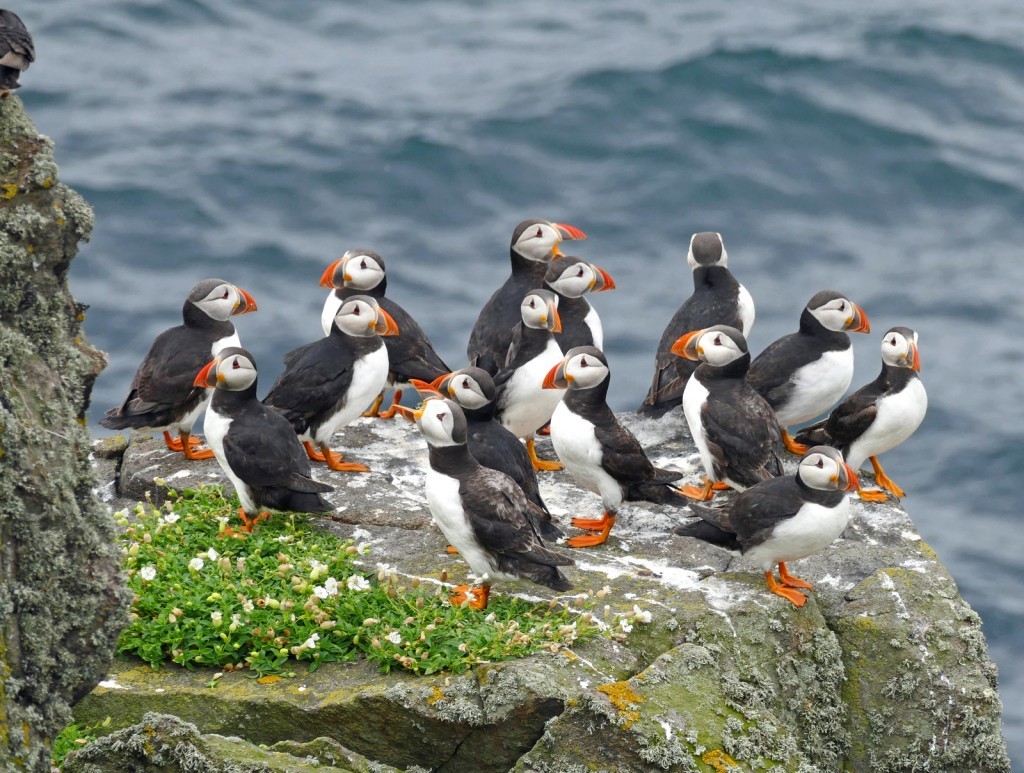 The only way in or out is by boat or via the narrow, twisting cliff-top road Once that ends at the car park, all vehicles have to be abandoned.
This has to be the only place in mainland Britain where it is impossible to drive a car.
Four days from now this eclectic little community, which counts among its number artists, writers, and musicians, will gather round a huge bonfire to see in the New Year.
And as London's Big Ben strikes midnight, Crovie's bagpipes will herald the arrival of 2016 to a burst of pyrotechnics.
"We've been doing this for years," Cathy Wiseman, 67, tells me from her chair beside a log burning stove in her pine-lined cottage.
Cathy has lived in the village for 43 years with her "Crovie born and bred" husband Billy, 65. It is Billy, who, helped by a small army of supporters, constructs what seems likely to be a towering inferno. "It's a community effort," Cathy smiles.
"We have a great fireworks display paid for by the community. It's pretty special."
It deserves to be. Crovie has a spectacular history peppered with tales of shipwrecks, derring-do and war time espionage. The first record of a settlement here was thought to be in the 12th or 13th Century.
By 1900 the population of Crovie was 300. It was those people who, on a February night in 1906, went to the rescue of the crew of the SS Vigilant after it foundered in a "hurricane".
In a leaky, flat bottomed salmon cobble they paddled out to the stricken cargo ship pulling all into the little boat before being pitched into the wild water. A contemporary account tells how these brave people and their Gamrie neighbours formed a human chain in the sea and hauled everyone to safety.
More drama followed in 1941 when two German agents landed in a rubber dinghy having been taken across the North Sea in a Luftwaffe flying boat.
The village had survived shipwrecks and world wars. But she was finally brought to her knees by Mother Nature. In January 1953 a vicious storm struck and destroyed homes, forcing many residents to flee. Most did not return.
By the early 1960s the then Banffshire Council decided Crovie should be abandoned. But it did not reckon on the strength of its remaining population and their supporters.
The Crovie Preservation Society was born and the village saved. The society is still going strong today.
Before I leave Cathy to head back to my cottage she beams me a smile and asks: "Would you like to join?" It's hard to say no. Preserving this cosmopolitan little village – loved by travellers world-wide – is a no brainer.
Its surrounding cliffs are home to puffins and one of Britain's largest colonies of gannets. The crystaline waters are equally rich and a magnet for sailors, kayakers, divers and fishermen. And just a short walk across the beach is the marvellous Harbour Restaurant and the cosy Teapot 1 cafe.
I'm finally back in the place I started, my legs dangling over the sea wall and the ebbing tide a more gentle companion than earlier in the day. Hubby hands me a glass of wine just as I spot something dark and arched in the water ahead. A seal? No, it's a dolphin! I squeal like a child.
And that is the magic of Crovie, any day of the year.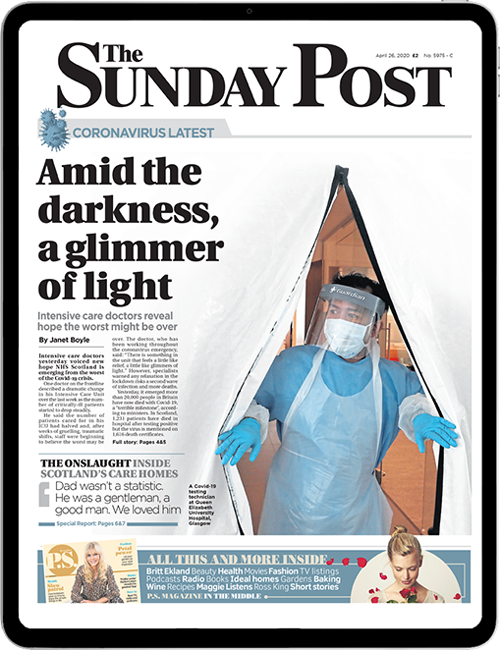 Enjoy the convenience of having The Sunday Post delivered as a digital ePaper straight to your smartphone, tablet or computer.
Subscribe for only £5.49 a month and enjoy all the benefits of the printed paper as a digital replica.
Subscribe