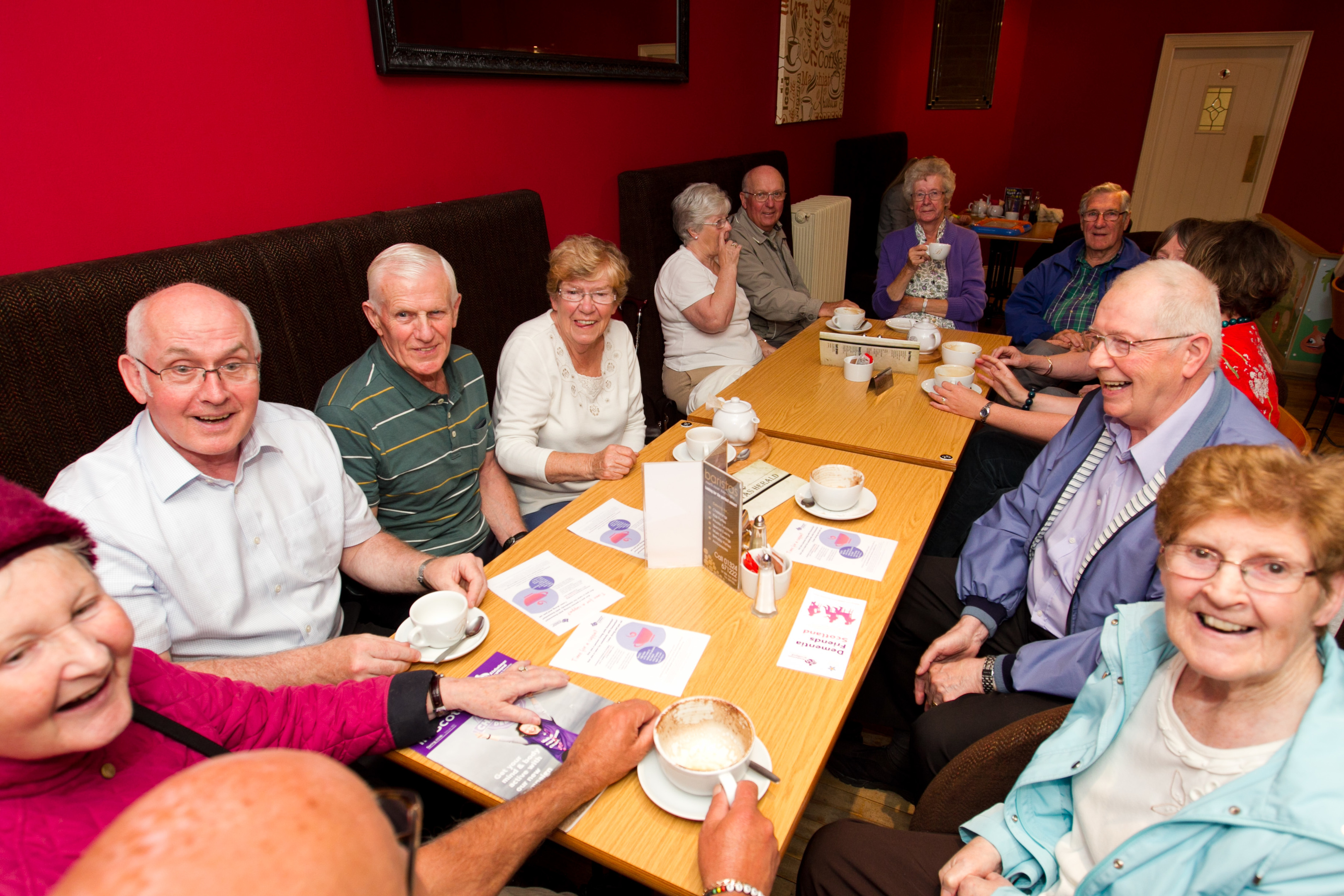 IT'S a Thursday morning in a sun-kissed coffee house in Falkirk and a group of people sit round tables, chatting and laughing.
Some have come alone, others are accompanied by a loved one.
A cruel fate has brought them together but by the time they leave around noon, they'll each be feeling a little better and more positive about their situation.
This is a weekly dementia café, one of many in communities throughout the country – but don't expect to hear much talk about the condition among attendees.
Rather than being depressing, where people moan about their illness, the gathering is relaxed and life-affirming.
"After my diagnosis I was content to sit in the house and never leave," admits Tom Urquhart, from nearby Bonnybridge. He was diagnosed with vascular dementia three years ago at the age of 63.
"But the staff here made me realise I had a lot more to offer.
"Now I go out and talk to different groups and I'm a member of the Scottish Dementia Working Group, which forwards ideas to Alzheimer Scotland about issues that affect us.
"The café allows us to network with staff and other folk in a similar position, especially newly diagnosed people, who we try to bolster a wee bit."
Justine Davidson is one of the staff that Tom mentions.
She's a dementia advisor and started the café in 2014. Initially it was monthly but proved so popular it was quickly changed to a weekly drop-in.
"We run an eight week post-diagnostic information course and, by the end of the programme, everyone had got to know each other and wanted to know how to continue catching up, so we established the café," she explains.
"It started with eight people and now we have more than 20 coming along each week.
"Most have early stage dementia but some are at later stages.
"We run three or four of the post-diagnostic courses each year, so there are always new people coming in.
"It's a social thing and not only helps them remain part of their communities but the peer support gives them confidence to attend other groups.
"There's a lot of humour here, as well as empathy and understanding. People get so much out of it."
Kathy McGeachie is one of those people.
She attends the café with her husband Stephen, 79, who was diagnosed with mixed dementia two years ago.
The devoted couple, from Denny, celebrate their 56th wedding anniversary this year.
"Stephen is struggling to get his words out these days and it's frustrating – for both of us," Kathy says.
"We've been together so long and it's tough not being able to have a conversation with him anymore.
"But he still helps me around the house with the dishes, hoovering and ironing, and every morning he gets up and does the crossword with my help.
"We still love each other very much."
The gran-of-six adds: "It's good to get out of the house for a wee while and come along to the café and have a chat."
Iain McAlpine, from Stenhousemuir, agrees.
"I get annoyed if I can't make it along," says the 60-year-old, who attends with wife Christine.
"The café is great and it's good to just sit and chat without discussing our ailments."
Iain retired from the police three years ago after 30 years of service that included working at the Lockerbie bombing trial in Amsterdam.
"Working with the police was the best job in the world and I got so much pleasure from it.
"I worked at the trial for three months and it was humbling to feel we were doing something for all of the affected families."
Iain was enjoying retirement when he was diagnosed last May.
"It was a huge shock. My memory had started to go, although I hadn't realised.
"Christine would ask me to do something and, within five minutes, I had forgotten."
Unlike Iain, 66-year-old Tom realised himself that his mind wasn't what it used to be.
The great-granddad recalls: "I knew something was going on.
"I was a paramedic and drove the rapid response units and was passing by road ends I had driven along for 30 years.
"I voluntarily gave up my post and took a technician role.
"Soon after I had a couple of minor strokes and that's when the doctors spotted something wrong with my memory.
"I had never had a day's illness in my life and was actually considering asking for an extension so I didn't have to retire."
But, just like that, life changed and Tom, who lives with wife Dee, now had to adapt.
"You develop coping strategies throughout life – be it dealing with school bullies or getting married and having kids – and this is no different.
"Because my brain isn't so agile, I have to work harder to formulate the words.
"Even just having this conversation requires a great deal of mental focus and strain and I tire very easily.
"I'm at my best in the morning when I've just taken 15 pills but by tea-time I fade and can become a different person. By 8pm I'm in bed."
But Tom is philosophical about his illness and insists he feels fortunate.
"I'm bloody lucky to get to the age in life where I can develop dementia.
"As a paramedic I saw a lot of people dying, young people. I was at Dunblane.
"I have two older siblings who were both diagnosed with cancer. Luckily, they both survived, but I would rather get vascular dementia than cancer.
"It's important to put things into perspective.
"There is life after diagnosis – it's not the end of the world.
"That might not be apparent at first but persevere, be sociable, attend everything you possibly can and, most of all, be what you can be."
---
Memory Walks
Memory Walks are Alzheimer Scotland's largest fundraising events and are supported by HSBC.
Twenty walks – from Shetland to the Borders – will take place between August 27 and October 1.
The walks are ideal for all ages and abilities, as well as being wheelchair, buggy and also dog-friendly.
Registration is £10 for adults, £5 for those aged between 12 and 16 and under-12s walk free.
Visit memorywalksscotland.org to find out more and to register. If you have any questions about Memory Walks, dementia or the services in your area call Alzheimer Scotland's free 24-hour Dementia Helpline on 0808 808 3000.
---
READ MORE
Memory Walks: Daughter who lost mum to dementia shares her reasons for joining a walk
Game of Thrones star Kate Dickie shares details of her mum's dementia