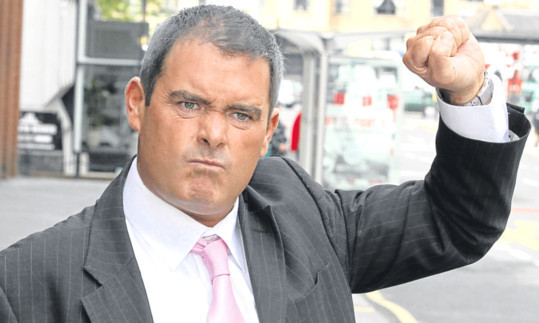 Shamed politician in fall-out with star who plays him in stage show.
Pals Tommy Sheridan and comedian Des McLean have fallen out over the hit play that portrays the former politician's fall from grace.
Comedy play I, Tommy has received five star reviews since going on tour last year.
Next week, the play written by Rab C Nesbitt writer Ian Pattison and starring Glaswegian comedian McLean as Sheridan begins a new run in Glasgow's Pavilion.
It chronicles the rise and fall of the shamed politician, once voted Scotland's second greatest Scot.
But the play's inclusion of ex-Socialist MSP and former colleague Rosie Kane, who will now play herself in the production, has reportedly angered Sheridan.
The disgraced former Scottish Socialist leader took to Twitter to slam the play with former friend Des claiming he described him as a "parasite."
Last night, Des, whose uncanny impersonation of Tommy landed him the lead role in the production, said: "This has really upset me and my wife.
"Tommy was a good friend and a guest at my wedding. I used to do impersonations of him on the radio and in my stage show and he loved it, sometimes joining me on stage. But now it's safe to say it's over between us.
"I've been given Tommy's usual brand of name-calling. I'm suddenly an "arty-farty parasite" and a "scab" who'll be found out come the revolution. It's his usual nonsense.
"I've heard him say it about others before but never thought he'd say the same thing about me.
"We were good friends. The day before we started the play last year, he sent me a text wishing me luck.
"There was even talk of him coming to see it in Glasgow. I think he would have done himself a big favour if he had. It's a comedy. But now Rosie's in it, he suddenly thinks it's a betrayal by everyone.
"It's hardly my decision who the production decides to cast. I've done nothing wrong.
"Not once has he ever told me he had a problem with me being in it.
"And I've been in it for over a year. I'm bitterly disappointed."
Last night Sheridan, who had previously said McLean had perfected his impersonation "to a tee" and that he hoped the play would "lead to other things" for him, was not available for comment.
But yesterday he took to Twitter to aim a swipe at the people behind I, Tommy.
He tweeted: "The travesty truth served up as a play allows some desperate people to make money off my back. It is about my 'tragic' life and is based on lies and distortions."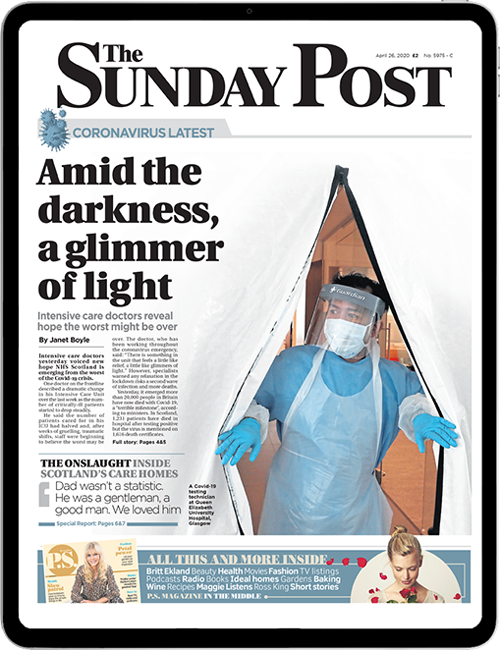 Enjoy the convenience of having The Sunday Post delivered as a digital ePaper straight to your smartphone, tablet or computer.
Subscribe for only £5.49 a month and enjoy all the benefits of the printed paper as a digital replica.
Subscribe