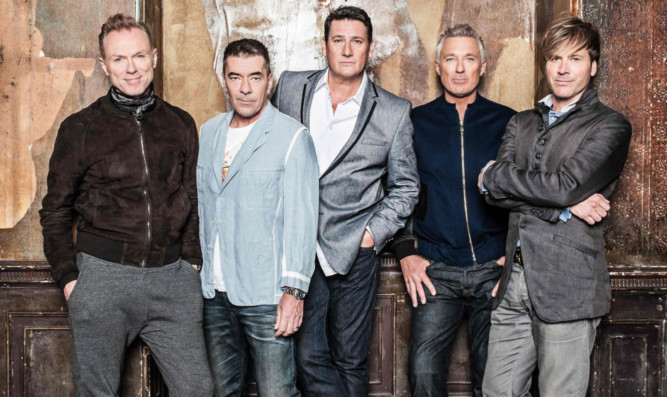 It's true Clare Grogan inspired Spandau smash!
Gary Kemp has been counting the days until Spandau Ballet play Glasgow, and tonight's the night.
He's so passionate about all things Scottish he named his first-born son Finlay Munro.
When Spandau launched their career with debut album Journeys To Glory in 1981, they appeared on Top Of The Pops proudly wearing tartan kilts, plaid and sporrans.
The band, whose hits include True, Gold and Through The Barricades, play the SSE Hydro as part of their first tour in five years.
A new movie, Soul Boys Of The Western World, looks back at their 35-year career.
For Gary it's a welcome return to a city which holds so many memories.
He formed Spandau with brother Martin and mates Tony Hadley, Steve Norman and John Keeble at the peak of the New Romantic movement, spearheaded by trendy London clubs Blitz and Billy's.
But it was clubbers at Maestro's in Glasgow who were the first outside London to embrace their music.
When Spandau played their earliest gigs in Scotland they employed a "spotter" to choose only the trendiest looking people for admission to the venue.
Gary, 55, said: "We were used to wearing flamboyant clothes in Soho in London. It wasn't just party dressing, it was subversive. We'd have to run for our lives to escape skinheads and Teddy boys.
"We were a movement in the same way the Mods were. In the '60s, psychedelia had its own club, the UFO, and you had to look a certain way to get in to see Pink Floyd.
"You wouldn't dream of going to a Bowie gig without looking like David. So when it came to our turn it was important to set the styles. Our shows were events.
"You weren't going to get into our gigs in the wrong jeans and trainers. There was a group of like-minded Glaswegians who got that.
"Maestro's was a great club and there was a real urban understanding with Glasgow School of Art, fashion and forward thinking."
Gary lives in London with wife Lauren and their three sons, Milo Wolf, 10, Kit, 5, and Rex, 2.
Finlay Munro, 24, is his son from a previous marriage to actress Sadie Frost.
But it was an ill-fated romance with Clare Grogan of Altered Images that inspired Spandau's most famous song, True. The single knocked Let's Dance by Gary's hero, David Bowie, off the No.1 spot in 1983.
He said: "I had a very unrequited romance with Clare. She gave me a book, Lolita by Nabokov, and I wrote lyrics based on lines from it.
"True became a song about writing a love song. I was a little bit shy about it. I didn't think I'd still be talking about True 30 years later. I'm proud it touched people.
"I was in my bedroom when I came up with True and called Martin in to hear it as my mum was shouting: 'Dinner's on the table'.
"My mum and dad lived in a council house and never had a penny, they spent everything on us.
"But there I was writing a song which was going to buy me houses and pay for my children's upbringing. It was an extraordinary thing.
"Clare gave an interview and exposed all of that. It embarrassed the hell out of me."
After six hit albums, Spandau split in 1990. Their friendship was later torn apart when Tony, Steve and John took Gary to the High Court in London in a dispute over royalties.
The incident is replayed in Soul Boys Of The Western World and makes uncomfortable viewing. They reformed in 2009 so how is their friendship now?
Gary said: "The film was extremely honest. It was a kind of Spandau soap opera everyone tuned into.
"Film critic Mark Kermode said: 'I'm not a fan of Spandau Ballet, but I love this movie'. By the end I am redeemed. I don't even know this bloke up on the screen any more.
"It's me before I grew up. You've got to have a baddie in a movie and that's how it looked. You can boo and hiss me at some points.
"But I was a very driven kid. I've learnt a lot since then. Not to say I was wrong maybe just a little bit rude at times.
"We all sat and watched it together at a festival in Texas and I think all of us were embarrassed at some points in the movie.
"But you've got to grow as people. It was 30 years ago and we've done a lot of growing up since."
Gary is adamant when Spandau play fans will see a band at peak form.
He added: "The band are playing better than ever. We're so on it we're better musicians. We're so proud of the music we make. It can ONLY be Spandau Ballet."
Report by Billy Sloan