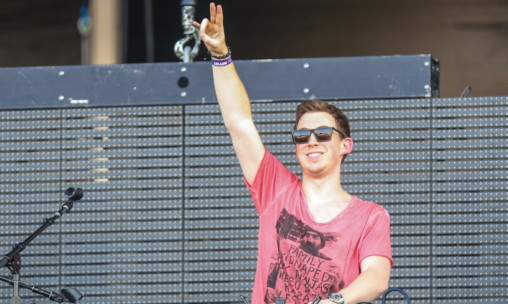 Police have been accused of setting a "dangerous precedent" after cancelling a sold-out music gig just hours before it was due to start.
The extraordinary move, amid fears of drug-taking and violence, sparked a furious response from promoters who fear it could lead to similar action being taken for other major events, such as T in the Park.
One described the decision as "undemocratic" and said Scotland is in danger of becoming "a police state". Another claimed it would open the door to a flood of compensation claims.
Superstar DJ Hardwell was due to play to a capacity crowd at The Royal Highland Centre in Edinburgh on Saturday night. But the event was shelved at the 11th hour due to "safety concerns" after drink and drug-fuelled unrest at his gig in Belfast on Thursday.
Music Event Director Olaf Furniss said: "This apparent knee-jerk decision sets a dangerous precedent. It worries me that a music event on this scale can be cancelled at such short notice, apparently because of what happened at another show with different age limits. I find it difficult to believe that any safety issues relating to the event would not have been raised a long time ago.
"There are wider questions relating to who foots the bill for all the people who are out of pocket because of the cancellation, and the fact that citing health and safety can allow seemingly arbitrary decisions to be made without giving detailed reasons.
"If the police and council are so concerned about drunken, obnoxious behaviour, they should have cancelled yesterday's rugby match. It is another case of one rule for Barbour-wearing whisky drinkers and another for those wishing to enjoy a night of rave."
The Hardwell gig was one of the most anticipated to be staged this year. Around 7,500 fans from all over the country were due to attend, with the £39.50 briefs selling out in an astonishing 40 minutes.
But Police Scotland made it plain they were not prepared to take the risk the scenes witnessed in Belfast would not be repeated in Edinburgh. More than 100 youngsters had to be treated by paramedics suffering for the effects of both drugs and alcohol at the Odyssey Arena.
Nightclub boss Donald MacLeod said: "Little wonder people are asking if this is now a police state we are living in.
"On the surface the decision has been based on events in Belfast. But an over 16s event in Northern Ireland is vastly different from an over 18s event in Scotland. Promoters employ people, carry out the risk assessments required, only to have the rug pulled from under them at the last minute. It's undemocratic.
"The rationale seems to be that there might be drugs at the event and therefore we can't stage it. But that could be said for every club in Scotland. So what's next? We close them all down? What is needed is a full explanation as to why this decision was taken."
Dutch dance DJ Hardwell, real name Robbert van de Corput, is from Breda in the Netherlands. Saturday's show was the only Scottish date on his world tour.
After the event was pulled he said on social media platform Twitter he was gutted by the decision, adding: "It's out of my hands, we'll announce a make up date asap!"
It is thought to be the first time Police Scotland has made such a decision. In 2010 a music promoter successfully sued Manchester City Council for a six-figure sum over a cancelled concert.
Speaking about the decision to cancel the DJ Hardwell event Police Scotland's Supt Matt Richards said: "Working with council colleagues several legal powers have been utilised to ensure that those considering attending the event and wider public are protected.
"As a result of this partnership approach to harm reduction a decision has been taken to cancel the event."Leave a comment below or on the Sunday Post's Facebook page to tell us what you think about the move.