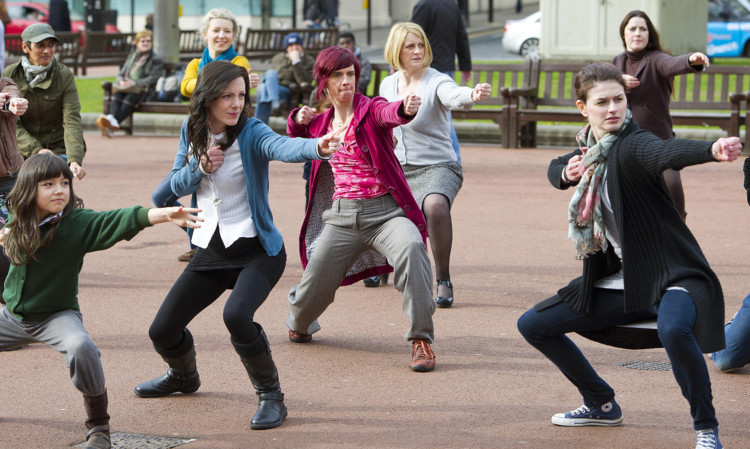 National Theatre of Scotland announces 24 hour online broadcast of live independence referendum-themed theatre.
The National Theatre of Scotland's The Great Yes, No, Don't Know, Five Minute Theatre Show will feature over 840 performers and theatre-makers from eight countries, presenting a series of live scenes, songs, skits, rants and dramas, as a democratic dramatic response to the theme of "Independence".
The show will celebrate a momentous year and provide hundreds of answers to one very important question; allowing individuals to discuss what independence means to them and not purely in a political sense.
Five Minute Theatre makers include poets, primary school pupils, film-makers, families, community groups, teenagers, visual artists, professional theatre-makers and expectant mothers, with ages ranging from three months to 80 years old. Their five minute dramas will be broadcast from across the globe, with locations include a garden, a field, a car park, schools, bedrooms, a toilet, a pub, a library, a hospital, a beach, and the Falkirk Wheel.
It will all be streamed on the virtual stage at www.fiveminutetheatre.com for a global audience.
The final line-up, with additional contributions from Scottish performers, writers and theatre-makers will be announced at a later date.
The Great Yes, No, Don't Know, Five Minute Theatre Show co-curator David Greig said: "I have been blown away by the sheer range and quality of the ideas from The Great Yes, No, Don't Know, Five Minute Theatre Show.
"Even in their rawest state, the submissions explode with thought, energy and humour. They capture the spirit of the moment at this crucial point in Scotland's history. The audiences are in for a real treat."
Co-curator David MacLennan added: "The submissions reflect every possible view in the referendum debate and put together they are going to make a thoughtful, passionate, provocative and highly entertaining variety show; Theatre of the people, by the people, for the people."
For more details, visit www.nationaltheatrescotland.com.