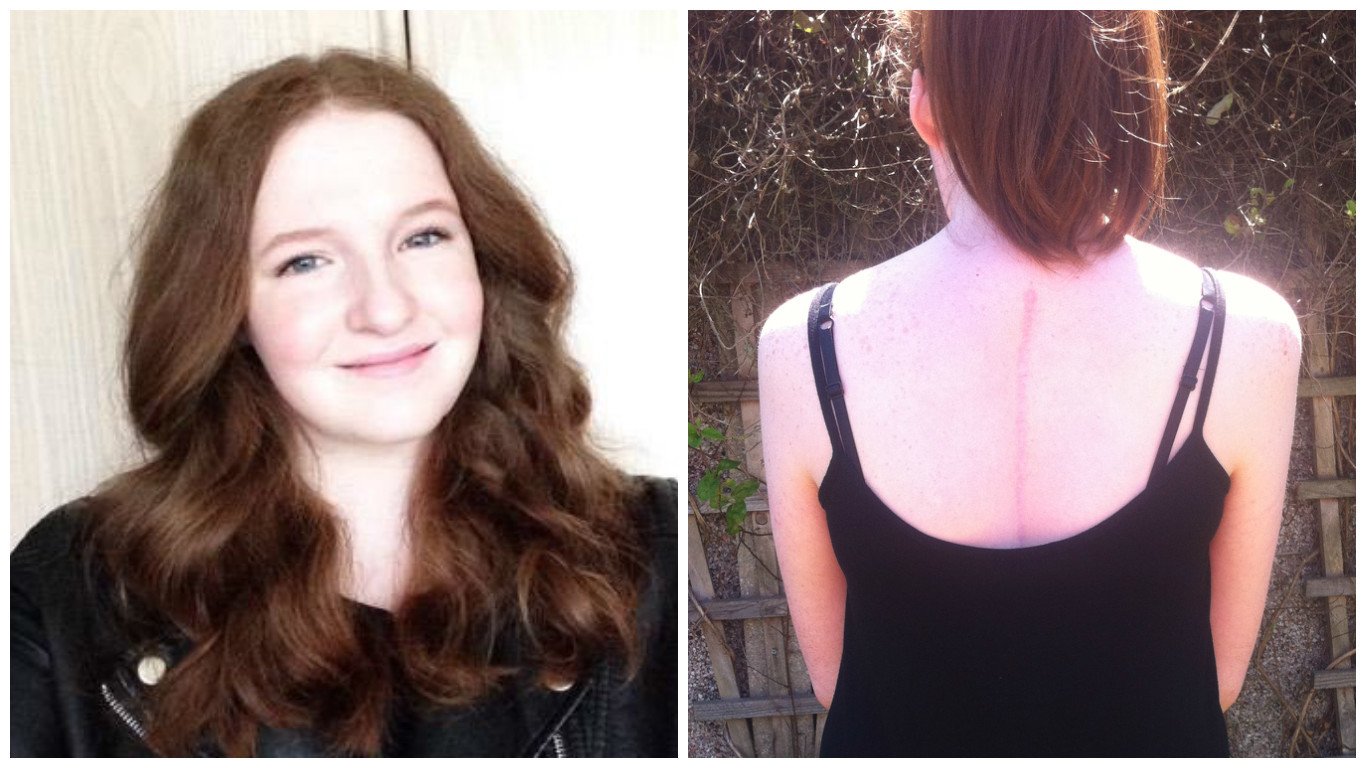 This is a hypermobility condition, which means some of her joints are able to move well beyond what's considered to be the normal range.
This condition is caused by the connective tissues — which usually give the body its toughness — being looser and more stretchy, leaving sufferers susceptible to dislocations and other injuries.
Now, I had to look that up on the internet, which didn't surprise 18-year-old Shona in the slightest.
"I've had doctors sit in front of me and Google my condition, which is frustrating because I know as much as anyone possibly can about it!" laughs Shona, from Hertfordshire.
People with Marfan tend to be unusually tall with long, thin limbs, fingers and toes.
"I'm about 5ft 10ins which for someone with Marfan, is not as tall as you might expect," explains Shona.
"That's partially down to a problem I had with my spine, scoliosis, so I'm not as tall as most people with it — my mum's 6ft 3ins.
"I was diagnosed almost as soon as I was born.
"That's quite unusual, but my mum knew the family history and could see from her scans that my arms and legs were a little longer than my brother and sister's had been, and once I was born she was pretty sure that was what I had.
"With me, my hands are very hypermobile and I have a lot of problems with my joints.
"Some of the joints in my fingers are permanently out of place now, so I've lost some use there.
"I have a lot of problems with my small joints, so I often get dislocations in my feet and toes, often two or three at a time.
"Local anaesthetic doesn't work on me, which is quite a common problem with a hypermobility syndrome — I found that out when they were trying to relocate my broken and dislocated toe!"
Shona has good and bad days, but says: "Even on a good day, my pain's at a level where someone else might think about going to hospital.
"And even some of the strongest painkillers a GP can prescribe will only take the edge off it.
"If it's a good day, and I know we aren't going far, I can manage with my crutch but more and more now, I'm using my wheelchair.
"I can push myself around a supermarket, but any longer than that's a problem because of the issues with my shoulders and my back.
"If it's bad, that's a day in bed and I struggle to get up and down the stairs."
Marfan can also affect the heart, as it has done in Shona's case, but she's often found the medics have focused too closely on that aspect of her condition.
"It's the joint problems and the skeletal problems that are life-limiting rather than life-threatening," she says.
"I've got a great cardiology team who look after me really well, but it's when I need support with my joints that I run into problems.
"I've had three ops so far, with quite a few more to come!
"I know I'll be having my second hip replaced within about a year to a year and a half, and I still have a lot of problems with my back so potentially, there's more surgery on the cards for that.
"And I know my heart will probably need some kind of surgery, but that's maybe 10 years in the future.
"My spinal fusion surgery took six hours as I had two titanium rods put in with about 16 screws to keep them in place along most of my spine.
"I'm intrigued to find out if I'll set off the metal detectors in an airport!
"It's not a small scar, but I'm proud of it, it's part of me now.
"I tried to do my A-levels, but complications after the spinal fusion stopped me.
"I would love to get to the point where I could go to college or get a job and I think if we can solve the problems in my back I've got more chance.
"I'm in more pain now than I was before, which is baffling everyone, so it's a battle to get back to a normal life.
"It's taking longer than I'd like, but there is progress."
For more information, visit the Hypermobility Syndromes Association at www.hypermobility.org or call their helpline on 033 3011 6388.
---
READ MORE
The disease you've never heard of that drives people to want to kill themselves
Doctors thought I had taken drugs… but bizarre symptoms were down to a brain tumour