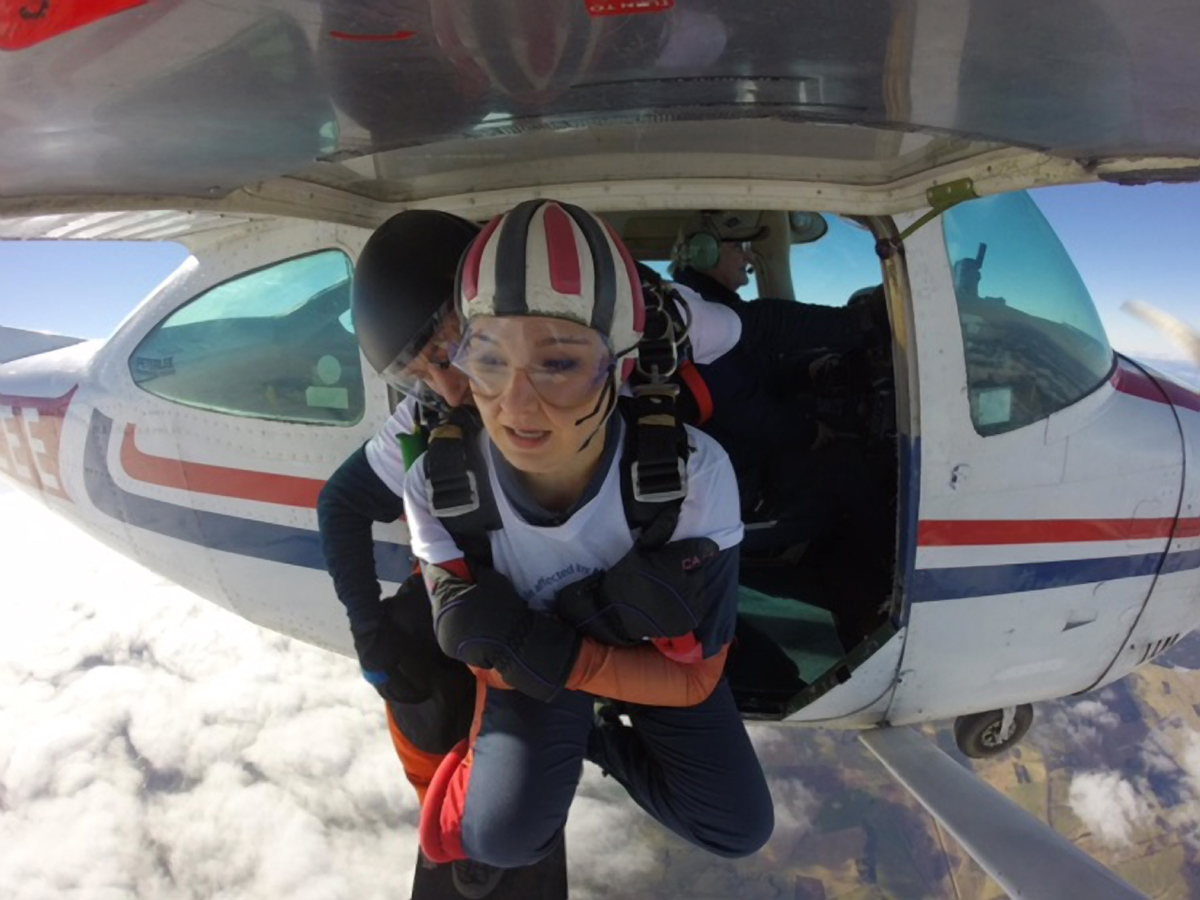 John passed away from motor neurone disease when his daughter was just seven.
Now, nine years on, Nicole dedicates a lot of her time to raising money and awareness of the disease, which still has no cure.
She had to deal with more in her early childhood than most kids.
"I always remember Dad being in a wheelchair," said Nicole, from Ardrossan.
"It was normal for me but I knew he was sick.
"I would get awards at school for doing well and caring for my dad at the same time, so I knew I wasn't the same as other kids."
John, who'd been in the Royal Highland Fusiliers, was diagnosed with MND in 2002. Nicole was two.
"My dad was a happy man," continued Nicole, who's studying social sciences at Ayrshire College.
"He knew most people in town and got on really well with everyone.
"He was a lot of fun, too.
"I think he spoiled me because he knew we wouldn't have long together. We would play all the time, go swimming and go to the park – he even let me play 'taxi driver' on his wheelchair.
"My nana says I would often sit in her house playing with dolls like any other girl my age, but as soon as I'd go home to see Dad I would change.
"Instead of playing I helped Dad eat, got things for him and generally helped my mum care for him.
"I didn't mind but I know this must have been really hard for him because I was so young and not long before that he would have been caring for and feeding me.
"Being so young I didn't fully understand everything.
"I knew he wasn't well and wouldn't get better, but it was still a massive shock to me and my family when he passed."
John died when he was only 31.
"I remember him being rushed to hospital and I was at school but was taken out for the day.
"When I came home the house was full of family as usual, but this time everyone seemed upset.
"I just knew what Mum was about to tell me.
"I don't really remember what it felt like but I'm not sure I fully understood that I'd never be able to see him again."
To mark the ninth anniversary of her dad's death, Nicole and her uncle Chris, John's brother, did a skydive to raise money for MND Scotland at St Andrews Skydive last month.
"My dad did lots of skydives through work, so doing one was my way of saying thank you to him for always putting on a brave face for me and to pay my respects to him for what an amazing man and dad he was.
"He really was my best friend."
There are currently more than 450 people in Scotland living with MND.
Nicole added: "I really want to help put a stop to this cruel disease so that no more families have to go through the heartache of losing a loved one to MND."
Donations can be made at justgiving.com/Nicole-Mikkelsen
---
READ MORE
Mum tells of desperate race to save 9-month old daughter from cancer
I nearly died opening my curtains: Campaigner Gordon Aikman reveals Motor Neurone Disease fight in new documentary