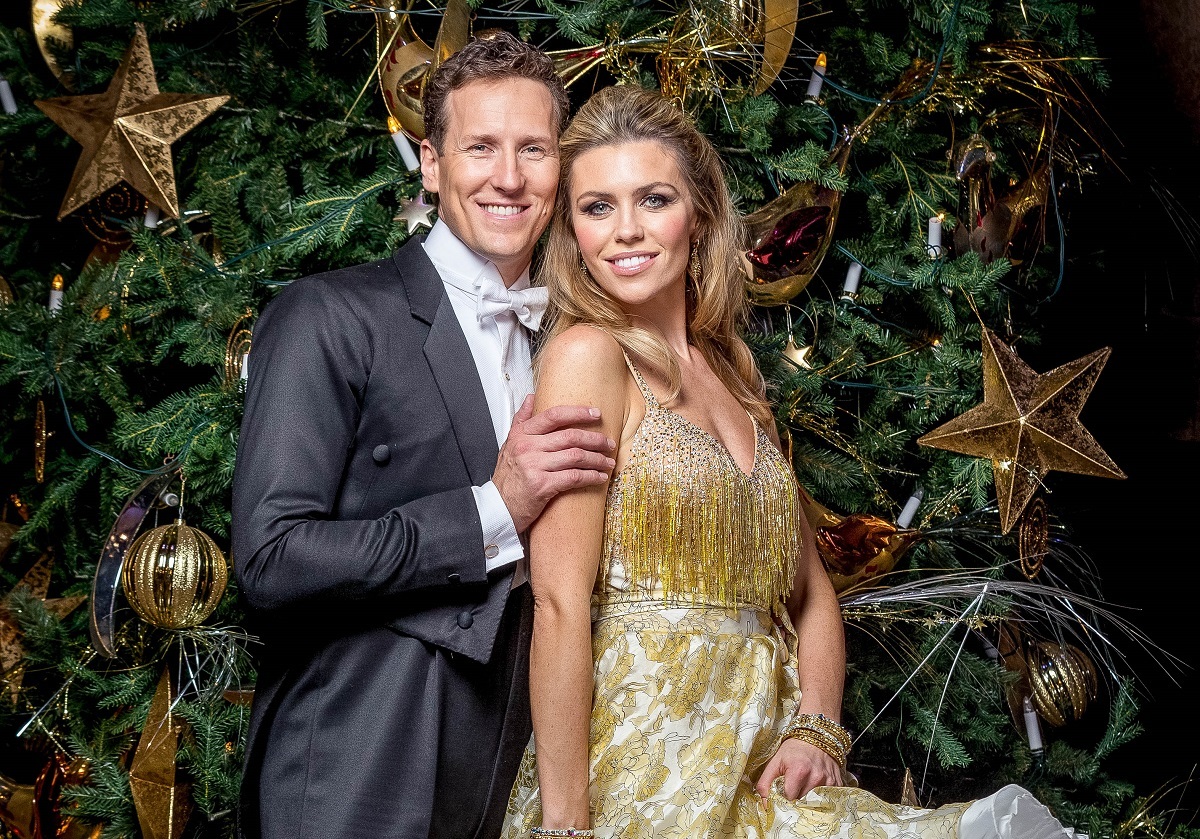 Last year the Strictly Come Dancing Christmas special pulled in seven million viewers.
Only Mrs Brown's Boys, EastEnders and Her Majesty were watched by more people.
This year, former winners Abbey Clancy, Harry Judd and Tom Chambers will dance-off against Alison Hammond, Lisa Snowdon and People's Strictly champ Cassidy Little.
But what does it take to make Strictly Come Dancing our Christmas cracker?
Here's iN10's insider look at the 10 who help make it all FAB-U-LUSS!
THE CELEB
FORMER Strictly winner Tom Chambers is part of this year's glittering line-up. But he says a rehearsals dance disaster could have ruined his Charleston with new pro dancer Oti Mabuse.
"I was doing a bit of a scissors kick and came down on my ankle," he reveals.
"I had it in an ice bucket and couldn't rehearse the whole of the week before we recorded it.
"I had to keep my fingers crossed, but I was going to be doing it no matter what. We didn't have the Charleston when I won and every year I've watched it since I've wanted to do one."
Tom was crowned champ back in 2008 and said yes in a heartbeat when he was asked to be in this year's Christmas special.
"Once you've been a part of Strictly it never really goes away," confides Tom, who's heading to Glasgow's Theatre Royal from February 22 in Private Lives.
"I love dancing and the joy of performing but didn't think I'd get the chance to do the show again.
"When I look back on clips on YouTube I think 'Who is that guy?' The extreme pressure is such that I can't even recall winning it.
"I remember the voice saying 'Tom and Camilla' but, probably because of the euphoria, I have to watch to see what happened."
THE PRESENTER
Tess Daly is the calm link that keeps everything moving along smoothly.
She has the luxury of re-takes if necessary on the pre-recorded special but admits she loves the regular live shows.
"You don't get a second chance. It's out there for everyone to see and the live element creates a rush of pure adrenalin which is exciting," she says.
THE HAIR & MAKE-UP
Top make-up artist Bryony Blake was lured to Strictly by hair and make-up chief Lisa Armstrong (who's married to Ant McPartlin).
"There are seven of us on the team who are all amazing make-up artists in their own right. On show day we'll start about 9am and have an hour slot with each celebrity and we'll do the dancers, too. It's the only time you ever get to do such glittery, extravagant make-up," she explains.
"Two-thirds of the job is your make-up skill. The rest, because they're naturally nervous, is being their best friend and their agony aunt. You have to do a lot of calming down and telling them it'll be fine, while secretly you're thinking, 'Are you mad? I wouldn't do that!'"
THE PRODUCER
Glasgow-born Kim Winston is one of Strictly's producers.
"I've been here since moving to London seven years ago and I'm loving the show as much as I did in year one," says Kim.
"My team write the scripts and on regular series show days I work with Claudia Winkleman, which is such fun.
"The couples start three weeks training for the Christmas special in November. Because we film it in early December, it's always great for getting us in the Christmas spirit. There's such a brilliant atmosphere backstage seeing all the past celebrities come back to the ballroom."
THE COSTUMES
It's down to County Durham-born costume department boss Vicky Gill and her small team to make the Christmas special really shine. And they do that with some of the 170,000 sparkles they have to hand at any one time.
Over the course of a normal series Vicky will supervise the production of around 400 costumes she has designed. But she insists she's always looking for something with that little bit of extra glitter for the festive show.
THE PRO DANCER
Jo Clifton is paired with 2011 champ Harry Judd – and she couldn't be happier.
"I was so excited to get him and I could soon see why he won the show," Jo says.
"He's a brilliant dancer and such a perfectionist. We get about two and a half weeks from meeting the celeb to the show and there are a certain number of hours of rehearsal you need to put in.
"But even on a Sunday we were practising and he was always ringing me up to go over things. The only dance he'd done since Strictly was his American Smooth wedding dance with his wife Izzy.
"So he was a bit rusty, but after a day I could feel he was amazing to dance with as he's such a natural.
"The celebrities still get nervous on the day, but there's a magical Christmas atmosphere. Everyone just wants to make it a great show rather than a serious competition."
THE JUDGE
Toughest judge Craig Revel Horwood didn't quite get his Christmas wish for this year's special – Simon Cowell.
As the line-up was being finalised he cheekily said: "I'd love to see Simon Cowell on it this year. He would fit right in on the dancefloor with those high trousers.
"Simon might need to do it after this year's dismal X Factor ratings. At least he'd get some viewers that way."
THE TANNING
Michaela Bolder gives the show the glow as the all-important head of tanning.
"We use about 45 litres of spray tan over the course of a year, with the Christmas special coming towards the end," Michaela comments.
"The celebrities and pros will come in the day before the show, free of perfume and moisturiser. We chose a tan depending on their dance and skin tone and my assistant Clara and I get to work.
"We have two tanning booths and with two guns like loud Hoovers you can't really hear anything. On show day we'll finalise it to highlight muscles and enhance natural contours."
THE CHOREOGRAPHER
Aussie Jason Gilkison is the man charged with making sure the show has all the right moves as head choreographer.
Jo says: "He's an idol to me. He's a world champion who created the West End and Broadway show Burn The Floor, so he's an absolute legend. So much work goes into making all the routines fresh and different and he has 16 pros to deal with. I wouldn't change him for the world."
THE WARM-UP MAN
Comedian Stuart Holdham is the man who keeps the audience informed and in good spirits for the long, long hours of filming.
In between camera set-ups he'll crack jokes (often at Craig's expense) and says his secret weapon to perk up flagging audiences is chucking out handfuls of sweeties!