NEVER mind that famous Oscars selfie, here are the folks you'd really want in the picture.
Instead of Hollywood superstars like Meryl Streep, Brad Pitt, Angelina Jolie and Julia Roberts, it's Maw, Paw, Maggie, Daphne and the rest of Scotland's most famous family of fun.
This is the first look at the cast in costume for the hottest stage show of the year.
The Broons is heading to theatres across the country later this month.
And the anticipation is so keen director Andrew Panton says he's more terrified than he was controlling the Commonwealth Games Opening ceremony.
Fife-born Andrew, 42, took charge of the Games spectacular, including the dancing Tunnocks Teacakes.
"I remember looking around before it started and realising that 1.25 billion people were going to see this," said Andrew.
"But honestly this is even scarier because the Broons are more precious to people and I know how much the audiences are looking forward to it."
And Andrew's nerves are matched by the actress taking on the role everyone wanted to see who would play, The Bairn.
Maureen Carr, 55, has experience dating way back to appearing alongside Ricky Fulton and Jimmy Logan but she admits that this is "something else".
"It is really quite scary because she's such an iconic character," Maureen said, as the cast took a break at their rehearsal rooms in Glasgow. So, what was it that clinched the part for Maureen at the rigorous audition sessions?
"I might be in my 50s, not a child but I am only 4ft 9½in – and that half inch is important!" laughs Maureen.
"So being wee definitely helps. And I'm well used to it as I played kids until my 30s.
"Everyone is going to have their own image of The Bairn but I hope they'll be happy with how I look and sound.
"I'm especially looking forward to it as I think I've got the very first words to say."
Maureen was slipping into her full costume for the first time and former River City favourite Joyce Falconer, who plays Maw, says her outfit helped her get into the role.
"I had my fitting for Maw's matronly bosom and that's an essential part of the look," says Joyce, 47.
"This isn't just going right across the generations but we've heard it's also bringing in loads of people who aren't regular theatre-goers.
"It's really fun with great music and some moving moments, too."
Still Game star Paul Riley went directly from playing Winston in the BBC sitcom to taking on the part of Paw Broon.
"I've just swapped one old guy's cap for another," joked Paul, 46.
"I don't know why I get these old parts but I couldn't be happier at playing Paw.
"If you come and see the show on a Friday night you could double up and go straight home and see old Winston in Still Game."
The production, marking The Broons 80th anniversary, has its premiere at Perth Concert Hall on September 27.
It then moves on to Inverness, Kirkcaldy, Stirling, Aberdeen, Ayr, Dundee, Edinburgh and Glasgow.
---
READ MORE
Scottish telly stars land lead roles in Broons stage show
Scotland's favourite family The Broons star in new colouring book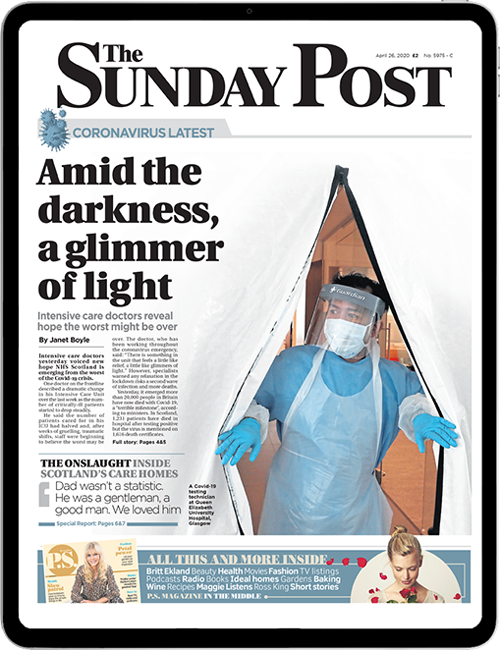 Enjoy the convenience of having The Sunday Post delivered as a digital ePaper straight to your smartphone, tablet or computer.
Subscribe for only £5.49 a month and enjoy all the benefits of the printed paper as a digital replica.
Subscribe