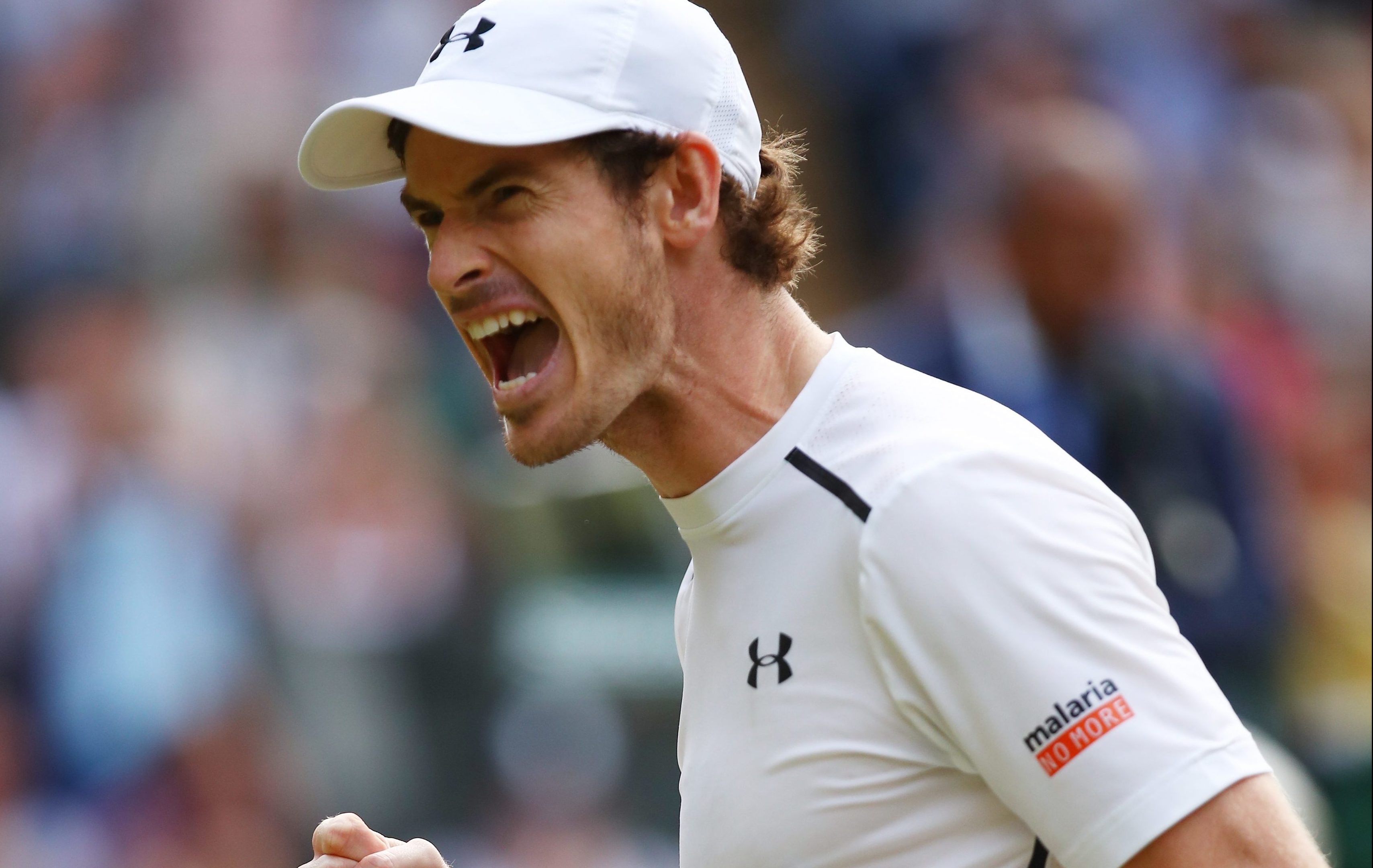 ANDY MURRAY'S outstanding performance at Wimbledon could be thanks to his new role as a father.

Leading sports psychologists and Andy's own family believe the birth of his daughter Sophia Olivia in February is key to his improved form.
The Scottish ace romped through to the final of this year's men's singles at Wimbledon on Friday. In a blistering performance he dispatched semi-final opponent Tomas Berdych in a straight sets match lasting less than two hours.
The Dunblane-born world number two – who last won Wimbledon in 2013 – has been at the top of his game lately.
Murray's won 33 matches this year so far – losing just six – and earning himself £3,378,822 to date.
He beat today's opponent Milos Raonic to win the Queen's Club championships and stormed to the Australian and French open finals, only losing in the final to arch rival Novak Djokovich.
Eminent sports psychologist professor Cary Cooper said becoming a father had given Andy a sense of purpose that would drive him on in matches.
He said: "Becoming a father will have really stabilised Andy. If you have a good family life it's a motivator. He will want to win for his family. He wants his wife and child to be proud of him.
"Having a baby will help Andy enormously."
Even Andy's family have noticed the change in his game since Sophia Olivia was born.
His gran Ellen, 82, from Kilsyth, Stirlingshire, said: "I think she is his lucky charm. And she's a beautiful one.
"I hope Sophia can help him win it."
Jim McKenna, professor of physical activity at Leeds Beckett University, said having a baby is a very powerful positive for athletes.
He said: "You have to stop thinking about yourself. In the past, Andy would ruminate and worry about himself.
"Having a baby will give him meaning and purpose. He won't see himself as just a tennis player but a father and not an individually isolated person.
"The birth of his baby has given him 8 pounds of audacious purpose. It's a phenomenal gift for him."
Professor McKenna also said that having Sophia and Kim at Wimbledon will be a motivator and said the trend for athletes to celebrate with family after a win is good for them.
He said: "It may look like having their family come on to celebrate with them is just for the TV cameras but it's not. It's a uniting process."
Some commentators had suggested that a dip in Murray's form immediately after the birth of Sophia Olivia was down to the demands of fatherhood.
Up until March, he hadn't progressed past the third round of a tournament since the birth, and had only won twice on the ATP Tour since January.
However, Andy, 29, was infuriated by the suggestion that fatherhood had anything to do with it.
He said: "I'd rather be getting up in the middle of the night and helping her than winning every tennis match and her thinking when she grows up: 'Actually, you know what, he was a hopeless dad but he won a lot of tennis matches so, you know, well done'."
Andy admitted that becoming a parent was life-changing and said that while he still wanted to succeed in tennis being a good dad came first.
However, if his form at Wimbledon this time is anything to go by it looks like being a father has helped his game.
And he wouldn't be alone in that regard.
Sports lecturer Candice Lingam-Willgoss from The Open University noted that Andy's long-time rival Roger Federer has had massive success while juggling fatherhood.
She even said the "key to his success may well lie in the fact that his wife and children frequently travel to tournaments with him" as it meant he wouldn't be stressed out by missing them.
She also noted that many other top tennis stars such as Lindsay Davenport and Kim Clijsters had huge success after having a baby.
Similarly Novak Djokovic has played some of his finest tennis since he became a father in October 2014.
Andy's victory means he will meet Milos Raonic – who he's triumphed over in their last five meetings – in today's final.
Professor Cary Cooper said his money will be on Andy.
"I think he can go all the way," he said.
READ MORE
Wimbledon 2016: Chasing Steffi Graf's record has made Serena Williams a nervous wreck, says John Lloyd
Wimbledon 2016: John Lloyd has his say on Djokovic, Murray and Federer