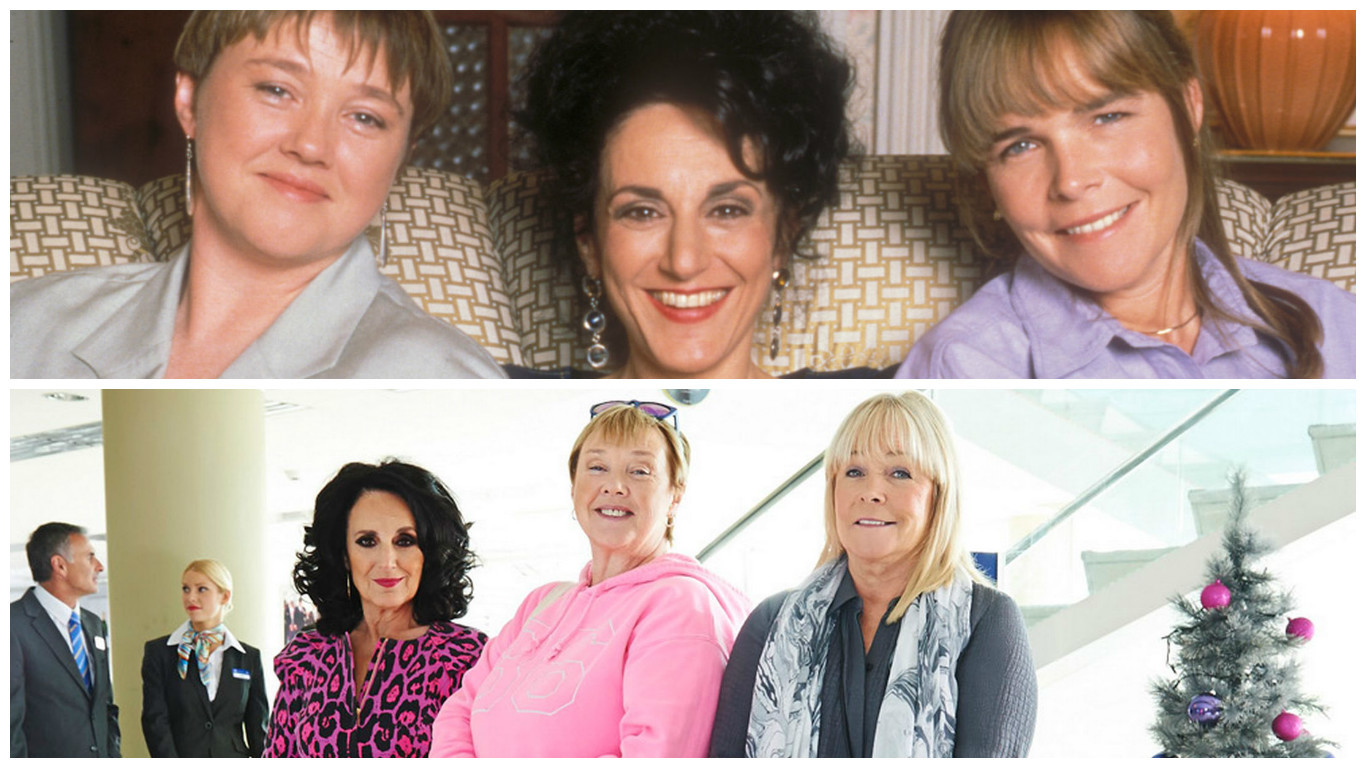 THE BBC announced last week that time travelling sitcom Goodnight Sweetheart is returning after 17 years.
Nicholas Lyndhurst starred in the comedy as a man who leads a double life after finding a portal between 1990s and 1940s London.
The show, which originally ran from 1993 to 1999, is the latest old favourite to be afforded a comeback.
The return of The X-Files earlier this year was a ratings success both in America and for Channel 5, where the first episode pulled in five million viewers – a record for a drama on the channel.
With Cold Feet back later this year and the long-awaited revival of Twin Peaks scheduled for early 2017, we look at 10 other telly comebacks and whether they were a hit or a miss.
Star Trek
Star Trek Original run: 1966-1969
What was it? Sci-fi series following the space adventures of James T Kirk and the crew of the Enterprise.
Why did it end? American network NBC cancelled it due to low ratings.
How was it revived? Repeats made it a cult classic and the success of Star Wars and Close Encounters of the Third Kind prompted a movie spin-off.
Was it a success? Six films featuring the original cast, plus TV spin-offs such as The Next Generation, Deep Space Nine and Voyager, make this comeback an undoubted triumph.
---
Doctor Who
Doctor Who Original run: 1963-1989
What was it? Sci-fi adventure about a time traveller who fights all number of enemies, specifically the Daleks.
Why did it end? Falling viewing figures and a joke-like perception about the show's look.
How was it revived? Writer Russell T Davies, a massive fan of the original series, agreed to revive the show for the BBC in 2005.
Was it a success? Absolutely. One of the cornerstones of the BBC's Saturday night schedule and an international hit, it's still going strong today.
---
Upstairs Downstairs
Upstairs Downstairs Original run: 1971-1975
What was it? ITV drama about the lives of the servants and their masters in a London townhouse between 1903 and 1930.
Why did it end? Some of the cast members wished to move on to new projects.
How was it revived? The BBC picked it up in 2010 and brought back original star and co-creator, Jean Marsh.
Was it a success? To begin with, but the ratings fell in the second series and it was cancelled.
---
Parkinson
Parkinson Original run: 1971-1982
What was it? Britain's pre-eminent chat show host, interviewing everyone from Muhammad Ali to Rod Hull and Emu.
Why did it end? Parky left the BBC to set-up and present TV-am on ITV.
How was it revived? After leaving TV-am, he returned to the BBC, reviving the chat show for one series from 1988 and then returning again from 1998 for 10 years.
Was it a success? He attracted the big names and viewers until the end.
---
Thunderbirds
Thunderbirds Original run: 1965-1966
What was it? Sci-fi puppetry from Gerry and Sylvia Anderson about the adventures of International Rescue.
Why did it end? Media impresario Lew Grade failed to sell the show to America, so pulled the plug as he didn't believe it would recover production costs.
How was it revived? Brought back for a 26-episode series to mark the show's 50th anniversary.
Was it a success? Yes, a second series has now been announced.
---
Dallas
Dallas Original run: 1978-1991
What was it? A primetime soap about the feuding Texas oil family, the Ewings, which starred Patrick Duffy and Larry Hagman as the evil JR.
Why did it end? US audiences dwindled from the highs of the 90 million it garnered for the Who Shot JR? cliffhanger.
How was it revived? American cable station relanuched it in 2010 and original stars Duffy and Hagman returned.
Was it a success? Ratings fell away and it was cancelled after three seasons.
---
Birds of a Feather
Birds of a Feather Original run: 1989-1998
What was it? Sitcom about two sisters who move in together after their husbands are sent to jail.
Why did it end? Creators Laurence Marks and Maurice Gran decided they had little left to say.
How was it revived? Following a successful stage tour featuring the three original cast members, ITV revived the show.
Was it a success? First episode gave ITV its highest-rated comedy since 2000. Now on to third series.
---
Crossroads
Crossroads Original run: 1964-1988
What was it? Tea-time ITV soap opera set in a fictional motel in the Midlands.
Why did it end? Change in tone, loss of long-running characters, different theme tune and even a renaming all contributed to its demise.
How was it revived? Carlton Television dusted it down in 2001 for a daytime ITV slot and brought back four original characters.
Was it a success? It was cancelled just two years later in 2003.
---
Danger Mouse
Danger Mouse Original run: 1981-1992
What was it? Children's cartoon spoof of spy movies, featuring the eponymous Danger Mouse as a secret agent.
Why did it end? A change of parent production company resulted in a number of changes.
How was it revived? CBBC brought it back last year, this time with Pointless host Alexander Armstrong performing voice duties.
Was it a success? One of the highest-rated shows on CBBC with 2.4 million viewers.
---
READ MORE
Tim Lovejoy reveals recipe for Sunday Brunch live TV show's success
Popular TV show cancellation will become the norm if ratings success continues to be ignored