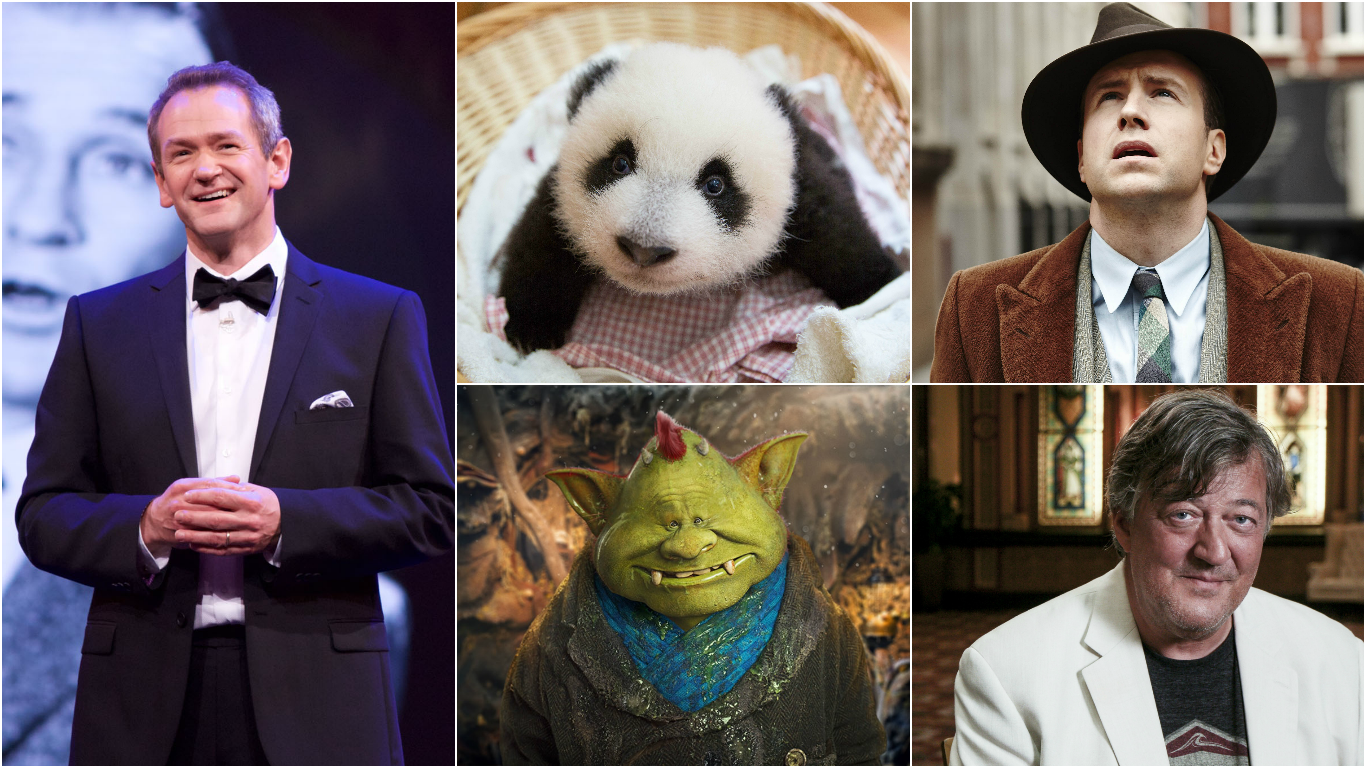 Bruce's Hall Of Fame With Alexander Armstrong, BBC1, 6PM, Saturday
Although he stepped down from hosting Strictly Come Dancing back in 2014, showbiz legend Bruce Forsyth clearly has no intention of retiring.
In fact, he had a very busy Christmas and New Year lined-up, as he was due to make a return to the ballroom on Christmas Day and host this variety show which sees some of today's entertainers paying homage to the artists who inspired them.
However, in October, the veteran presenter sadly slipped and fell at his home, and was told by doctors to rest up for at least seven days, meaning he wasn't able to attend the recording of Hall of Fame. Ill-health also ruled him out of the Strictly Come Dancing Christmas Special, although the 87-year-old did send a video recording.
While neither show could ever be quite the same without Brucie, he has found a suitable stand-in for Hall of Fame in the shape of the multi-talented Alexander Armstrong.
He'll be introducing performances by comedian Catherine Tate, former Pussycat Doll Kimberley Wyatt, Britain's Got Talent runner-up, magician Jamie Raven, West End musical sensation Beverley Knight, and Shona 'Whitney from EastEnders' McGarty as they pay their own tributes to their inspirations from the past.
Fungus the Bogeyman, Sky1, 6pm, Sunday-Tuesday
Christmas Eve is the one night of the year when children are hoping to hear something go bump in the night. For the rest of the year they live in fear of it.
Timothy Spall heads a star-studded cast in this three-part adaption of Raymond Briggs's classic family tale.
Fungus is a smelly monster whose job of scaring children in the dark clashes with his own son's desire to make friends with the "dangerous" humans. Victoria Wood, Keeley Hawes and Marc Warren also star.
Harry Price: Ghost Hunter, ITV, 9pm, Sunday
They'll be fighting over the remote in the Spall household for, as well as Timothy's title role in Fungus the Bogeyman, this evening also sees son Rafe leading the way in this spooky new drama.
A spine-chilling mix of real history and fiction it tells the story of a con artist in 1920s London who became Britain's most famous real-life ghost hunter.
A sceptic of the paranormal, Harry is called upon to investigate the haunting of a local MP's home. But this is one case for which he can't find a logical explanation.
Walking the Himalayas, Channel 4, 8pm, Sunday
After three days of Christmas cheer, walking from the sofa to the kitchen will be the limit of my ambition today. But I don't mind watching someone else over-exert themselves.
Following on from his Walking the Nile, explorer Levison Wood is now planning to trek the length of the world's highest mountain range.
It's a 1,700m journey which will take him from Afghanistan to Bhutan but doesn't get off to the most auspicious of starts as Levison is struck down with altitude sickness.
A Frozen Christmas, Channel 4, 7.05pm, Monday
Some people have money to burn. Others are willing to spend it on frozen water.
This month's mild temperatures may have reduced the 50% increase in orders that was predicted but ice sculpting is a booming business.
This programme meets the people who are creating incredibly detailed ice masterpieces that are worth tens of thousands of pounds – and the people who are paying that much to buy one.
David Beckham: For Love of the Game, BBC1, 9pm, Tuesday
You often hear football managers moan that we play too much football in Britain but two games a week is nothing to what David Beckham has signed up for now he's turning out for Unicef.
The former England star is off on a charitable expedition to play a football match on all seven continents of the globe and getting back in time for his own star-studded Unicef fundraising match at Old Trafford.
From the foothills of earthquake-ravaged Nepal, to the deserts of Djibouti and the frozen wasteland of Antarctica, David finds out that everyone speaks the language of the beautiful game.
A Life on Screen: Stephen Fry, BBC2, 9pm, Tuesday
In 2007, BBC4 broadcast a tribute to Stephen Fry, to mark his 50th birthday.
There's no obvious reason for them updating it with this similar tribute eight years later other than to remind us what a varied career he has enjoyed and cement his status as a national treasure.
The QI host's career began with a chance meeting with comedy partner Hugh Laurie at Cambridge.
Friends and colleagues discuss what it is like to work alongside him, while Fry himself pops up with a few self-deprecating witticisms along the way.
Panda Babies, ITV, 8.30pm, New Year's Eve
As the most critically endangered species in the world, Giant Pandas have become animal royalty and their babies are like precious jewels.
Veterinary surgeon Steve Leonard is fulfilling a life's ambition by travelling to China to spend time among these adorable creatures.
During his stay he witnesses the incredible moment a panda is born, and follows their development from newborn through to one-year-old toddlers.
Sinatra: All or Nothing At All, BBC4, 9pm, New Year's Eve & 10pm, New Year's Day
Frank Sinatra fans are receiving a late Christmas present this week as television marks his 100th birthday.
On Monday, Channel 5 will be broadcasting an entire evening of programmes dedicated to Ol' Blue Eyes.
That's followed by this two-part documentary on BBC4, which uses access to home movie footage from the Sinatra Estate to give an up-close and personal examination of the life, music and career of the legendary entertainer.
The Many Faces of Ronnie Corbett, BBC2, 8.30pm, New Year's Day
BBC may be missing Bruce Forsyth this weekend but they do have his golfing buddy.
Ronnie Corbett is an icon of television entertainment and The Two Ronnies made him a household name but he has enjoyed a varied career away from his partnership with Ronnie Barker.
Like many of his generation, Ronnie had a strong career on stage and was 36 before his first big television break. Before that he'd been a teenage organist and had a role in the 1950s film You're Only Young Twice with Charles Hawtrey.