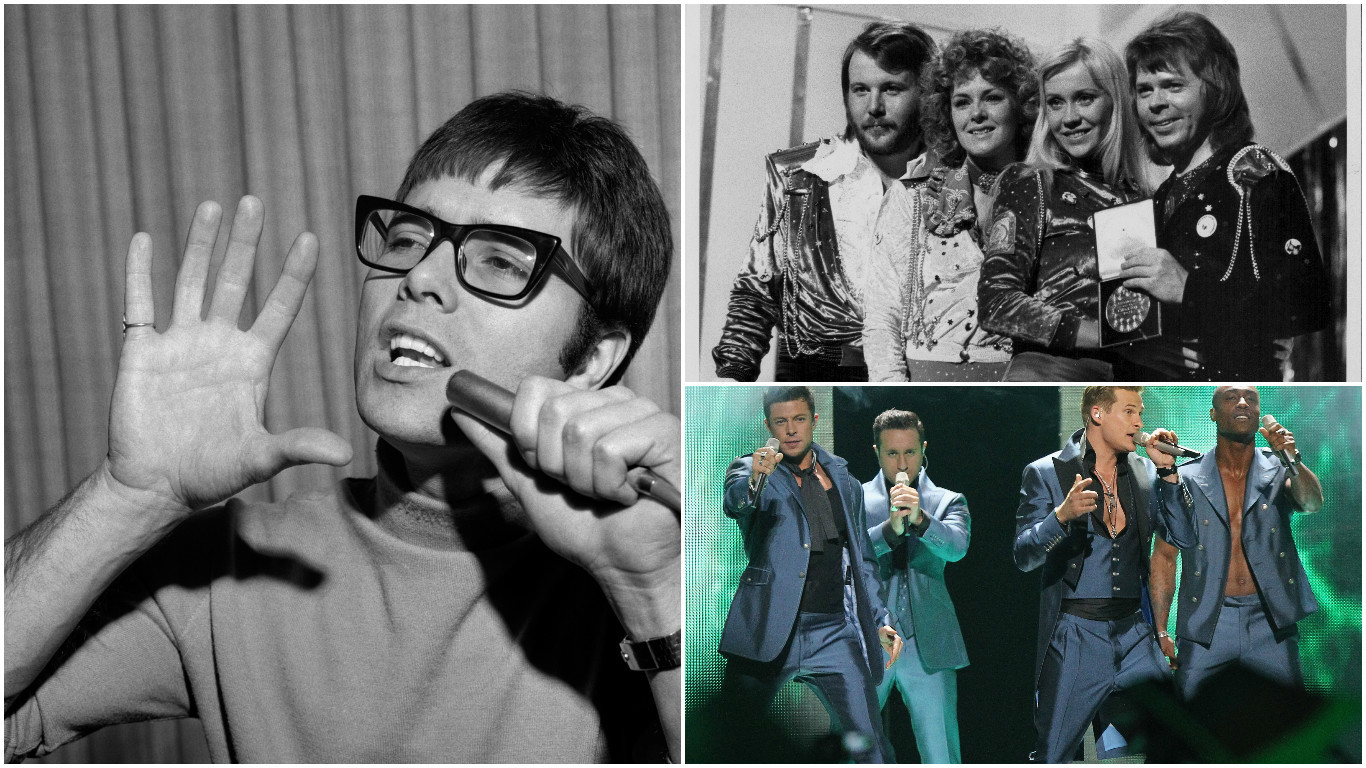 AMONG the dreadful songs to be heard at Eurovision, there have been plenty very good ones, too.
In fact, with what often seems like political voting choosing the winner, there are lots of great songs that should have won, but didn't.
Cliff Richard,  Michael Ball and even Abba have missed out on being crowned champions.
Just to prove our point, here are 10 that we think would have been worthy winners.
1958: Domenico Modugno — Nel Blu Dipinto Di Blu (Volare)
THE Italian guitarist, singer, actor and politician debuted this song at the 1958 Eurovision, and watched it come third with just 13 points.
All very odd, as Volare would go on to be a song we all know and recognise, often accompanying anything Italian!
Covered by everyone from David Bowie to Dean Martin, Al Martino to Cliff, Sinatra to Armstrong and Pavarotti to Barry White, we have to ask, how on Earth did this not come first in '58?
1959: Pearl Carr And Teddy Johnson — Sing, Little Birdie
https://www.youtube.com/watch?v=-Etl1zYvNSE
THIS happy-looking duo were a married couple, and very popular at the time as all-round entertainers.
An interlude of whistling, and Teddy holding what appeared to be a stuffed budgie, were not to everybody's taste, but these are the reasons we loved it!
Sadly, they only came second, but we'll never forget them.
1961: The Allisons — Are You Sure?
WE'RE still not sure how this only reached second place.
The short-lived British pop duo came up with this Beatlesesque number, but after the '61 contest, they never reached the same heights as the Fabs again.
Released as a single, it went straight to No 1 and stayed in the UK top four for 11 weeks, a feat Ringo and the lads would've been happy with in those early days.
Held in Cannes, Luxembourg won in 1961. The show overran its time, which was why the repeat of their song at the end wasn't shown on British telly.
Not, as some suspect, because we knew The Allisons should've won instead!
1968: Cliff Richard — Congratulations
A HUGE hit right across Europe, it beggars belief that when it entered Europe's biggest music contest, it only came second.
To add insult to injury, this was in the Royal Albert Hall, as Britain hosted the event this year.
Written by Glaswegian Bill Martin and Derry-born Phil Coulter, it was runner-up to Spain's La La La.
And yet, Cliff topped the charts in Belgium, Holland, Norway and even — ironically — Spain itself. One of Eurovision's biggest mysteries . . .
1973: ABBA — Ring Ring
OK, this one didn't even make it into the finals, but it shows how we can miss a band who are going to become rather good at this sort of thing.
In '73, the rest of Europe got to know the Swedish foursome, but Britain and elsewhere hadn't caught up yet.
They put this song, with lyrics translated by Neil Sedaka, up for the contest, but it came in third and wasn't used. They would soon rectify that, with the following year's Waterloo.
1991: Amina — C'est le dernier qui a parlé qui a raison (It's the last one who spoke who is right)
THE French entry, by French-Tunisian singer-songwriter Amina Annabi, only lost after a tied Eurovision final vote.
It was a controversial moment, decided by European Broadcasting Union rules, and we preferred this to the Swedish winner.
Thankfully, Amina, who wrote this song, has gone on to have a very successful career.
1992: Michael Ball — One Step Out Of Time
https://www.youtube.com/watch?v=bQFurlOiVvs
ACTRESS Samantha Janus had failed to make the top spot in 1991, when A Message To Your Heart only reached 10th position.
Bookies' favourite Michael did his song just before Ireland's Linda Martin did hers, Why Me?
Alas, despite getting top marks from Germany and several other nations who don't often vote for the British entry, Michael was just pipped to winning position by Linda.
One step, you might say, out of time . . .
2006: LT United — We Are The Winners
PERHAPS this group's cheek annoyed some of the judges, but we love how they just presumed they would win!
A six-piece Lithuanian rock group only formed to compete at Eurovision, their song was all about, well, winning Eurovision.
Sadly, they came in a poor sixth, and booing could be heard during their rendition, though that just made us like them even more.
Later, they recorded a version of the song for Lithuania's World Cup campaign, with equally-dire effects — Lithuania didn't manage to reach the Finals.
Robbie Williams once joked about this song, and by way of an apology did his own version of it. We love them for their cheek, and feel they should have been the winners!
2010: Paula Selling and OVI — Playing With Fire
THIS pair had met at The Golden Stag, Romania's own song contest, and came up with this powerful number.
A massive success in their own country, it was tipped to do well at this year's event, in Norway, and many were shocked to see it only reach third place in the end.
You can still find many fans on the internet raging about it, and even suggestions of sinisters goings-on in the background.
It's a dark, scary world, full of shocks and surprises, that Eurovision Song Contest . . .
2011: Blue — I Can
IN the Dusseldorf-based contest, the British lads' song came a horrible 11th, but it didn't deserve just a measly 100 points.
This was the first time the BBC decided internally what the UK entry should be, and we'll leave you to decide the significance of that!
For what it's worth, Bulgaria gave it a dozen points, the most you can, but others gave it very poor marks — fifth in the telly vote, the various countries' judges knocked it down.
Strangely, it was a bigger hit in Austria, Germany and Switzerland than in the UK.
---
READ MORE
Russia and France stand the best chance of winning Eurovision… because of their word choice
Eurovision 2016: Who are the UK's entrants Joe and Jake?