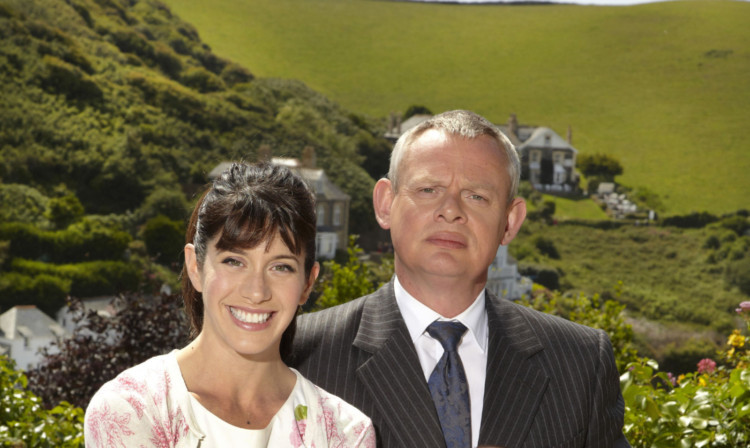 Places where Downton Abbey, Broadchurch and Only Fools among others are filmed are proving to be holiday hotspots.
It's reckoned many of us take holidays in Britain to avoid missing our favourite TV shows and many of us spend our holidays getting much closer to them!
There's a whole plethora of locations dotted around our islands where telly addicts can take a break while seeing just where those shows are made.
Many of us, of course, have headed to Manchester to walk those famous cobbled streets of Corrie, but it goes much further than that!
Downton Abbey, Midsomer Murders, Doc Martin, Broadchurch and Call The Midwife are just a handful of the much-loved shows now attracting a new kind of tourism.
As Doc Martin, Martin Clunes always gives the impression he'd be in too much of a hurry to stop for a chat, but lovely Port Isaac and its locals will give you a warmer welcome.
This is the North Cornwall beauty spot where the very popular series is filmed, and if ever a TV show was a great advert to entice tourists, it's Doc Martin.
It's been gracing our screens for almost a decade, with gorgeous Caroline Catz ensuring that even the men of the house will sit and watch every episode.
Sadly, you aren't guaranteed to bump into her, either, although you never know your luck if you visit while they're filming, as the actors have been known to hang around between shoots.
But Port Isaac itself is worth the visit the house used as the doc's surgery is a private abode, though, with just the exterior used for filming, so don't expect to get inside it.
At the foot of Roscarrock Hill, best viewed from the other side of the harbour, is the lovely waterside house that you may know better as Bert's place.
The Old School Hotel and Restaurant, on Fore Street, was once the school but is now a hotel, while the car park adjacent to it is used as the school playground in the show.
Be warned. All the roads in Port Isaac are very narrow, so it might be best to park at the top of the hill and then wander down on foot. Or, if the tide is out, you could even park on the beach!
Things can get confusing for Doc Martin-loving tourists. The Golden Lion pub is also The Crab And Lobster, while the "chemist" is actually the Pride Of Place Fudge Shop.
Yes, you can see what we mean, so just remember what is real and what is Doc Martin!
If you adore Del and Rodney from Only Fools And Horses, you should head to Bristol, rather than the Big Smoke. Sure, many episodes of the smash hit were shot in the capital, but Bristol also became the backdrop for the series.
It was never filmed in Peckham, ironically, but they did make the show in London, until its popularity saw large crowds gather everywhere, making it impossible to continue filming there.
So they moved to Bristol, and Ipswich, and Brighton, and Hull, and just about everywhere in England!
Producer and director Ray Butt, who sadly passed away this summer, admitted: "You can set up a street market anywhere.
"All you need is a long run of walls and then put stalls out!"
Bristol North Baths, Gloucester Road, site of the Fools And Horses police station, the dating agency at 46 Old Market Street, they're all here.
You may not hear many Cockney accents from men in sheepskin coats with gaudy medallions, but you'll get a real sniff of your favourite TV series!
The wonderful scene The Weekly News featured recently, with Del and Rodney as Batman and Robin? Try the shopping centre at The Horsefair in Broadmead.
Then, just run lightly down Oxford Street, Nottingham Street and Hill Avenue, and you'll be retracing the steps of Rodney, when he chased some yobs and got seriously out of puff.
Midsomer, of course, doesn't exist but the Chilterns does and you can head almost anywhere in the Chilterns, and still be in Midsomer, if you see what we mean!
That's because the classic show, which starred John Nettles until 2011 and now stars his "cousin", is filmed all over this lovely part of the country.
Turville, Buckinghamshire, was seen in the episodes Murder On St Malley's Day, Who Killed Cock Robin and The Straw Woman.
If you love Midsomer and head here for a break, you'll feel right at home if the high rate of murders doesn't put you off!!
The seaside resort of West Bay, Dorset, has seen a significant tourist boost, thanks to Broadchurch, starring former Doctor Who David Tennant and Olivia Colman.
The detective series was tailor-made for the jagged cliffs and dramatic coastline, and so is a nice, relaxing holiday!
"We're really busy, which is connected to the popularity of the show," says Tim Gibb, who manages the Watch House Cafe at the bottom of a cliff there.
Fans of the show will recognise his caf in many episodes, and the Methodist Church, which was used as the Sea Brigade Hall. The nearby Harbour Newsagents will ring a few bells, too.
Yes, you've seen them all before, and now you're holidaying right beside them!
Hampshire's Highclere Castle, also known as Downton Abbey, is pulling in new visitors by the thousand, and it really is magnificent.
Home to the Earl and Countess of Carnarvon and their family since 1679, the exterior and interior are used for the amazingly- successful TV series, which has charmed America and the rest of the world as much as ourselves.
For every plummy, posh accent, you'll also hear a broad Manhattan one on your visit to these parts!
Tourists who go for the TV connection will be delighted to find there's much more to this place than Downton, with a fantastic new Egyptian Exhibition in the castle's cellars.
Complete with a replica of Tutankhamun, a mummy, sarcophagus and other treasures, you may find yourself momentarily forgetting why you came in the first place.
Like hundreds of locations throughout our country, it's another amazing holiday spot, with a very special telly connection.
l For more on these and all the best TV places, read The British Television Location Guide, by Steve Clark and Shoba Vazirani, published by Splendid Books at £9.99. Order from www.splendidbooks.co.uk or call 0845 625 3045