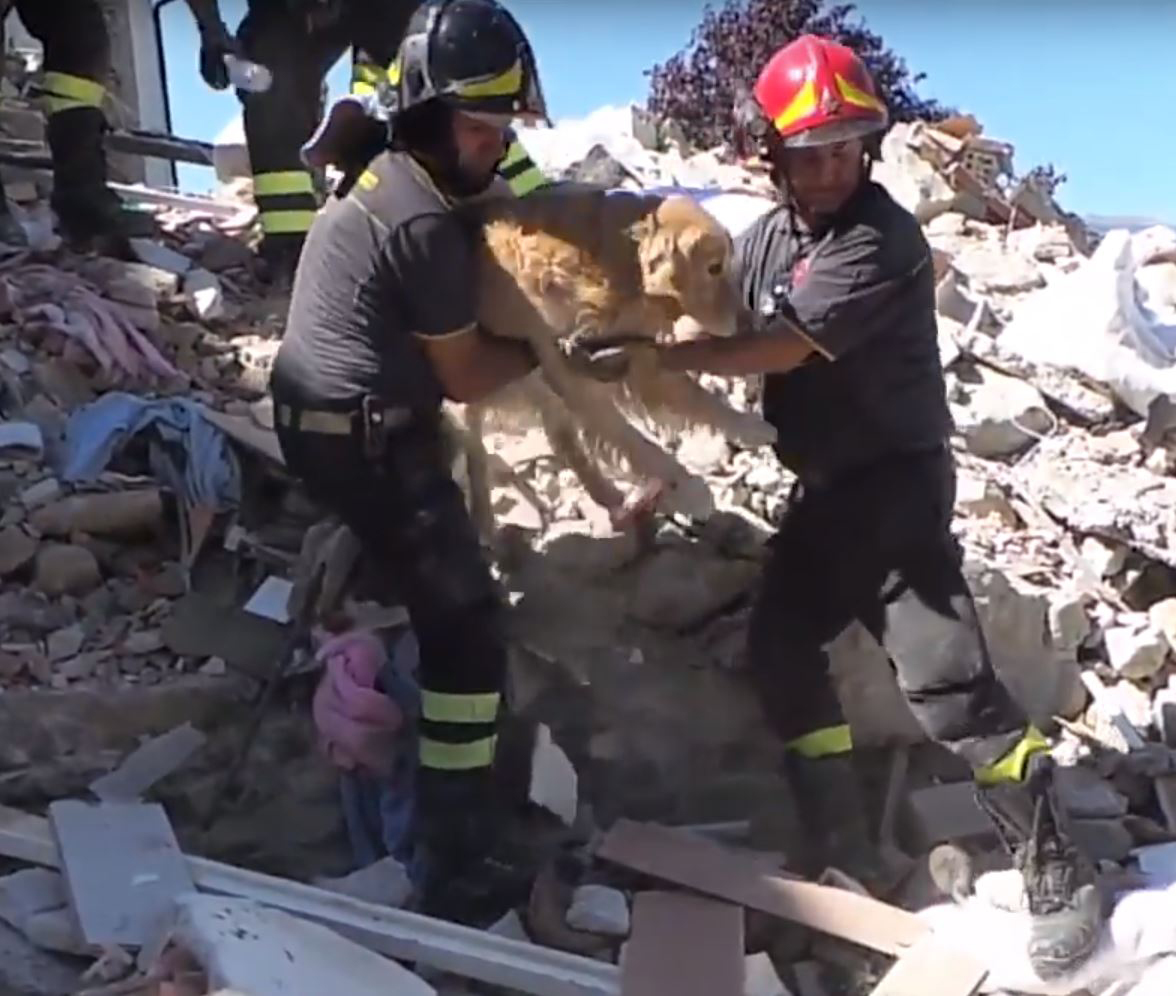 EMERGENCY workers have rescued a dog that had been trapped in earthquake rubble for NINE days.
The Golden Retriever's remarkable rescue took place from the ruins of a building in central Italy where hundreds of lives were lost in a 6.2 magnitude earthquake last month.
The dog, called Romeo, was discovered when firefighters were accompanying his owners back to their home to help them recover key belongings from the rubble.
Almost as soon as they came into the tiny medieval village of San Lorenzo, Romeo heard their voices and began barking.
A video released by the fire department shows a man yelling in Italian: "Romeo, come here! Best dog in the world!"
"We immediately began moving masonry from where the barking was coming from and incredibly we got to him and he was in pretty good condition," said one of the firemen, who gave the dog a drink from his water bottle.
The video footage shows Romeo bewildered at first as he scampered down the mound of broken concrete and other debris but quickly took a few steps, wagged his tail and sniffed his surroundings.
Nick Jones, a professional dog trainer and behaviourist with Alpha Dog Behaviour, said: "This is great news. Dogs are the same as most other animals – including humans – where their survival depends on access to clean water and food.
"I'd suspect that given the length of time and the fact Romeo was in the house that he had access to water, and remember people often keep food and drink in the same space dogs sleep.
"Dogs tend to live moment to moment, they don't cast their mind backwards or forward like humans do, so they tend to be less anxious."
---
READ MORE
Pet dog 'rescued' Molly from bullies
Video: Watch firefighters rescue adorable duckling after it fell into a drain