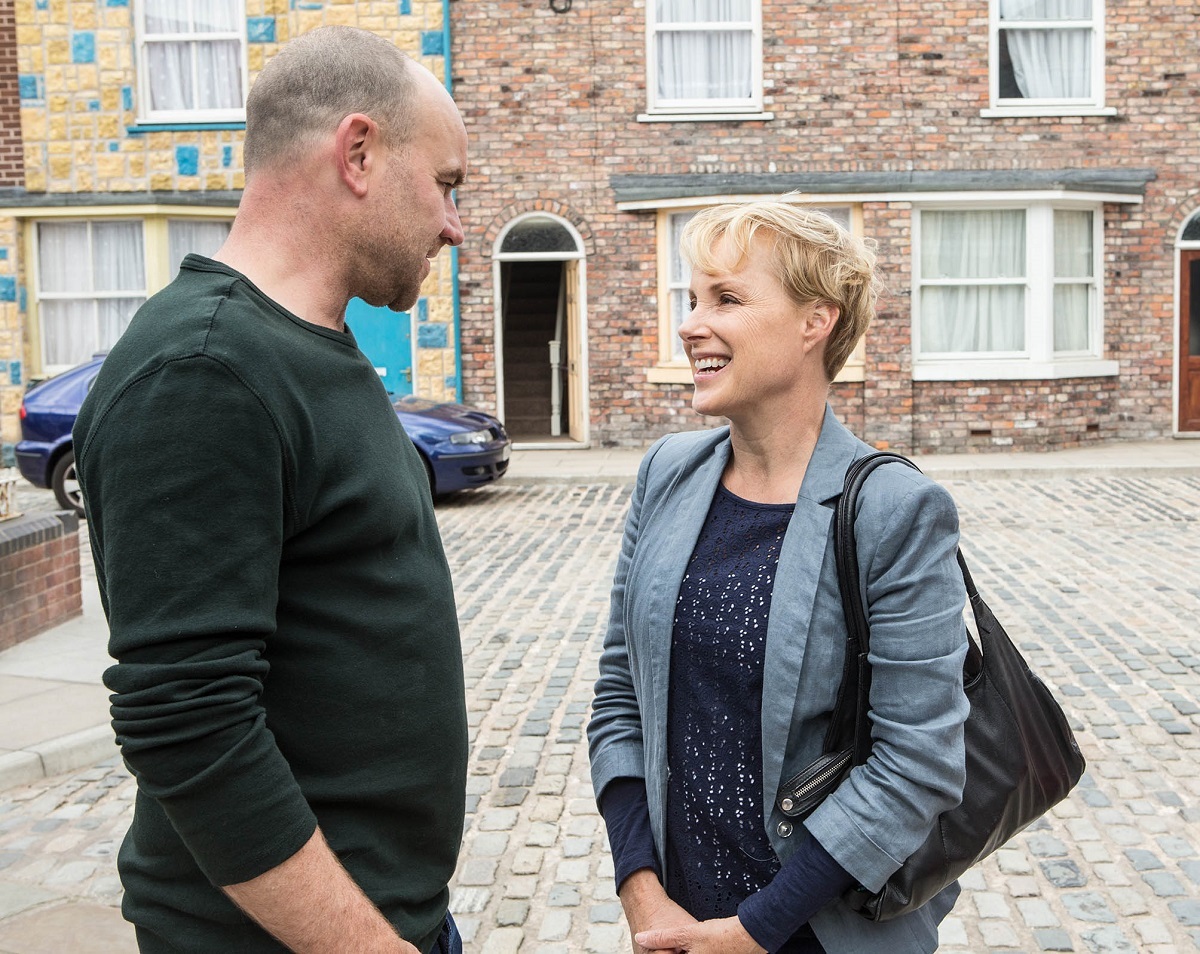 ITV is marking its 60th birthday next week and it's doing so in style with a live episode of the nation's longest-running soap, Coronation Street.
Millions will tune in to find out whether Sally and Tim's nuptials are spoiled by a reckless kiss and whether anyone can stop an out-of-control Callum.
The Sunday Post has been to the Manchester set to get the show's stars to spill the beans on Corrie's biggest night of the year.Sally Dynevor
Sally Dynevor (Richard Stonehouse / Getty Images)
IT'S the elephant in the room the chance that all people will be talking about is a faux pas, a foul-up, a slip of the tongue.
Frankly, an EastEnders-style "How's Adam?" moment, one that haunted Jo Joyner after the BBC's soap's 30th anniversary episode in February.
In fact, Sally Dynevor namesake Sally Webster admits anxiety scuppered her from appearing in the first live Corrie a few years back.
"I was too nervous," she says.
"I regretted it as I watched it at home and everybody was so good.
"I just knew the atmosphere would be amazing as everyone was in it together.
"When I eventually did the next one, I was so glad.
"I wouldn't have wanted to miss it. When they asked this time, I said yes but I said I didn't want too much to do!"
Having rued ducking out on the first big live episode, Sally made sure she gave herself the best possible chance to shine second time around.
And she reveals that if it ain't broke, don't fix it.
"I have got a bit of a routine," she admits.
"On the last one there were some people who were bouncing about like rabbits and so excited. But Ali King and Jane Danson and myself just walked away and couldn't talk to anyone. I was so nervous.
"I slept early every night before the live one after going through every line in the script to make sure I was on top of it all. And I know I'll be doing that again."
But there's another fear for Sally and it's just not funny. Or rather it is.
"My worry is if we start giggling. We do a lot of laughing.
"Joe, if you make me laugh I'll never talk to you again," she says as she gives Joe Duttine, who plays her screen beau Tim, a playful dig in the ribs.
And Joe, who admits he was better known for heavy dramas before he took on the lightness of his Corrie character, says he's no stranger to performance problems.
"I did a show in the West End where we messed up and just went off and came back on.
"The audience loved it.
"Mind you, that was a farce it's a bit different with a live Corrie and millions watching."
Will Sally and Tim's big day go to plan? (Joseph Scanlon / ITV)
ITV may be marking a milestone 60 but Sally is about to notch up one of her own at the start of next year.
For half of the time the channel has been on air, Sally has been treading TV's famous cobbles. She's still doing it so successfully that she picked up the Best Comedy Performance gong at this year's British Soap Awards.
And the good news for her many fans is that she has no plans to go anywhere anytime soon.
"I'll have been here 30 years in January and I'm really happy and enjoying it.
"The time that stops or it gets too much or I want to do other things then I'd go.
"But it's hard to leave Coronation Street because it's like a family.
"If it suits everyone and it fits in with your family life then it's quite hard to make the decision to jump.
"The years go so quick.
"I was just happy that I'd got a year on Corrie. You'd never imagine it being 30.
"I was young free and single when I joined, now I'm married with grown-up children and life's very different."
Sally, 52, and screenwriter husband Tim have three kids, Phoebe, Samuel and Hatty. She lives far enough away from the set that socialising with the cast is at a premium something Joe both regrets and can see as a positive.
"If she was round at my place she'd be organising me and getting me to run lines with her," he smiles.
Spending long days together has obviously seen the pair forge a close bond, right down to Joe knowing just when she'd like that reviving latte.
And despite the soap world viewing the words "happily ever after" as a rarity when a wedding's in the offing, Joe's firmly in the camp of viewers who'd like to see it work.
"I'd like to see them together," he offers. "There's a tendency to make people promiscuous for the drama but I think it's nice for them to be monogamous and faithful.
"It doesn't make them boring. There are other stories they can have."
So, back to that elephant in the room the upcoming live episode and the hope that it really will be all right on the night.
"Am I worried about getting a name wrong? Yeah!" adds Sally. "Still, I should be OK my real husband's called Tim and my name's Sally."Lucy Fallon on an amazing start to her Coronation Street career – click here to read more Michael Le Vell & Brooke Vincent
Kevin and Sally's untimely kiss… (ITV)
HAVING been around for the last live episode Michael Le Vell Sally's ex Kevin with whom she shares that untimely snog knows it won't be the same next week.
"Last time we had the big tram crash but this time it's all to do with the characters, we're not relying on big stunts," said Michael.
He took a well-publicised break from the soap a couple of years ago and watched, like millions of other viewers, as his screen ex found new love with Tim.
Michael added: "People kept asking if I was going to get back with Sally and I was saying I hope not.
"I love them as a couple.
"It would have been the obvious choice to have them fighting all the time but the fact we get on like long lost siblings is great."
Michael reveals the cast will be under virtual house arrest on the day to ensure no one goes missing.
And Brooke Vincent, who as daughter Sophie threatens to ruin the big day, says she knows why timing is key.
"Even simple things like going to the toilet at the wrong time could mess up everything," says 23-year-old Brooke.
"In the old building you had to go from one studio to the other and they'd be screaming, 'HURRY UP you're on next!'"Sean Ward
The Street's bad boy Callum (Joseph Scanlon / ITV)
THE live episode's other big storyline sees bad boy Callum Logan continue to run amok.
And Sean Ward admits his character has totally lost it.
"He's gone completely off the scale now," says Sean.
The role is so high profile that Sean can't go anywhere without attention.
And his drug involvement can even make family days out difficult.
"It's awkward when you get people asking you for drugs when you're out with your mum," adds Sean.
"I'd love to go somewhere that I don't get recognised for a week.
"Being the bad boy and being in Manchester is like being rock star with the number of people asking you for a picture."Read more TV news from The Sunday Post – click here