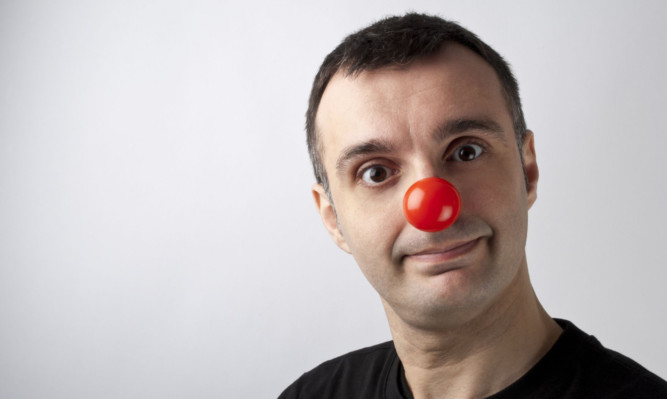 It's that time of year again when our favourite celebrities make complete fools of themselves and we, in return, dig deep in our pockets, all in order to raise money for Red Nose Day.
Comic Relief, of course, uses funds raised to help poor and vulnerable people living in the UK and across Africa.
And although the stories are taken extremely seriously and are more often than not heartbreaking, the comedy sketches have been a part of our annual fundraising now on alternate years with Sport Relief.
Here's our Top 10 Red Nose Day moments.
1. DAWN FRENCH KISSES HUGH GRANT (1995)
DAWN is, of course, a stalwart of Red Nose Day, and the night wouldn't be complete without her.
This moment, however, was just Dawn's chance to smooch none other than the dashing Hugh Grant.
As Dawn nervously sat next to Hugh on the lips-shaped chaise longue, would she go in for the kiss?
When she did eventually pluck up the courage, it raised £1 million.
2. COMIC RELIEF DOES FAME ACADEMY (2005)
IN a spin-off of talent show Fame Academy, several stars tried their luck at winning over the judges in Comic Relief Does Fame Academy, which took place from 2003 to 2007.
The 2005 winner, Edith Bowman, battled it out with the likes of pub landlord comic Al Murray, Nick Knowles and Adrian Edmondson.
3. LAUREN COOPER AND DOCTOR WHO (2007)
IN this, David Tennant takes on the role of the teacher, Mr Logan, of Lauren "Am I bovvered?" Cooper, played by the brilliant Catherine Tate.
Catherine is at her comedy best as she tries to rile up Mr Logan, and refuses to pay attention.
Lauren asks if Mr Logan is The Doctor, to which he, of course, responds: "Doctor Who?".
Mr Logan then pulls out a Doctor Who sonic screwdriver and uses it on Lauren, turning her into a Rose Tyler action figure. "That's better," he says.
"I still ain't bovvered," pipes up the doll/Lauren.
4. THE BIG RED NOSE CLIMB (2009)
IN what is one of the most inspirational fundraising efforts from celebrities, various TV and music stars including Gary Barlow, Alesha Dixon and Cheryl Fernandez-Versini, set out to climb the 19,340-ft tall Kilimanjaro.
It was all in a bid to raise awareness of the dangers of malaria, ironically a disease that Cheryl contracted herself just a year later.
Speaking afterwards, she said: "The motivation lay in knowing it could ultimately save lives."
5. SIMON AND DAVID'S WEDDING (2013)
FROM the most-recent Comic Relief only two years ago, this sketch sees Mr Cowell walk up the aisle.
However, David Walliams shows up in a wedding dress confessing that he is in love with "My Simon".
Simon looks unimpressed and in his infamous judge's monotone, tells David: "It's a no from me."
6. RICKY GERVAIS AFRICAN APPEAL (2007)
THIS is one of those sketches that gets funnier the longer it goes on.
Ricky Gervais stars as himself, making a fake African appeal in a studio in aid of good publicity.
Other celebrities berate him, telling him it's morally wrong to make a fake appeal before joining in.
Sir Bob Geldof takes part, and Jamie Oliver also appears in this sketch, offering a Turkey Twizzler to one of the extras playing a starving African.
7. SMITHY TO THE RESCUE (2011)
TAKING part in what is supposedly a BBC boardroom, celebrities including Davina McCall, JLS, Dermot O'Leary and Keira Knightley are arguing over who will be the one who will have the privilege to go to Africa for the Red Nose Day appeal.
Smithy from Gavin and Stacey, played by James Corden argues that although he is only a plumber from Billericay, he should be allowed to go as he can actually help the Africans, drilling up a few wells, building shacks, installing their Sky+ boxes.
Sir Paul McCartney, however, asserts that Smithy shouldn't go as: "They don't like tubbies."
8. ALI G MEETS POSH AND BECKS (2001)
THIS was one of those occasions where you actually see Victoria Beckham laugh.
In the interview, Ali mocks David's famously high-pitched voice, saying: "I know it's Comic Relief, but you don't have to put on a silly voice."
Then, turning to Spice Girl singer Victoria, he asks her if son Brooklyn will be a footballer like his dad or a singer like . . . Mariah Carey.
9. MR BEAN ON BLIND DATE (1993)
HOW could a sketch like this fail to raise a laugh, with Mr Bean a contestant on Blind Date?
The hapless character earns himself Cilla Black's sympathy as she wishes him "a lorra lorra luck".
Being Mr Bean, he is doomed to make a bad impression on his date in his own inimitable style, and his chosen girl says no in no uncertain terms when he plucks up the courage and asks her to marry him.
10. ANDY MURRAY GETS OUTNUMBERED (2011)
ANDY can be criticised occasionally for his moodiness, but he sends himself up very well in this sketch with the Outnumbered team.
In it, he finds himself "victim" to Ben and Karen and their usual family squabbles.
Very patiently, the tennis ace takes several pictures with the family after being told he's not recognisable when he's smiling.
The last moment sees poor, old Andy hit hard in the leg with Ben's tennis racket.
The pained player limps off ahead of a big match the next day, which now looks doomed.
The curse of the Brockman family strikes again.