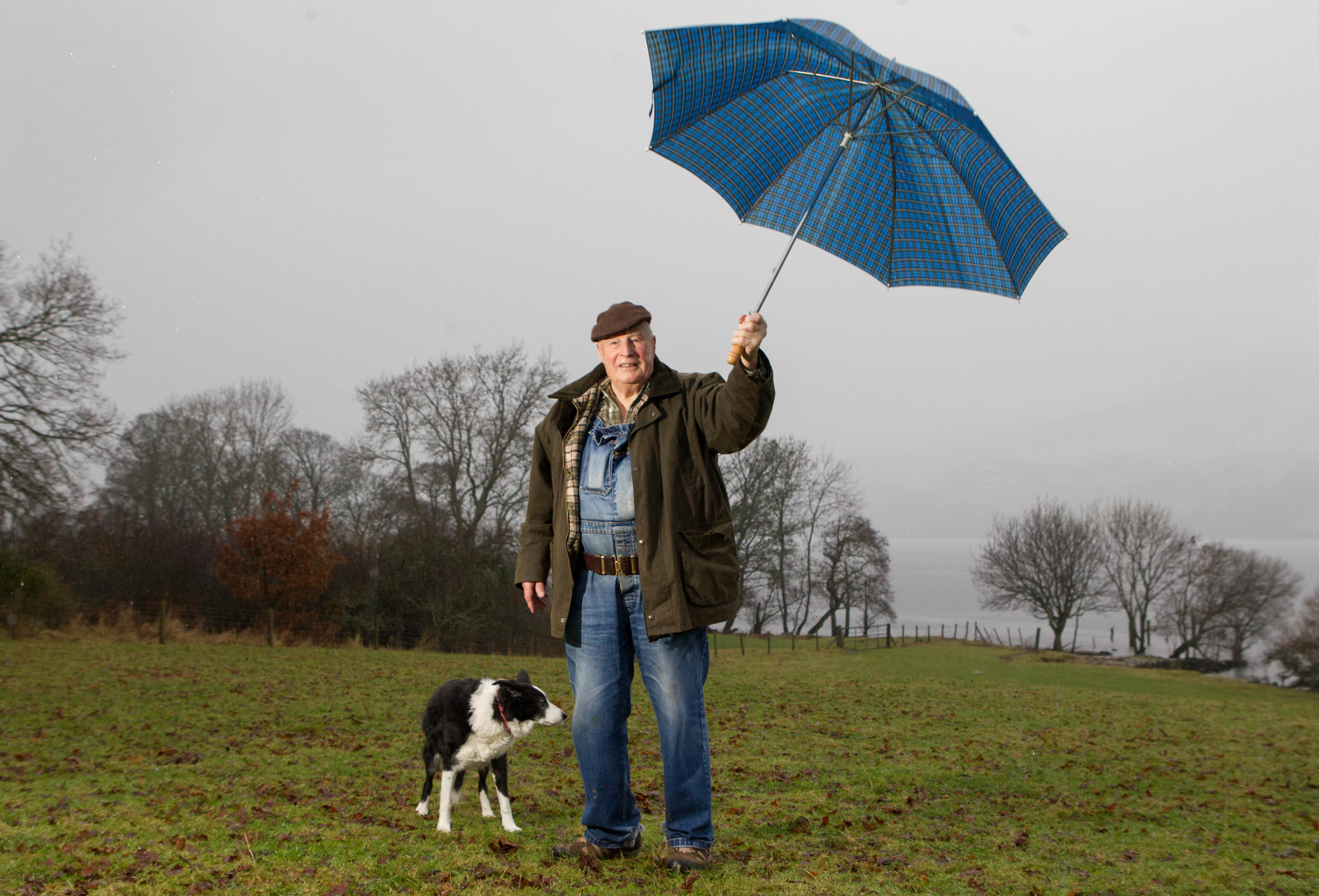 Mervyn Browne says there is "nothing you can do about it" but that hasn't stopped him recording the weather outside his Perthshire farmhouse every day for nearly 60 years.
The 88-year-old is the longest serving member of the Climatological Observers Link – a team of weather recorders across the UK who send all their readings to the Met Office.
Every morning at 9am sharp he notes down the readings on thermometers in his Stevenson Screen weather station, a rain gauge and a sunshine recorder, which uses a magnifying glass to burn the rays on a piece of card.
Mervyn's life-long obsession with the British weather makes him a unique expert – but he's got some bad news for those affected by recent storms – as flooding and torrential downpours now seem likely to be a common feature of our milder winter weather.
With huge swathes of the country still counting the cost of recent flooding, Mervyn said: "The rainfall has increased considerably. Every weather system seems to be more dramatic.
"If you get a storm, it is a real storm, and if you get rainfall it can be as much as 14 inches in the Lake District."
"Everything that happens seems to happen with a bit more vigour."
But Mervyn is sceptical about blaming man for the extreme weather.
"My theory is that it is because of cyclical – as opposed to man-made – changes that have been going on for millennia."
He believes a warming of the polar ice is cooling the North Atlantic, pushing weather systems further south and causing more rain in Scotland and England.
Mervyn, who still works as a hill shepherd above Loch Tay, admits farmers have a reputation for moaning but says weather conditions can have a real impact on the 300 sheep in his fields.
"Wall-to-wall sunshine is becoming very rare – you get one day, which we call 'pet' days, and then a lot of gloomy days. In 1976 it looked like it was never going to end but I think 2003 was our last really good summer."
Mervyn first became interested in weather on the family farm in Tyrone, Northern Ireland, at the age of six.
He said: "The year 1933 saw one of the vintage summers of the century and being in a farming community, everyone was talking about the weather and the drought. And I began to take an interest then from a childish viewpoint."
Adam Barber, the Met Office Climate and Rainfall Network Manager, paid tribute to Mr Browne and his tireless weather work.
He said: "Mervyn has shown great commitment, providing high-quality data, day in and day out throughout such a long record."