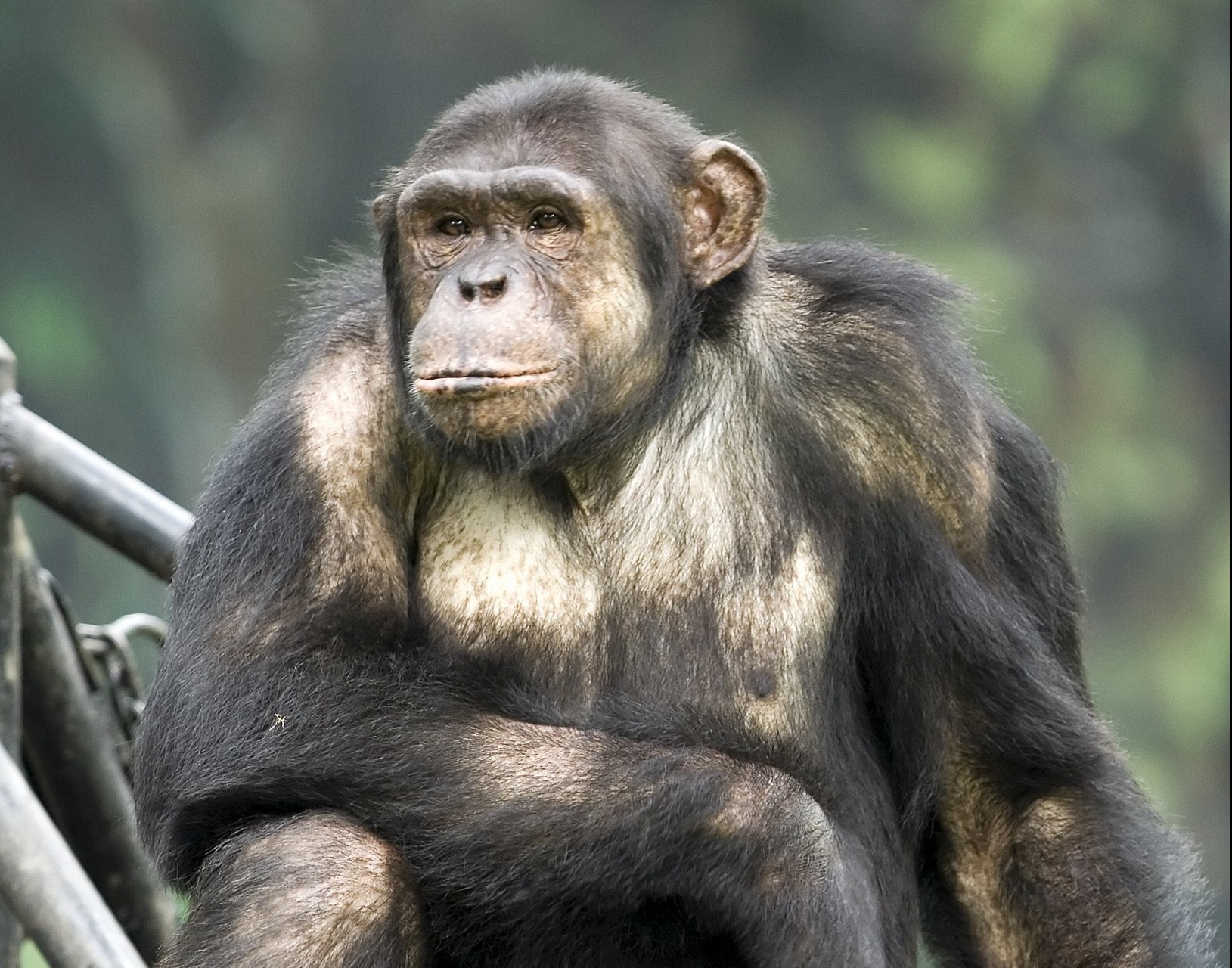 Estelle Raballand, director of the highly-respected Chimpanzee Conservation Centre, in Guinea, West Africa found this for herself when she visited the chimp's home.
He appeared with a wide grin, arms outstretched, and clasped her in a tight hug as soon as she reached out to him.
Sadly, there is a heartbreaking tale behind the chimp's story, which is especially poignant because the animals love human affection.
Thirty years ago, Ponso was abandoned off Africa's Ivory Coast, along with 65 other chimpanzees.
Most had originally been captured in the wild, then used by a US blood centre for hepatitis research, and gone through biopsies, anaesthetisation, and being chained by their necks in a jungle setting.
Once they had served their scientific purpose, the laboratory responsible left the animals on a collection of islands, with no natural source of food, and only dropping off occasional supplies.
The chimps, in other words, were pretty much left to fend for themselves in strange surroundings.
There had been about 20 chimps in Ponso's group, aged between seven and 11.
More than half of them died within nine months, and Ponso, along with eight survivors, was sent to a new island.
Conditions were just as bad, and it wasn't long until just Ponso, his mate and their two babies were left.
A kind local man from a village brought them bananas and bread when he could, and up to the present time, that has been their only sustenance.
By 2013, his family were all dead and Ponso was alone, hungry and depressed.
He is now 40, and after a life like his, he could be forgiven for hating the sight of humans.
And yet, he almost lifted Estelle off her feet in his joy at meeting her.
Sadly, she had to go back to the US before long, and he was alone again. There is a glimmer of hope, though, as The Humane Society of the United States (HSUS) is trying to raise money to help Ponso.
SOS Ponso is a group of people trying to raise $20,000 to improve the chimp's wellbeing, and have already managed to collect more than that.
Their dream is to provide food and urgent veterinary care for surely the world's loneliest chimpanzee.
The HSUS would love to see chimps like him found new homes.
Unfortunately, because of his history of lab testing, Ponso will almost certainly have to remain on his remote island.
Experts don't think he should have too much human contact as he's a bit unpredictable.
Which is all a bit ironic, really, considering he endured all those years of hardship to help humans with their health problems.
Let's hope there is a happy ending for this very sociable, but very lonely, chimp.
---
READ MORE
Undercover with the elite SSPCA animal cruelty taskforce