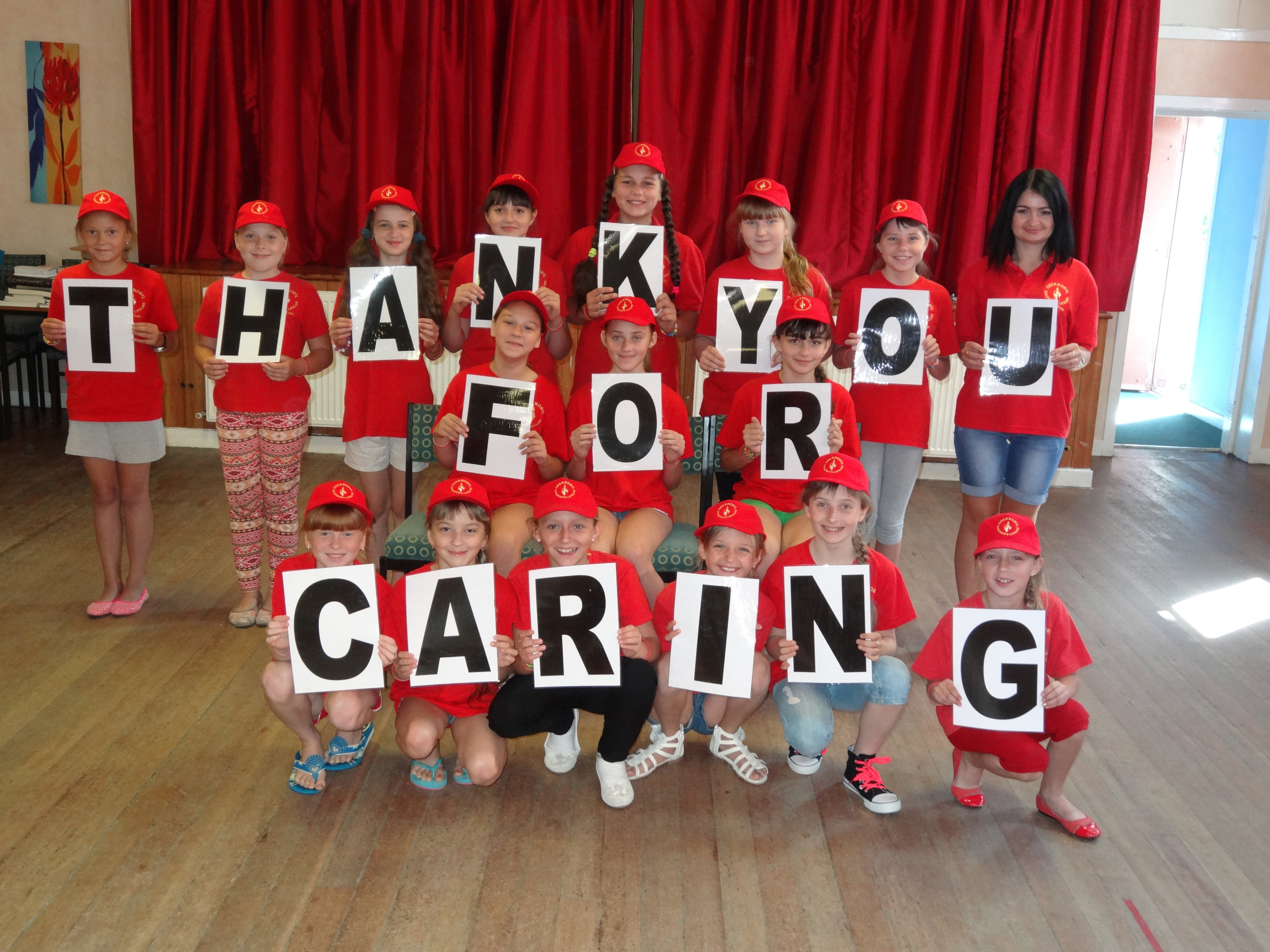 These are the children of Chernobyl, who despite being born decades after the world's worst nuclear explosion are still living a daily battle with the deadly fallout.
The kids might not be aware of the accident on April 26, 1986 – in fact, some of their parents might not even have been born.
Reports show that recuperative visits abroad provide a considerable health benefit – and that's made possible thanks to big-hearted families who fundraise to bring the kids over and then open their homes for them to stay.
We speak to some of the Scots involved.
---
"THEY become part of our families," says Kenny Turnbull, co-ordinator of the West Lothian branch of Friends of Chernobyl's Children.
"The children arrive with just the clothes they're wearing and we send them home with a suitcase full of clothes, toys and essentials like plasters and a year's supply of vitamins.
"Most of the kids come from remote villages and live in wooden houses with outside toilets and wells on the street. Temperatures can drop to -35 in winter – it's a very harsh life.
"Every weekday for the month they're over we put on a 'school' so the host families can still go to work. We'll visit places like Deep Sea World and M&Ds, as well as go to the dentist and optician, who provide their services for free and give the children whatever they need."
The charity, which has 28 groups across the UK, started in 1994 and Kenny became involved in 2010.
"All of our families here go through very rigorous disclosure checks and we work with our sister charity in Belarus, Helping Hands, which organises the visits, visas and permission from parents or schools.
"I go to Belarus twice a year and match the kids with suitable families here. Each child will have visits of a month every year for five years with the same family, so a relationship builds up.
"I've been eight times now and it's like meeting up with family members.
"We don't feel that we do all that much to help, but then we're amazed to see how entire families can prosper – not just their child – from the visits."
Kenny and his wife, Alison, discovered the programme through their church in Broxburn where a fellow congregation member was a host.
"We had Pasha come over to stay with us for five visits between 2010 and 2014," continued Kenny, who works part-time at a golf course. "He became like a wee brother to our own boys.
"He's coming over this summer for a fortnight."
The group members do all of their own fundraising in their spare time and will welcome 32 kids and four interpreters this year, costing £36,000.
The Chernobyl Children's Life Line is a similar charity that has welcomed 46,000 children to the UK for recuperative breaks since 1992.
Michael Lafferty, from Saltcoats, is the Scottish co-ordinator for the six groups north of the border.
He worked at Hunterston power station when Chernobyl happened and became involved in the charity 12 years ago.
"Our goal is to help as many children as we can, so we bring different children over every year," he explained.
"The age range is nine to 12 – that's when the thyroid gland begins to fully develop, so it's good to get them out of the country for a while."
A new report by Dr Ian Fairlie, an independent consultant in radiation in the environment, says there have been 6,000 thyroid cancer cases to date, with 16,000 more expected.
"It's amazing how they change in four weeks," father-of-two Michael added.
"They become more confident and more willing to try to learn. When a child is happier and more confident, I think it makes them healthier and has a knock-on effect on their families, too.
"We always see the difference when they go back."
This summer, kids from Ukraine will come to stay in various Scottish towns and cities.
Ploughing a lone furrow in helping the children of Chernobyl is our Broons Award Inspiring Senior winner, Jim Gillies.
The 75-year-old Cumbernauld man, who holds an annual vigil in George Square, Glasgow, for the victims of the disaster, travels to a children's ward in a hospital in the exclusion zone every year with much-needed medical supplies.
"So much happens in the world that people can forget about something like Chernobyl, but so many children – the future generations – remain affected. We have to do anything we can to help."
Background
Reactor 4 blew at 1.23am, on April 26, 1986, releasing 400 times more radioactive material than the atom bombing of Hiroshima.
Workers at the other reactors turned up for shifts as usual later that morning.
The evacuation of Pripyat, the town built to house the workers, began at 2pm on April 27, more than 36 hours after the explosion. They were told to take what they needed for two or three days – but they would never return.
On April 28, Moscow TV announced an accident had taken place at Chernobyl.
Later that day, a Scandinavian research lab reported a serious accident had occurred.
On April 29, an American satellite took pictures of the reactor with the roof blown off and smoke billowing out.
More than 135,000 people were evacuated from the area in the first 10 days.
In the aftermath, 237 people suffered from acute radiation sickness and more than 30 died within the first few months.
600,000 brave souls, known as liquidators, risked their health to assist in the clean-up of the area over the next few years.
Around 10,000 UK farms were affected and the movement of sheep became heavily restricted.
An emergency sarcophagus of concrete and steel was built in the days after the explosion, but was only intended to be temporary. Many safety fears have been raised over the years and it's needed a number of repairs.
A giant cover weighing 31,000 tonnes is currently being constructed to slide over the reactor and encase the radiation. It's expected to be fully commissioned in November 2017.
The new report by Dr Ian Fairlie found that five million people in Ukraine, Belarus and Russia still live in highly contaminated areas and 400 million people reside in less contaminated areas. Sadly, 40,000 fatal cancers are predicted over the next 50 years.
---
READ MORE
Smiles better: Five-year-old Donald fights back after flu left him in a coma