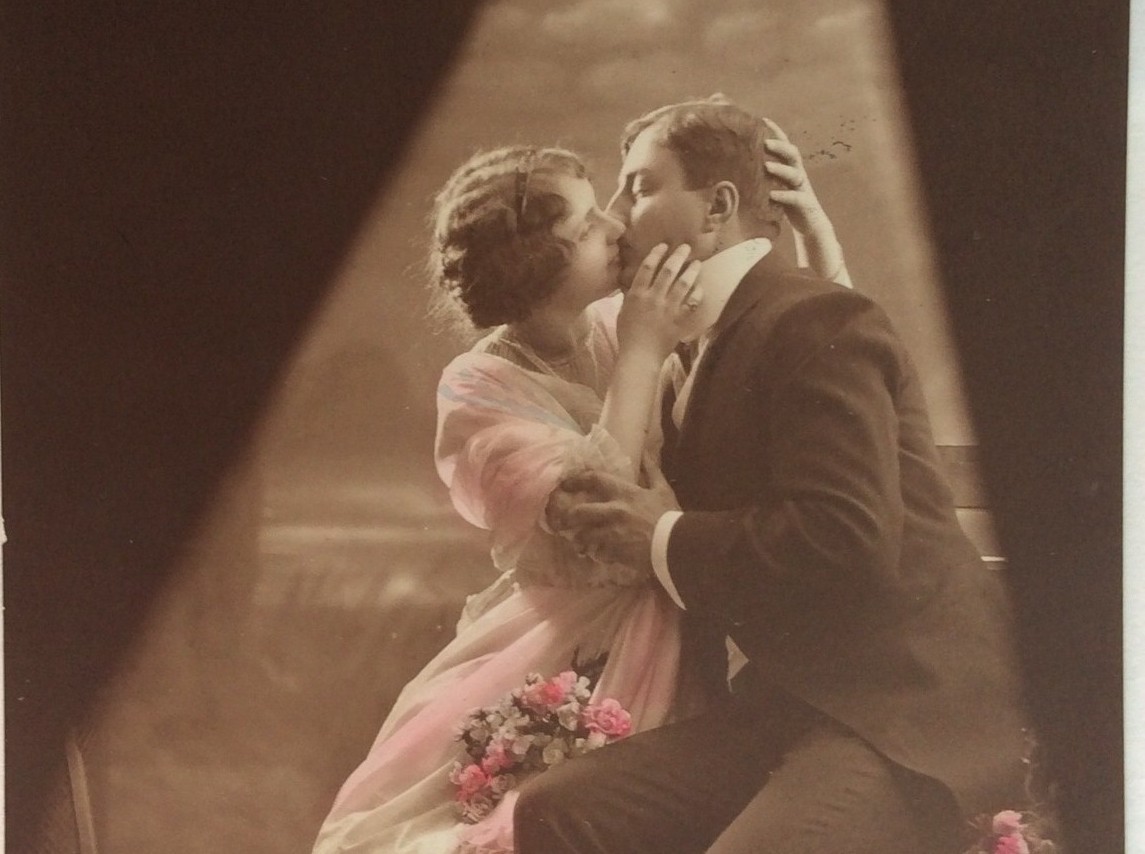 Three collections of letters are being shared with the public this Valentine's Day to inspire people to find out about and share stories of their families in the Lives of the First World War project, a digital memorial by Imperial War Museums.
During the war the postal service handled huge amounts of mail, dealing with 49,000 bags of letters, 80,000 registered post items and 100,000 parcel bags in the two weeks before Valentine's Day 1916.
Many of these are thought to have contained letters and tokens to sweethearts separated by war.
One of the collections being shared is a series of notes from Alexander Simpson to his wife Maggie Ann in Dundee.
They include a postcard sent in time for Valentine's Day 1915 of a young couple kissing, about which he wrote playfully: "This girl seems very willing, how I envy her boy".
In another postcard, of Pittencrieff Glen, Dunfermline, dated May 19 1916, Alexander tells his wife he is sorry he missed the train to Dundee to come home and hopes to visit in the coming days but "I'll have to say not to be disappointed if I don't come".
Within two weeks he was killed at sea, aged 38, serving on HMS Invincible in the Battle of Jutland.
His grandson Malcolm Robertson, 67, a retired engineer from Dundee who had the collection passed on to him from his mother, said he did not know if his grandfather ever made it home to see his family one last time.
But he said it was "fantastic" to have the notes, which gave him a glimpse of the grandfather he never knew and contained bits of information that helped him try to build a story of his life.
"To me they're very precious, if you think they're 100 years old and older, and to still have them, with his writing," he said.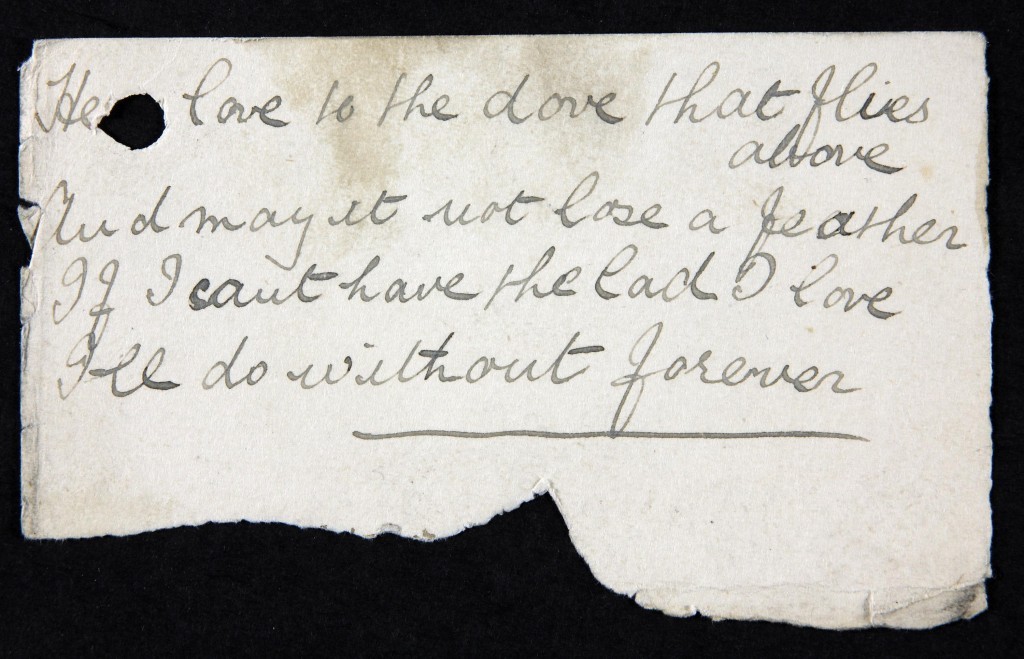 Another set of letters was discovered among the service record for William Crawford, a Scottish-born soldier who served in the Household Calvary.
They are held at the National Archives in Kew, London, and were written by a young woman called Hetty in Chester.
In letters signed off with kisses, she shares her news of cold winters, quiet Christmases and her love for him, writing a poem: "Here's love to the dove that flies above/ and may it not lose a feather/ If I can't have the lad I love, I'll do without forever."
He died of wounds from shellfire on February 5 1918.
And a letter dated New Year's Day 1917 from Gunner W Robson to Alice Skinner, who lived in Skegness, shows how taken he was with her, writing that he "hardly expected that such a nice young lady would waste a great deal of time on a soldier".
He writes that he would like to tell her how much he loves her, and mourns the fact a move away from base meant he had been unable to visit her at Skegness: "The pleasure must have been too great. I know the disappointment was".
According to Alice's great-niece, she never married, but she kept Gunner Robson's letter for the rest of her life.
Anthony Richards, head of documents and sound at Imperial War Museums, said the letters and other items in the IWM archive each told a unique story, giving a snapshot of history which taken together showed what life was like for people living through the war.
"It's very much written experiences, in the form of things like letters, that offer the best way to teach people about history.
"You've got the words of somebody who was there and it's very easy to empathise with them," he said.
A Government spokeswoman said: "Rediscovered family stories from the First World War shed light on the incredible spirit and resilience of that generation.
"We hope more stories will be shared ahead of this year's commemorations of the battles of Jutland and the Somme."