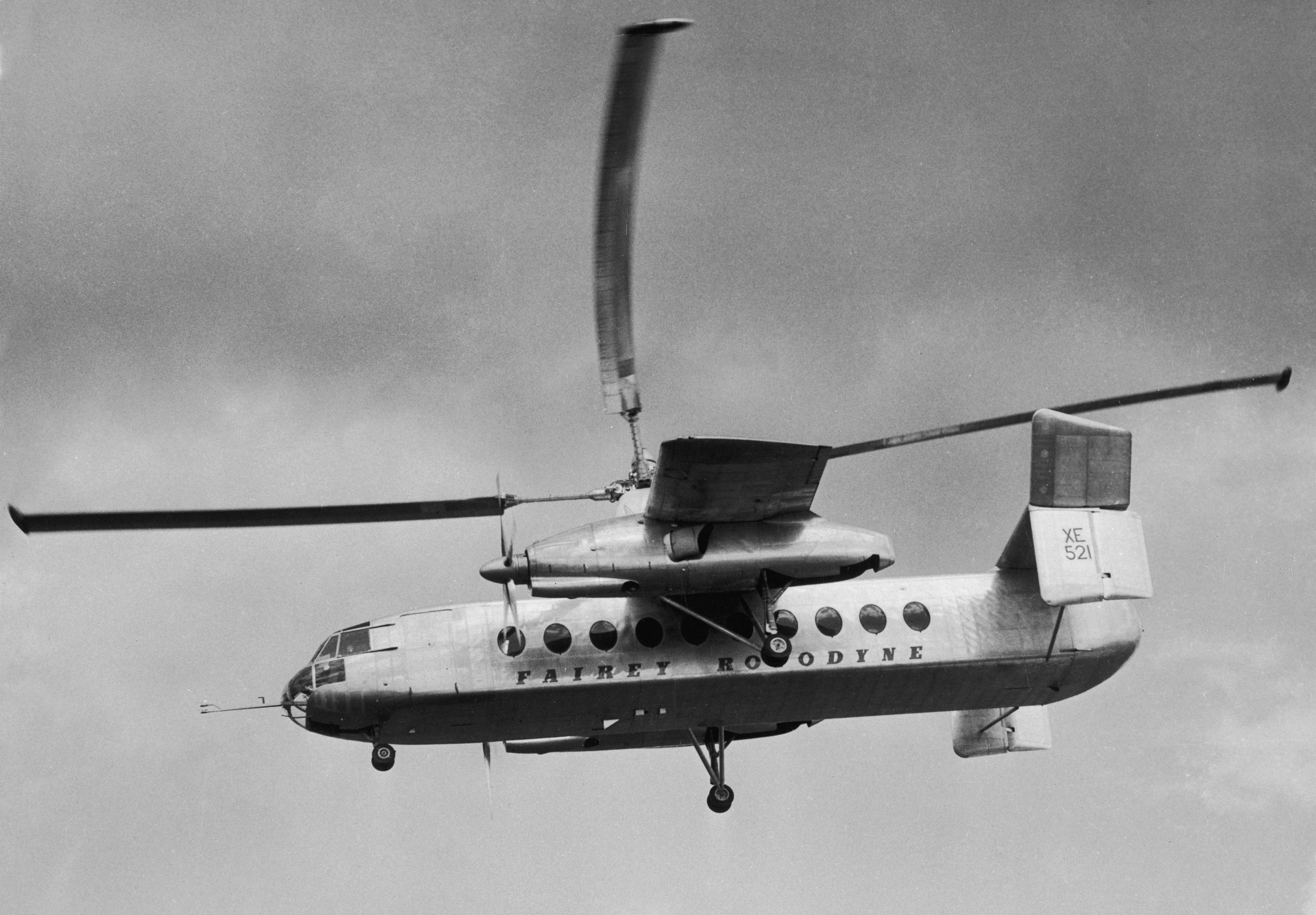 The Fairey Rotodyne was developed with backing from the Ministry of Supply in the 50s and 60s, when the British Government hoped it would become a key form of mass transport.
Cities were becoming bigger and foreign countries seemed much less far away.
So the Rotodyne — which took off vertically using helicopter rotor blades with jet engines at their tips but then flew like a normal aeroplane thanks to turboprops mounted on its wings — was perfect to allow rapid travel between cities in the UK and on the Continent.
British European Airways wanted a fleet of them to cash in on the growing European business travel market.
First flying in 1957, the futuristic Rotodyne — which resembled something you'd see on Thunderbirds — quickly chalked up a new rotorcraft speed record of just shy of 200mph.
With a range of more than 400 miles, it could easily make the hop from London to Glasgow, Paris or Amsterdam.
In 1959, it flew from Heathrow to Dover, Brussels and then Paris. Taking an hour and a half to get to Brussels and another hour to get to Paris, this was far quicker than the equivalent journey using ferry and train, or plane and car.
BEA were delighted, describing it as "the world's first vertical take-off airliner" and proclaiming: "This service will fly families out for holidays, take businessmen on business trips and increase the self-sufficiency of every busy provincial centre by providing the swift, direct communication nowadays so essential to the development of trade."
So why didn't the Fairey Rotodyne catch on?
Basically, it was too noisy. Government monitors discovered that noise levels 500 feet from the pad during take-off were "intolerable".
There were also concerns that the helipad at Battersea was too far from the centre of London.
Helipads couldn't be built nearer the centre because of the noise and the cost of land.
In 1962, the Minister for Aviation announced the project was dead and the single prototype scrapped.
Now, though, aviation experts think Britain carelessly threw away the fruits of the project's research and that with modern technology and materials available, it could have been a success.
---
READ MORE
Spitfire returns to the skies to mark 80th anniversary of first flight