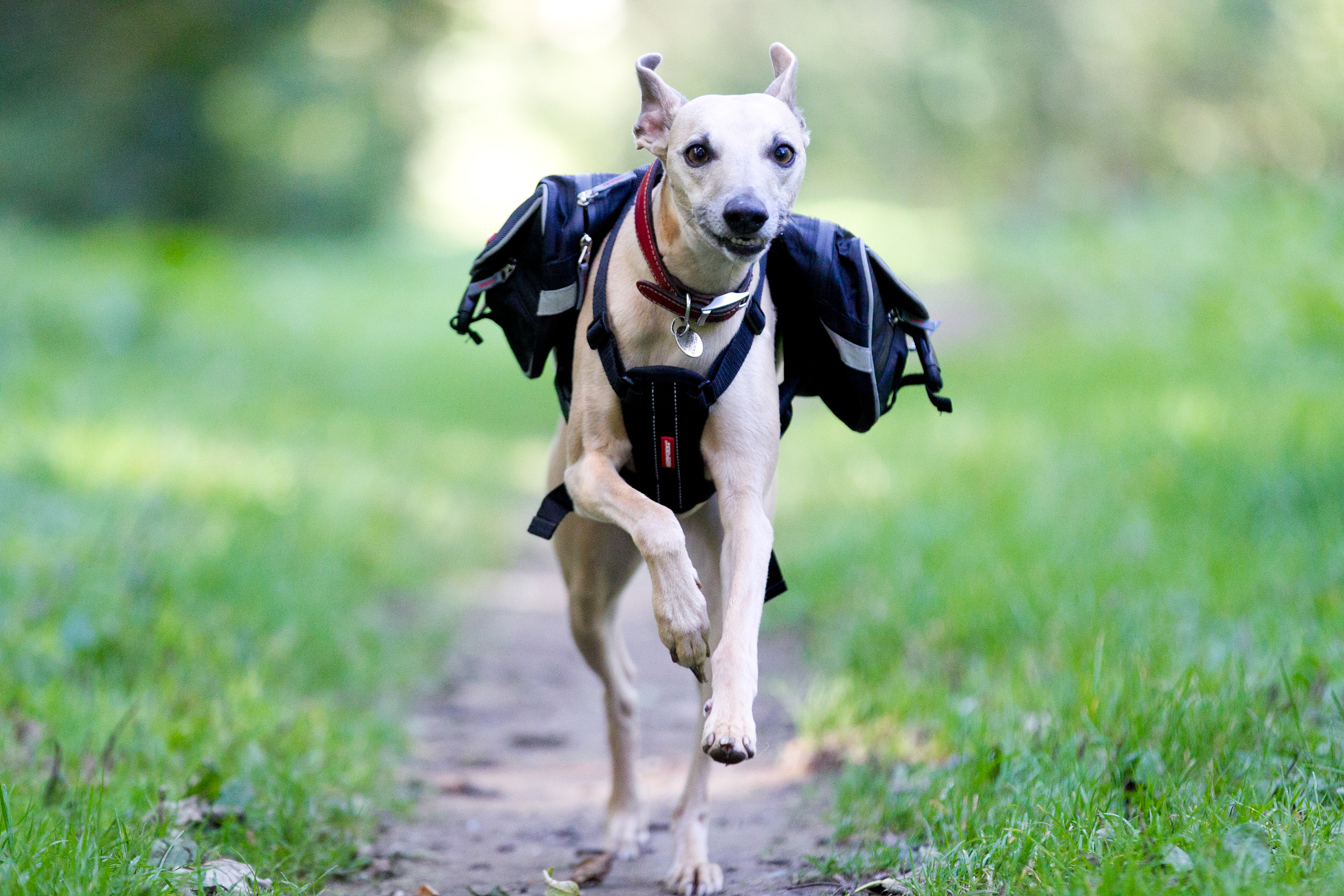 A WOMAN is exploring the mysterious world of lichen – with a little help from her faithful whippet Zebedee and his rucksack!
Adventurous scientist Sally Eaton explores the wild woods of western Scotland with her loyal helper at her side.
In his special backpack, Zebedee carries a set of paint-brushes that Sally uses to daub trees with a mixture of crumbled lichen and water, as part of her role as Scottish plant conservation officer with the Royal Botanic Garden in Edinburgh.
Lichen are the many-coloured flaky growths that appear on rocks, gravestones and particularly trees.
The vital plants are being wiped out by forestry and pollution but Sally is aiming to give slow-growing lichen a helping hand.
"I do sometimes think, am I getting paid to do this?" said the 35-year-old who acquired her little helper as a puppy just over four years ago.
"I just saw him advertised and fell in love with him," she said.
"I can be stopped at one tree for up to an hour so most dogs wouldn't have the patience but I think because I've taken him out since he was small, he's great.
"He carries some of my field kit and if we are out all day, he takes his food and his water bowl as well. He's really good."
Sally grew up on an old farm "in the middle of nowhere" near Clitheroe, Lancashire.
She came to Scotland to study ecology at Edinburgh University but then travelled around the world carrying out ecology work in places such as Borneo and Madagascar.
After developing a love for the science of plants, returning to Scotland was a dream come true in more ways than one.
"Getting a permanent job meant I could get a dog. I'd always wanted a dog, we had them when I was growing up."
Scotland is home to 20% of Europe's lichen and Sally hopes her work will preserve it for future generations, particularly as the plant's population in England has been badly hit by pollution.
Sally has always been "outdoorsy" and admits as a little girl she enjoyed being outside "collecting things in jars like tadpoles".
Zebedee loves to be with her, no matter where her lichen studies take her – but he's sometimes a little less keen on the Scottish weather.
"He'll often just make himself a nest at the bottom of a tree and go to sleep," she adds.
"But he doesn't like it when it rains, so sometimes I have to take my anorak off and put it on him."
Does your pet have an important or unusual job? Is he a ruff-neck or a miaow-tivational speaker? Write to The Sunday Post, 80 Kingsway East, Dundee, DD4 8SL or email mail@sundaypost.com
---
READ MORE
Memory Walks: How dementia dog changed family's life
Diabetic relies on her detection dog's sense of smell