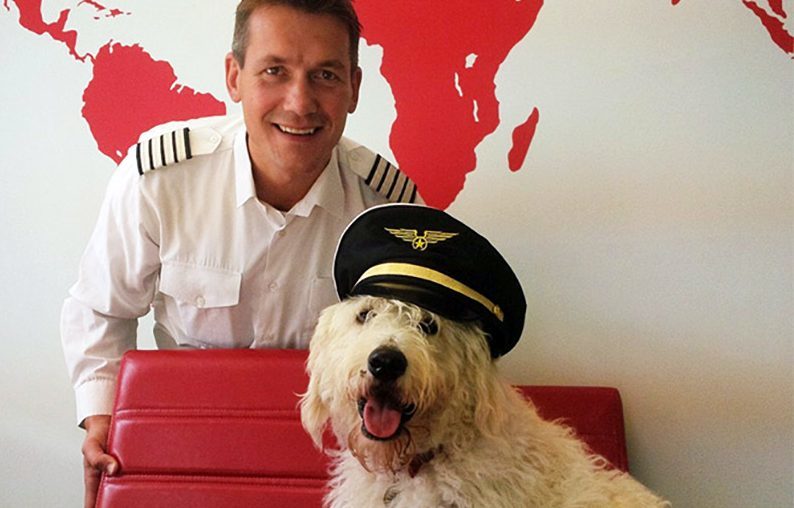 WE all know that our pets miss us when we go out to work, and there's no denying that the feeling is mutual.
That's why you'll be thrilled to hear that today is national Bring Your Dog To Work Day!
An event that will raise cash for All Dogs Matter — a canine rehoming charity — it will promote the benefits of man's best friend in the workplace.
Comic and animal lover Ricky Gervais has made his support of the day known, as has Countdown star Rachel Riley, and the nation's dogs can look forward to a variety of working environments.
Some even get to fly with this special occasion, as labradoodle Tex is a regular presence in the offices at PrivateFly.
"All of the PrivateFly team enjoy the relaxation of having a dog in the office," explains Adam Twidell from PrivateFly.
"I think it's great for morale and creates a relaxing and fun atmosphere, especially when Tex puts on his pilot's hat."
"Having pets at home has been proven to help combat stress and I think the same applies at work.
"Having a dog around can be therapeutic, it puts things in perspective if you're having a bad day.
"Their philosophy of 'eat, sleep, play' reminds you not to sweat the small stuff!"
---
Have you taken your dog to work today? Email your pictures to online@sundaypost.com
---
Because employee wellbeing is ever important — as is the wish to help out a worthy cause — Mark Hirschel and Jo Amit, the co-founders of pet-product company HOWND, created the special day.
"We were overwhelmed with how successful Bring Your Dog To Work Day has become," explains Jo.
"The reception to the idea blew us away and it was amazing to see how many people posted photos of their dogs at work across all social-media platforms.
"Most importantly, it was fantastic to raise money for a cause that has always been close to our hearts — the wonderful work of All Dogs Matter.
"We're hopeful that this year will prove even more popular, building on the momentum of 2015."
For more information, you can visit the website bringyourdogtoworkday.co.uk
---
READ MORE
Lap of luxury: We all just love to splash the cash on our cats and dogs
Meet the animal that has baffled many with its appearance… the racoon dog