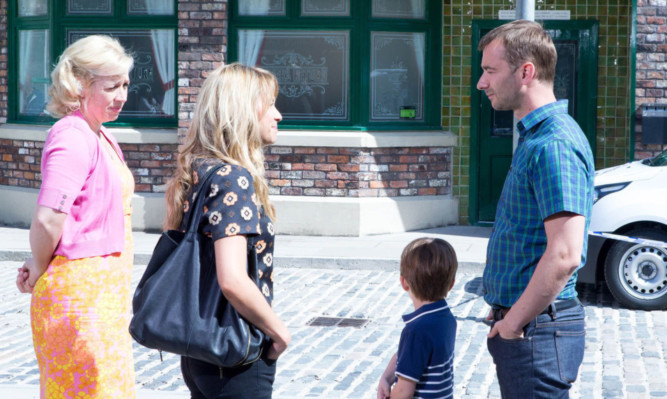 He's left Coronation Street, but you may not have seen the last of Marcus Dent!
The Corrie midwife was at the centre of some stunning storylines, and was sorely missed when he left the show in 2008.
Of course, he was back again in 2011, until leaving again recently, and the producers have left the door open for the man who played him, Charlie Condou, to return again.
For Charlie, that is wonderful news, as he sets out on a new career path in theatre play, Next Fall, while admitting Corrie gave him some of the best years of his life.
"People make decisions about work and their careers every day, and it's just that mine was done in the public eye," says the 41-year-old.
"When I hit 40 last year, in fact, it wasn't the problem I'd thought it might be, and that was because I was where I would have wanted to be.
"I had a great job and life, I was in a stable relationship, I had my kids and everything was just where I had hoped it would be at the age of 40. The following year, though, I started to look at things, re-evaluate and look more at the future.
"Quite quickly, I realised that I didn't want to spend my life travelling up to Manchester from London all the time and being away from my children.
"It wasn't easy for me to have a family, and I certainly didn't want to start seeing them just one day a week, which was happening.
"Once I realised I didn't want to be doing that, it was actually quite an easy decision to make, to leave Corrie. I needed to be based in London, at home with my family. That's where my priorities are.
"I'm still a fan of Coronation Street. It's a great job and I love the show, but it was 100% the right decision to leave.
"I still feel a part of the Corrie family, and they've been really nice, telling me they aren't killing me off and will leave the door open.
"If I were to go back, though, it wouldn't be until my kids are a bit older.
"Mind you, it's not the first time I've left and returned!
"Remember Dallas and the shower!
"What if someone asked us to do the new theatre show all over the UK? We'll cross that bridge when we come to it, but I think it's unlikely.
"On TV, EastEnders would be ideal for me, as it's only up the road!" he jokes.
If his huge decision to leave Corrie was part of a look at his life as he approached his middle age, that theatre show deals with something pretty similar.
Next Fall is such a powerful show that Sir Elton John produced it for Broadway, after being knocked out by its power.
It's the tale of a couple who find it tough to keep the relationship going one is devoutly religious, while the other is an atheist.
An accident changes everything, making them question life and faith and everything else.
Charlie hopes his friend Sir Elton will drop by to see this version of it, too.
"Elton produced it on Broadway, and he and David Furnish have been invited to this one," Charlie reveals.
"I believe we're also doing one show to support his Foundation, too.
"Hopefully, they'll come and see it if they're in town.
"It's probably more common in the US, where one half of a couple is deeply religious and the other isn't.
"The show takes faith into account. My character is a middle-aged man who is questioning a lot of stuff in his life.
"He's at a crossroads, and religion isn't the only thing he questions.
"He wonders about that kind of faith, and if he has faith in his partner, or faith in his writing.
"You know, there's a lot of choice these days, and we have so many options, things we could do.
"I sometimes wonder if it's too much, all this choice.
"Generations before us had less choice, so they just got on with things, and ended up with fewer regrets!"
As it's eight years since Charlie last appeared in theatre, he admits to finding it a trifle scarier than merely appearing before millions on telly every night.
"I've missed it a lot, though I am terrified now!" he laughs. "I had weeks to do the preparation, read the scripts, but just before rehearsals began I realised just how scared I was.
"But I'm looking forward to it, because it's a massive challenge.
"But it's not going to be too complicated or over anyone's head."
Elton's production won all kinds of awards and plaudits in the States, and there are high hopes that Charlie's run at Southwark Playhouse will go down equally well.
If not, he can bide his time until showing up on Corrie again with another sideline, journalism thing is, that seems to unnerve him, too!
"I write a bit for some papers now," he says, "and I have done that for a while and like doing the columns. But it is quite difficult.
"Thankfully, I am quite opinionated and can write about things in my life, which is nice. But I am not a natural writer.
"I find something I really want to write about, but then I can never figure out how to start it, or how to finish it!"
Next Fall is at London's Southwark Playhouse, September 24 to October 25.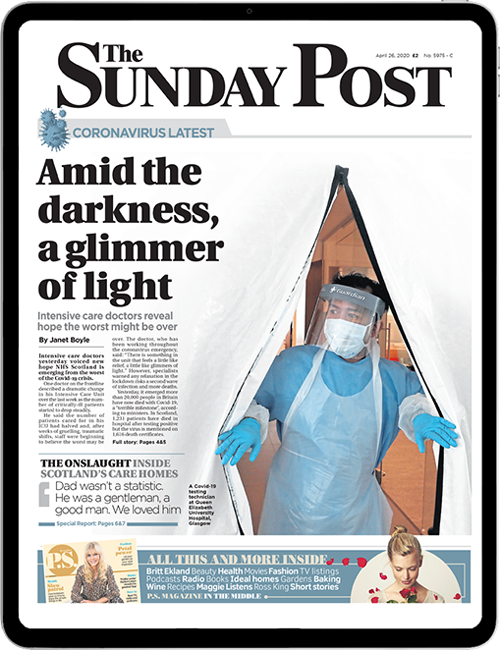 Enjoy the convenience of having The Sunday Post delivered as a digital ePaper straight to your smartphone, tablet or computer.
Subscribe for only £5.49 a month and enjoy all the benefits of the printed paper as a digital replica.
Subscribe